Speaker Series
The Gastón Institute Speaker Series, established in 1992, is the longest running lecture series on campus. Each year it features researchers presenting work before students, faculty, and community practitioners on subjects relevant to the Latino experience in Massachusetts. Previous topics include: "Promise and Paradox at a Latino Community High School" (Tony de Jesus) ; "Art and Activism in the Years of Bush" (Junot Diaz) ; "Brazilian Immigrant Workers in Massachusetts" (Eduardo Siqueira) ; "Building Latino Leadership" (LLOP 2002-2003 Graduating Class) and "Dominican Americans Organizing in New York City" (Ana Aparicio).
2022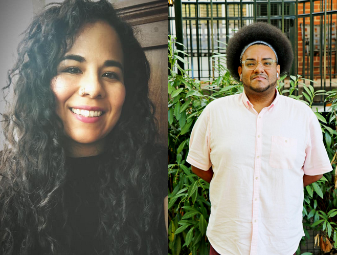 The Mauricio Gastón Institute is pleased to announce the presentation of the awardees for 2021 Andrés Torres Paper Series Award for the preparation of a scholarly manuscript focused on any of the following three broad areas of the experience of Latinos and Latinas: (1) the connection between immigration and community formation; (2) transnational linkages; and (3) inter-Latino relations and relations between Latinos and other racial/ethnic groups.
Comparative Racializations in the U.S.-Mexico Borderlands: Im/migrant Justice and Indigenous Struggles for Sovereignty - Dra. Raquel A. González Madrigal (Vassar College)
Garifunizando Nueva Yol': Hemispheric Entanglements of Blackness / Indigeneity / Afro-Latinidad - Dr. Paul Joseph López Oro (Smith College)
April 26, 2022. 2:00 pm. Register in advance for this webinar
https://umassboston.zoom.us/webinar/register/WN_j0RZ3J68RxG_sGDpiSETHA
2021
"The Evolution of the Pandemic and Current Developments"
A discussion about the evolution of the COVID-19 pandemic in Massachusetts, trends and current developments to address health inequities. Topics will include vaccine hesitancy and racial/ethnic health inequities among others. Moderated by Alejandro Álvarez, MPH, MS, Health Services Consultant at JSI Research & Training Institute.
Speakers: Eduardo Siqueira, ScD, MD (Associate Professor of Environment and Public Health, School for the Environment, and Coordinator of Transnational Brazilian Project, Gastón Institute, University of Massachusetts Boston), Lorena Estrada-Martínez, PhD, MPH (Assistant Professor of Environment and Public Health, School for the Environment, University of Massachusetts Boston). Panelists: Jaime Vallejos, MD, MPH (Assistant Professor, Health Sciences, Worcester State University) and Rita Nieves, RN, MPH, LICSW (Interim Executive Director, Public Health Commission, City of Boston). Sponsored by Massachusetts Latinx Wellness Collaborative and El Mundo Boston.
2020
"The Andrés Torres Paper Series Awardees"
"Magical Coalition" in a New Jersey Town: Solidarity and Immigrants' Rights by DR. CAROLINA ALONSO BEJARANO, University of Warwick, United Kingdom. Research focused on an inter-ethnic coalition that emerged in the early 2000s in opposition to local anti-immigration legislation in central New Jersey.
Reading and Driving under Popular Education: Tracing Salvadoran-Inspired Activism in Maryland by DR. STEPHANIE HUEZO, Fordham University, New York. Research examined Salvadoran activists' political advocacy in a literacy and driver's license campaign in Maryland (2003- 2013).
2019
"Latinx HIV Prevention and Intervention"
A presentation by Keynote Speaker Dr. David Pantalone (UMass Boston and The Fenway Institute), and a panel about HIV prevention and intervention for the Latinx community, with Chief Marty Martinez (City of Boston's Office of Health and Human Services) and José Sostre-Perez (Ryan White Planning Council). Let's raise awareness in the week of World AIDS Day with 2019's theme: "Communities Make the Difference."
"De tal palo tal astilla: Puerto Rican School-Aged Mother's Testimonios of (Un)Belonging, Resistance, and Reimagination"
Dr. Melissa Colón (Tufts University) presents on public discourse regarding early parenting, grounded on the idea that "choosing" to become a teenage parent will likely result in dropping out of school and a lifetime of poverty. Yet research suggests that achievement prior to childbearing tends to be consistent with achievement after childbirth, and adolescent parents often leave school due to the stigmatization and the lack of support they experience at school. Drawing from her research on Puerto Rican School-aged mothers in Massachusetts, in this presentation, Dr. Colón brings attention to how the state, with schooling as one of its most permeating apparatuses (re)produces gendered, classed, and racialized notions of (un)belonging for school-aged mothers.
2018
"Afro-Colombianas, Feminism and Youth Development in Colombia: The Work of Robert Hildreth Latin America Travel Internship Fellows"
Ashley Torres and Evelyn Bonilla, UMass Boston undergraduate students, present their research experiences during a trip to Colombia. Their projects "Lideresas: Gender-based Violence Prevention in Buenaventura and Boston" studied afro-colombianas and NGOs in Buenaventura, Colombia. They partnered with Corporación Vínculos and Mariposa de Alas Nuevas en Red y Libertad, in their efforts to stop sociopolitical violence and promote gender equality.
2017
"Multi-disciplinary panel on immigration, U.S.-Mexico relations, and civil rights during President Trump's era"
UMass Boston experts in Latin American and Latino politics participate in a panel with the directors of two key Boston's community-based organizations with focus on immigration and civil rights. Topics: Trump's immigration and foreign policy. U.S.-Mexico relations. Trump compared to other political outsiders. Civil rights scenario. Realities and possibilities.
Panel: Jorge Capetillo-Ponce (Associate Professor of Sociology, UMass Boston), Luis F. Jiménez (Assistant Professor of Political Science, UMass Boston), Patricia Montes (Executive Director, Centro Presente), and Iván Espinoza-Madrigal (Executive Director, Lawyers' Committee for Civil Rights and Economic Justice)
2016
"A Corpus-Based Sociolinguistic Study of Spanish in the Metro-Boston Area" by Daniel Erker (Boston University)
By 2050, the number of self identified Hispanics in the U.S. is likely to surpass 130 million. In order to better understand the current and future role of Spanish in American life, particularly in Boston, Dr. Erker studies the essential linguistic effects of two forces shaping its use today: (a) Spanish and English are spoken alongside each other on a massive scale; (b) the varieties of Spanish across the globe are present in a condensed setting in the U.S.
"Advancing Equity through Community Engagement: Building Community Capacity through Research" by Flavia Peréa (Tufts University)
Dr. Peréa presents her Community Based Participatory Research (CBPR) study Train4Change focused, a project focused on advancing health equity through community and workforce development in Boston Mass. She will discuss partnerships, community contexts, methods, and project outcomes. Highlights from her presentation include the successes and challenges of community engagement in research.
2015
Boston Regional Meeting
Presentation of the latest demographic profile of Latinos in Boston, Chelsea, Everett, Framingham, Lynn, Revere, Salem, Somerville and Waltham including data on education and economic development. Discuss areas of concern and opportunity for the Latino community in this region. Share policy and practice recommendations intended to improve the prospects of Latinos in the region. Guest speakers: Holy St. Clair (Data Services Director at the Metropolitan Area Planning Council), Megan Fidler-Carey (Director for District Partnerships & Afterschool Programs at Revere Public Schools) and Ana Patricia Muñoz (Director of Community Development Research at Federal Reserve Bank of Boston, and co-author of "The Color of Wealth in Boston")
2014
"Public Scandal: Rethinking Risk and Public Education in Colombia" by Andrés Fabián Henao Castro (UMass Boston)
After the recent dismissal of Professor Miguel Ángel Beltrán from his position at the Universidad Nacional de Colombia by the Attorney General's Office, Henao Castro gets inspired by Michel Foucault's last lectures at the Collège de France on the relationship between truth, power and subjectivity, and argues that in face of the new forms of risk experienced by public educators in Colombia, important lessons could be drawn from the cynic philosophical tradition, particularly with regards to the political role that scandal could play again for revitalizing the values of public education.
"Human and Civil Rights in the Caribbean: Academic Partnerships in Vieques & Quintana Roo"
An international multi-institutional and multi-disciplinary group of researchers, activists and professors will address human rights, civil rights and ecology issues in Vieques, Puerto Rico and Quintana Roo, Mexico, and what is the impact of academic partnerships and studying abroad. SPEAKERS: Robert Rabin (Vieques Cultural Center), Luis Galanes (University of Puerto Rico), Julian Jefferies (California State University at Fullerton), Ever Canul Góngora (University of Quintana Roo, Mexico), Ricardo Colmenares Olívar (University of Zulia, Venezuela) Lorna Rivera, Jorge Capetillo-Ponce, Marisabel Jaramillo, Jose Martinez-Reyes, Andrea Ornelas, Cedric Woods and Nicole Young (UMass Boston).
"Exploring the Influence of Personalized Mental Health Narratives in Social Media" by Jessie Quintero Johnson, UMass Boston
This presentation investigates benefits and limitations of using social media for the purpose of influencing public health. Online media play a significant role in shaping users' health, but few studies focus on the influence of health discourse in social media platforms. This study explores how the presentation of educational messages about mental health in social media affect college students' health information recall, beliefs and attitudes about mental health, and their behavioral intentions to seek mental health treatment.
"Dispossessed in School: Framing the Systemic Disinvestment and Abandonment of Latina Students" by Patricia Krueger-Henney, UMass Boston
Combining portraiture with youth participatory action research, this presentation highlights disparities in how Latinas and other students of color are placed in probational spaces of criminal justice-based school discipline. Documenting the experiences of a Black Dominican high school student, the visual data from this New York City-based project show institutional abandonment as disinvestment in young women's personhood, social isolation, and deprivation of agency and self-control. The presentation concludes with a discussion of multi-sited justice work.
2013
"Jach Choko' Ki'in: Mayan Perspectives on Climate and Changing Agriculture in Quintana Roo, Mexico" by Dr. José Martínez-Reyes, UMass Boston
The Maya of central Quintana Roo, Mexico and the natural resources that have served them for generations are facing profound challenges. Expanded tourism, changes in land tenure, and increasing periods of drought are all threatening their ability to create a resilient livelihood. Learn about Mayan perspectives on climate change and their strategies to maintain a productive agriculture. What lies ahead for their future generations?
"Latinos in the US: The Transnational Impact" by Dr. Luis F. Jiménez, UMass Boston
PANELISTS: Patricia Montes (Centro Presente), Alexandra Piñeros Shields (Massachusetts Immigrant and Refugee Advocacy Coalition) and Jorge Capetillo (UMass Boston)
In linking two otherwise disparate places, immigration has the potential to shift political outcomes both in the host country and in the one that was left behind. This happens through the transformation of the electorate, the transference of political attitudes through immigrant networks, the reconstruction of political alliances and the creation o new interest groups. Latinos in the US are a particularly strong example of this global phenomenon as they shape both American politics and those of their homelands.
"How Are Latinos Reshaping Catholicism in Massachusetts and Beyond... and Why Social Institutions Should Pay Attention" by Dr. Hosffman Ospino, Boston College's School of Theology and Ministry
A lecture exploring major transformations in the American Catholic experience nationwide and more particularly in Massachusetts in light of the fast-growing Latino presence. In this presentation Dr. Ospino argues how the embrace (or neglect) of Latinos in the Catholic church, the largest religious institution in the country, provides key insights for other social institutions to assess how they effectively incorporate Latinos.
2012
"The Institutionalization of Hispanic Panethnicity, 1960-1990" by Dr. G. Cristina Mora, U.C. Berkeley

Between 1960 and 1990, America witnessed the dramatic growth of " Hispanic" political, market and cultural organizations as well as the rise of panethnic, "Hispanic" census category. How did the shift occur? Drawing on archival research and interviews, Professor Mora traces the series of networks and negotiations between activists, state officials and media executives to reveal how the "Hispanic" category became consolidated and popularized as a collective identity in the U.S.
"Sleep Deprivation Among Brazilian Immigrants" by Dr. Geoffry Phillips McEnany, UMass Lowell, and Dr. C. Eduardo Siqueira, UMass Boston
Geoffry Phillips McEnany and Eduardo Siqueira share the results of their study on sleep deprivation, sleep dysregulation, and risk for medical comorbidity among Brazilian immigrants in Lowell and Framingham (MA).
"Brazilian Economy Today" by Fernando de Mello Barreto, Brazilian Consul-General in Boston
Brazilian economy today: its structure, characteristics, and remarkable current growth.
2011
"Identifying Success in Schools and Programs for English Language Learners in Boston Public Schools" by Dr. Miren Uriarte, UMass Boston, and Dr. Rosann Tung, Director of Research and Evaluation at the Center for Collaborative Education.
This presentation is a three-way collaboration among researchers and practitioners from Boston Public Schools, the Gastón Institute at the University of Massachusetts Boston, and the Center for Collaborative Education (CCE). Miren Uriarte, Professor of Human Services, College of Public and Community Service, University of Massachusetts Boston and Senior Research Associate of the Gastón Institute, describes the enrollment and outcomes of English language learners in Boston Public Schools. Rosann Tung presents best evidence-based ELL practices in four Boston public schools that were consistently high performing or steadily improving with respect to outcomes for English language learners.
The Mauricio Gastón Institute for Latino Community Development and Public Policy
Healey Library, 10th Floor
University of Massachusetts Boston
100 Morrissey Blvd.
Boston, MA 02125-3393
617.287.5790
Maps & Directions