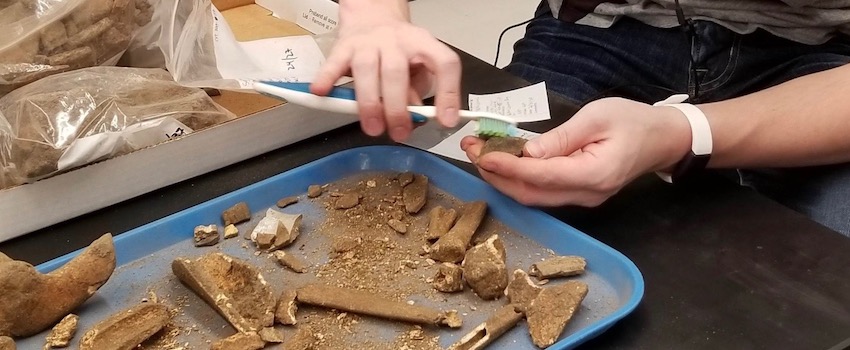 Funding
Overview of M.A. Student Funding
We place a lot of emphasis on financial support for our students. Currently, all Historical Archaeology graduate students receive some level of graduate assistantship from the program during their first two years. Graduate Assistantship appointments are as either Research Assistants (RA) or Teaching Assistants (TA).
These assistantships carry a

tuition waiver

commensurate with the fraction offered (e.g., half-time assistantships mean 50% waivers) with

health insurance waivers

scaled to the percentage time of the award.
The contract period for these positions includes only the academic year, starting in

early September and ending in late May. As part of their assistantship, graduate students are expected to work a specific number of hours depending on their appointment level. Students are expected to work for 18 weeks during the fall semester and 18 weeks for the spring semester.
Research Assistantships
Graduate research assistantships focus on research as part of student training and instruction under the guidance of faculty members. Students perform a variety of laboratory tasks and analyses to assist professors and staff on their various projects. Assistantships encourage a collaborative work environment amongst students and faculty.
Teaching Assistantships
Graduate student Teaching Assistants (TAs) are assigned to undergraduate Anthropology classes to assist the professor. While responsibilities of the TAs vary by faculty member and course, many TAs will grade quizzes and exams, hold review sessions and office hours, give presentations to classes, and prepare other activities to prepare students for academic and teaching career paths.
Research and Travel Funds
Additional money is available to graduate students from university sources, such as these:
• Fiske Center Research Grant – offers modest funds for graduate research and/or travel.
• Dr. Robert W. Spayne Master's Thesis/Project Grant – offers up to $1500 for thesis research.
• Professional Development Grant – offers funds ($250-400) for travel to attend scholarly conferences.
• Research Funding Grant – offers funds ($500) for activities not covered by the other GSA grants.
Other Funding Opportunities
Fill out a FAFSA to determine if you are eligible for financial aid or work-study.