Study Abroad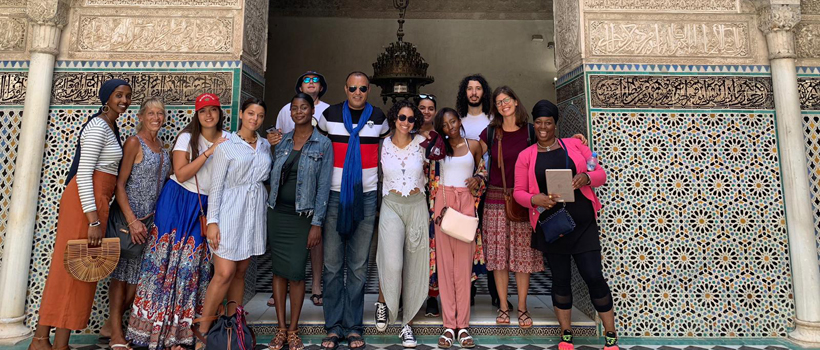 Study Abroad Programs led by MLLC faculty:
France: "Paris: A Living Textbook" (Maymester)
Earn 6 credits by taking MLLC 390 in the spring semester and spending four weeks in Paris with Professor Thierry Gustave

Morocco: "The Moroccan Experience" (Summer 2023)
Earn 3-6 credits in three (summer) or two (winter) weeks in Morocco with Professor Abdelkrim Mouhib for around $3,000 (not including airfare). No previous knowledge of Arabic or French required.

Germany: "Berlin: Crossroads of History" (Summer 2024)
Earn 6 credits and satisfy 3 GenEd requirements in three weeks in Berlin with German faculty for around $3,000 (not including airfare). No previous knowledge of German required.
Chinese Programs & Support
Chinese language programs are available at at Middlebury College in Vermont (program-specific financial support possibility -- this one is expensive!), with Princeton in Beijing and in Taiwan. Scholarships are available for UMass Boston students to participate in the Renmin University summer program. Non-program specific financial support is available via Freeman-ASIA. Please contact Professor Alexander Des Forges for more details.
University Exchange & Provider-Led Programs
UMass Boston offers a wide variety of exchange programs, including reciprocal exchanges, UMass System programs, third-party study abroad partners and direct enroll programs. For more information visit the website of the Office of Global Programs or contact a study abroad coordinator.
Scholarships for Study Abroad
Benjamin Gilman Scholarship
The Benjamin A. Gilman scholarship supports Pell grant recipients for their study abroad term. Students traditionally underrepresented in study abroad are encouraged to apply. Programs must run for at least 3-weeks in length during the semester, summer, or winter (January term). Students can receive up to $5,000 towards their program!
Deadline: March

Beacon Student Success Fellowship
The Beacon Student Success Fellowship is awarded UMass Boston full-time, undergraduate and graduate students who have secured an experiential learning opportunity in the summer (study abroad included) up to $4,500.
Deadline: March
The Sari Kawana Student Travel Fund (Japan)
The Sari Kawana Student Travel Fund has been established by colleagues, friends, and family to honor the memory of Sari Kawana, Professor of Japanese in the Department of Modern Languages, Literatures, and Cultures at the University of Massachusetts Boston. Inspired by Professor Kawana's enthusiastic support for enrichment through immersion in different cultures, the endowed fund will provide crucial assistance to UMass Boston students seeking to further their education through travel to Japan. For more information, contact the department chair, Alex Des Forges (Alex.DesForges@umb.edu).