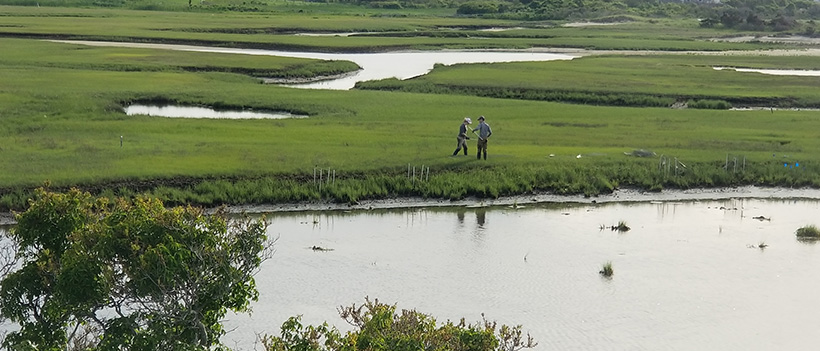 About
We are a world-class research and educational institution and a deeply engaged member of the Nantucket community.
Mission
The mission of the UMass Boston Nantucket Field Station is to provide education, research, and community service opportunities in conjunction with faculty members and students of the University of Massachusetts Boston, the University of Massachusetts system, the people of Nantucket, and other educational and research organizations both on and off Nantucket. In 2004, the Nantucket Conservation Foundation signed a purchase agreement with the Trustees of the University to purchase the field station, protecting the land and allowing UMass Boston to operate the facility in perpetuity.
History
In 1963, the Nantucket Island estate of the late Mr. Stephen Peabody (located in the Quaise portion of Nantucket and bordering Nantucket harbor) was donated to the University of Massachusetts by the Nina Hazen Foundation for use as a teaching and research field station. In 1965, the late Katherine Coe Folger gave an additional gift of land. In 2004, The Nantucket Conservation Foundation bought the land and the University is allowed to use the facilities for teaching and research. The Nantucket Field Station (NFS) site includes a 40 acre salt marsh, 2,000 feet of sandy beach fronting on Nantucket harbor, mowed fields, upland shrub habitat, and a large freshwater pond. Here is a downloadable version of the UMass Field Station Trail Map.
Four buildings including a classroom, laboratory, workshop, and office occupy the 107 acre site on Nantucket Harbor about four miles from downtown Nantucket. A 1,200 sq. ft. laboratory provides workspace and bench space for visiting researchers. A two-story 2,200 sq. ft. building houses a workshop used for maintenance of the facility as well as boats, vehicles, motors, and scientific equipment and a residence for the NFS Director. A 500 sq. ft. cabin constitutes the Field Station office. Overnight or longer term housing is available at the 180 Polpis Campus (two bunkrooms with a total of 14 beds) and also at Gouin Village in condos designed to house 4 people. For information on using the field station, click here.
A 2006 grant awarded to the field station from the National Science Foundation (Modernization of Computer, Communications, and Data Management Equipment at the Nantucket Field Station Award ID #0434862) provided critical support for the acquisition of broadband Internet capability for the Nantucket Field Station (NFS) facility. In addition, funds were used to purchase computer and data transfer equipment to enrich research and instructional programs, archive decades of environmental and biological data, provide real-time web data feeds, and expand the usage of the facility. Most of the campus now has Wifi as does the housing at Gouin Village and bridge connections allow for streaming data collectors across the 107 acre property. In the fall of 2010, the NFS received its second NSF grant for developing a strategic plan for improving and expanding the field station facilities.
Friends of Nantucket Field Station
Help us create a world-class research and education facility.
Read More
---