Workshops
CPDD offers a number of workshops to local and international groups in skills related to conflict resolution, dialogue facilitation, mediation, and negotiation. For the facilitation of these workshops we cooperate with our colleagues at partner organizations like Essential Partners in Cambridge, MA. CPDD workshops include: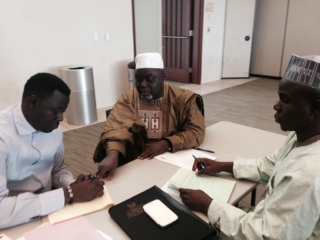 Peacebuilding and Interfaith Dialogue
This highly interactive training explores an array of methods through which religious conflicts can be mediated and resolved. It is designed to understand the core of religious conflicts and evaluate approaches to improve religious relations through several mediation theories and practices. The curriculum integrates mediation research from several academic fields and forms an experiential learning exercise. Participants engage in a series of workshop simulations set in different premise of religious conflict. The training builds from two parties mediation to multiple party mediation. Some of the exercise emphasizes the processes of mediation, the psychological aspects, the creation of value and the dynamics of coalition in mediating religious conflict.
Skill-Building: Facilitation of Inter-Ethnic/Sectarian Dialogue in Conflict Zones
This workshop focuses on building skill sets in facilitation and dialogue processes, which can be used effectively in violence-prone societies. Examples are drawn from trainings in numerous conflict zones around the world. The workshop is usually divided in four parts. During each session, approaches related to the day's topic are presented, followed by participatory exercises, which will give students firsthand experience in dealing with at least some aspect(s) of the subject.
The first part focuses on the understanding of Ethno/Sectarian conflict by assessing the nature of contemporary conflict, the relationship between identity-based and substantive conflict drivers, and a typical conflict cycle. The subsequent part examines approaches to transformation of perceptions, mentalities, and behavior as well as means to bridge ideological divides and to address relational dynamics. Section three of the workshop is dedicated to the reconciliation process by examining concepts such as dealing with grief, grievances, and fears, evaluating practices involving apology, justice and forgiveness, and the use of such processes in countering violent extremism. The final part looks at the overall facilitation process and practice. It assesses various types of facilitation and concludes with a role-play.
Contact Us for Your Workshop with CPDD
If you or your organization is interested in taking part in a CPDD workshop, or would like additional information, please contact us via email cpdd@umb.edu. We will be happy to develop a workshop that fits your needs. You can also see all upcoming workshops in the events section of our website.