Financial Literacy for All
The Financial Services Forum is a source of current information and commentary on the health and critical issues facing the financial services industry in Boston and nationally.
Professor James Grant's manuscript titled Perspectives on the Global Financial Crisis from Emerging Managers and Public Policy Makers. Abridged; full versions of the manuscript are both available.
Rajiv Mallick visits Financial Services Forum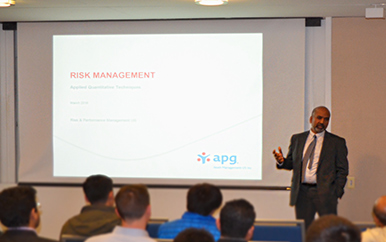 Rajiv Mallick is Senior Risk Manager at APG Asset Management US Inc. and leads the firm's quantitative risk initiative that is geared to provide a greater transparency and sensitivities to capital market factors
---
CONTACT
Arindam Bandopadhyaya
Financial Services Forum Director
College of Management
University of Massachusetts Boston
100 Morrissey Boulevard
Boston, MA 02125-3393
617-287-7854