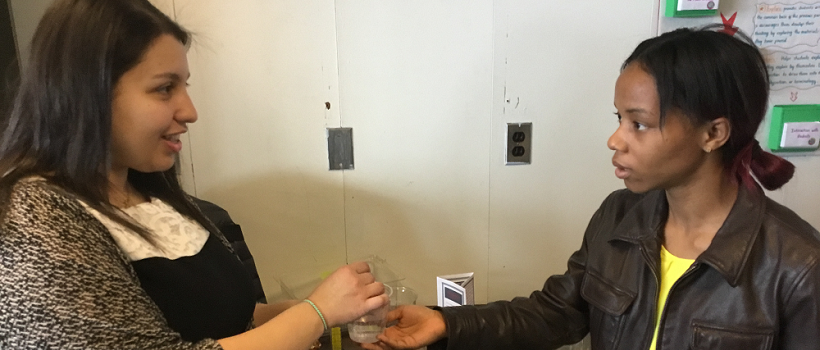 Core Classes
The core classes of UTeach Boston consist of six education classes and a semester of student teaching. The classes, listed in the second table below, cover topics such as writing inquiry-based lessons, developing project-based lessons, exploring how people learn, classroom interactions, and in-depth studying of math or science content that is part of middle and high school curriculum.
UTeach Boston aims to prepare prospective teachers for their career by ensuring that they have a deep understanding of how people learn, and are proficient and confident in pedagogy as well as in the content that they will be guiding their future students to learn. More goals of UTeach Boston can be found here. The program concludes with student teaching for a semester in a grade level of the student's choice. The UTeach program in its in entirety, including the first two (required) introductory classes, consists of 32 credits.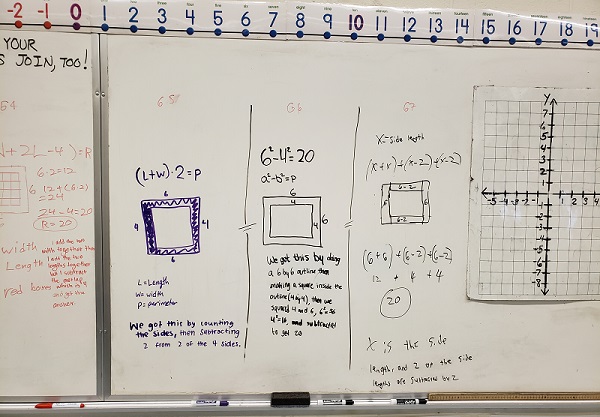 7th Graders write on the board the ways they solved a math problem presented by Step 2 student teachers. The question was: How many squares are in the border of a 6 by 6 grid?
The first two introductory classes, listed in the first table below, are required classes in the UTeach program, but only give a brief overview of inquiry-based STEM teaching methods and learning. They are designed for students of any major to explore teaching as a career. From the very first class, called Step 1, students apply what they learn in class to teach lessons in classrooms all throughout the Boston Public School district. To read a description of a class, click on the class's WISER code in the table.
Introductory Classes (1 credit each)
INTR-D 170
Step 1: Inquiry Approaches to Teaching*
INTR-D 175
Step 2: Inquiry-Based Lesson Design*
After these classes, students can decide whether or not to continue in the UTeach program and complete the core education classes. The core classes are listed in the table below. Knowing and Learning (EDC U 270) fulfills a Social/Behavioral Science general education distribution, and Perspectives (EDC U 370) fulfills a Humanities general education distribution. To read a description of a class, click on the class's WISER code in the table.
Core Classes (3 credits each)
EDC U 270
Knowing and Learning Math and Science (SB)
EDC U 275
Classroom Interactions*
EDC U 370
Perspectives on Science and Math (HU)
EDC U 375
Functions and Modeling

(Math majors only)**
EDC U 470
Research Methods

(Science majors only)
EDC U 475
Project-Based Instruction*
EDC U 451
Rethinking Equity and Teaching for English Language Learners*
EDC U 499
Student Teaching (Practicum) * (12 credits)
*This class has a field component.
**For math majors who complete the UTeach Program, this counts as a 300-level math elective.
We will be posting four-year advising plans for STEM majors in UTeach soon.
---
UTeach Boston
Wheatley Hall, 4th Floor
100 Morrissey Blvd.
Boston
,
MA
02125