A Growing Presence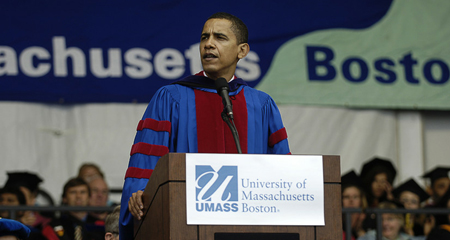 Boston State's long-established ties with the city's public schools, police and fire departments, and local health care organizations created new opportunities for the university to strengthen its commitment to community outreach and service.
The 1980s and 1990s saw a growing university presence in the community and beyond. New centers, institutes, and degree programs promoted research and active engagement in Latino, African-American, and Asian-American community development; gerontology; labor studies; public affairs; harbor and environmental studies; and health care.
The university has also established community-based partnerships and initiatives that promote learning, such as:
UMass Boston's partnership with the

Dana-Farber/Harvard Cancer Center,

which provides opportunities for underrepresented minority faculty, students, fellows, and scientists to engage in research on health disparities within underserved populations. This began in 2005 when the National Cancer Institute (NCI) funded a U56 pilot partnership between UMass Boston and the Dana-Farber/Harvard Cancer Center. In 2010 the NCI followed up with a

U54 Minority Institution/Cancer Center Partnership Grant

to continue providing research, training, and outreach opportunities.
The

Venture Development Center

(VDC),

UMass Boston's business incubator for technology and life sciences startup companies—plus a learning, internship, and career resource for entrepreneurial students. The VDC was launched in May 2009; by 2011, the investment success of its firms eclipsed that of the top program in the nation. The VDC has also placed nearly 100 students as interns in venture-backed startups, with 70 percent eventually hired as full-time employees.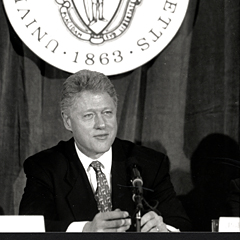 UMass Boston's growing presence on the national stage—and its proximity to the John F. Kennedy Presidential Library and Museum, opened in 1979—has made the campus an attractive host for important civic events. These have included a community roundtable with President Bill Clinton in 1997; the first presidential debate between then-Texas Governor George W. Bush and Vice President Al Gore in 2000; and the 2006 commencement address by then-U.S. Senator Barack Obama.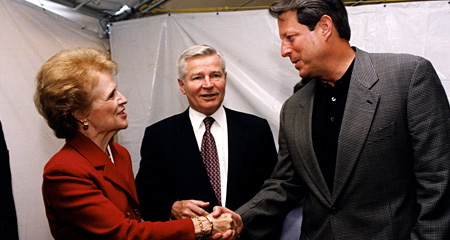 UMass Boston is also a regular host for political debates and other government and civic events. The Campus Center, which opened in 2004, provides a spectacular harborfront venue for a variety of these events.
Historical images courtesy of the University Archives and Special Collections