YES with Africa
INNOVATIVE EDUCATION
Young, energetic leadership is reshaping 21st century Africa. The Youth, Education, and Sports (YES) with Africa program offers leadership training for youth ages 7–19. Youth organizations in the republics of Benin and Senegal, in partnership with the University of Massachusetts Boston's Division of Athletics, Recreation, Special Projects and Programs and the UMass Boston Center for African, Caribbean and Community Development (CACCD), began the program in 1999. As an innovative partnership between public sector, private sector, and nongovernmental organizations, the program has served as a successful model of cooperation, receiving support from USAID, Coca Cola, the US Department of State, and numerous private corporations in Africa. YES with Africa participants have gone on to attend West African universities, assume positions of leadership in the local public and private sectors, and participate in nongovernmental organizations. Our early emphasis on renewable energy in our technology curriculum has helped encourage implementation of a cutting-edge innovation that can foster growth in local economies. An arts program that promotes respect for traditional arts and culture serves a fundamental bridge between generations.
HEALTH EDUCATION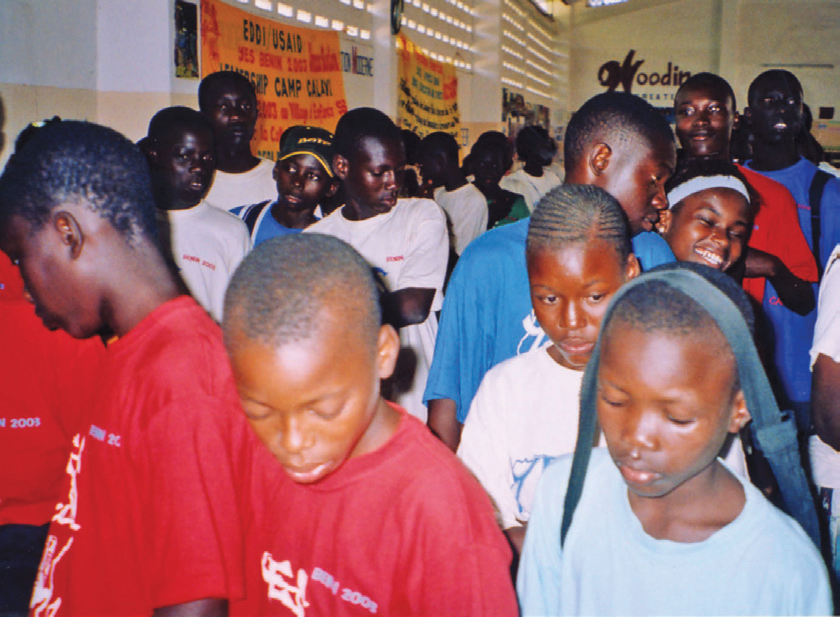 The program includes periodic seminars on health issues that affect the daily lives of African youth. Representatives of local collaborating nongovernmental organizations and specialists in their fields have conducted seminars on topics such as malaria prevention, personal hygiene, nutrition, AIDS, sexually transmitted diseases, and other pertinent subjects.
APPLIED TECHNOLOGY SKILLS
Like their counterparts around the world, African students understand that computer skills are essential for their future. YES with Africa computer training sessions expose students to basic computer and internet skills and give them an opportunity to develop competency with those skills. As program participants go on to leadership positions in their careers, they will build on the foundation laid by YES with Africa computer training. YES Benin has trained local youth in the design and installation of photovoltaic systems.
CULTURAL ARTS
The cultural arts program exposes students from the many ethnic groups represented in YES with Africa's diverse classrooms to the varied cultural traditions of African people from their region and the African Diaspora. Local artists and craftsmen work with students to produce original art using found objects and locally available materials to produce their own art and demonstrate woodcarving, batiking, printing, dance, and music. Learning respect for other peoples and cultures helps build strong leaders for an increasingly interconnected and diverse world. UMass Boston participants developed a local steel band in collaboration with the YES Senegal program.
ENVIRONMENTAL AWARENESS
Africa's future leaders will need to be responsible custodians of the environment and the continent's rich natural resources. YES with Africa environmental awareness classes introduce students to the fundamental principles of conservation and environmental stewardship, including the benefits and techniques of recycling, effective waste management, reforestation, appropriate technologies, and environmentally sustainable agriculture.
ATHLETICS
The focus of YES with Africa athletic training is on sound fundamental basketball skills, nutrition, intercultural group relations, physical conditioning, and coaching strategies. Effective training of African coaches by their counterparts in the US is an important objective of this program. Trained coaches then work with African youth to build their skills in dribbling, shooting, passing, footwork, and individual and team offensive and defensive skills. Building local coaching expertise in this way will ensure the establishment of a strong foundation for an underserved sport, cultural exchange, and the development of leadership skills among African youth.
---