Center for Survey Research
50 Years of Survey Research Excellence
The Center for Survey Research (CSR) is a full-scale academic survey research center that conducts basic and applied research contributing to knowledge and understanding of important social issues.
CSR maintains a professional staff that works to design and evaluate survey questions, assist clients with their needs to develop and implement survey sampling strategies, and field mail- and web-based surveys. CSR also conducts small-scale telephone interview surveys using standardized interviews with trained telephone interviewers. Since 1971, we have provided methodological expertise to university scholars and public and private agencies.
CSR's 50th Anniversary Report provides a brief history of the Center along with a description of many of its diverse survey research projects. A copy of the report can be viewed here.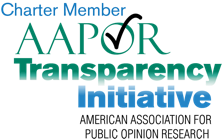 Center for Survey Research
University of Massachusetts Boston
100 Morrissey Blvd.
Boston, MA 02125
Phone: 617.287.7200
Email: csr@umb.edu
The Center for Survey Research is located on the 10th floor of Healey Library. For directions to and a map of campus, visit Getting Here.
Center for Survey Research
100 Morrissey Blvd.
Boston
,
MA
02125