COVID-19 in Boston
The Living in Boston during COVID Survey was conducted by the Boston Area Research Initiative (BARI), the Center for Survey Research at UMass Boston, and the Boston Public Health Commission, with generous support from the National Science Foundation. It is the only survey in the world to capture disparities in the experiences of, attitudes toward, and impacts from the COVID-19 pandemic across the neighborhoods of a city, providing a unique insight into racial and social inequities. We are highlighting the insights from the survey in a series of reports and bite-size data stories.
Infection Transmission of COVID19 in Urban Neighborhoods
The consequences of disasters are often influenced by where one lives, but a pandemic introduces the additional ingredient of network diffusion through interactions within and between neighborhoods. This study synthesizes these two perspectives to understand how COVID19 infections spread through a city's neighborhoods, leading to differential infection rates.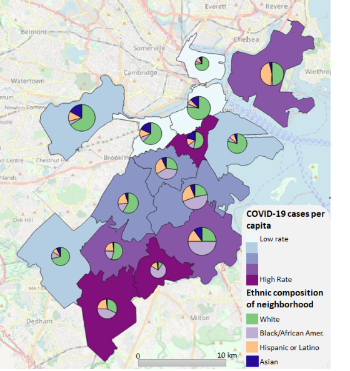 Figure 1. COVID-19 cases per capita are highest in Boston's majority-minority neighborhoods.
Research Questions
How are residents of Boston's neighborhoods responding to the pandemic?
How do rates of infection and patterns of mobility vary by neighborhood?
What influences compliance with social distancing and mask wearing recommendations?
Data
Survey on social distancing practices, attitudes, and infection exposure
Cellphone-generated aggregations of movement across neighborhoods
Neighborhood-level diagnosis records
Neighborhood geographic features curated by the Boston Area Research Initiative.
Analyses
Four-part causal model:

Neighborhood characteristics
Social distancing practices
Mobility flows of the city
Network diffusion of infection

Impact
Guidance as cities around the world continue to manage the current pandemic while also preparing for similar crises in the future.
Conclusions about how infection-related interventions can be equitable; that is, adopting the necessary sensitivity to support each community based on its underlying needs and challenges.

To learn more, see NSF RAPID.
Collaborators
---
Center for Survey Research
100 Morrissey Blvd.
Boston
,
MA
02125