2020 Nursing PhD Grad to Train As Implementation Scientist Through UMass Medical School Program
---
06/02/2020
| Colleen Locke
Maryum Zaidi Has Worked As a Nurse for 16 Years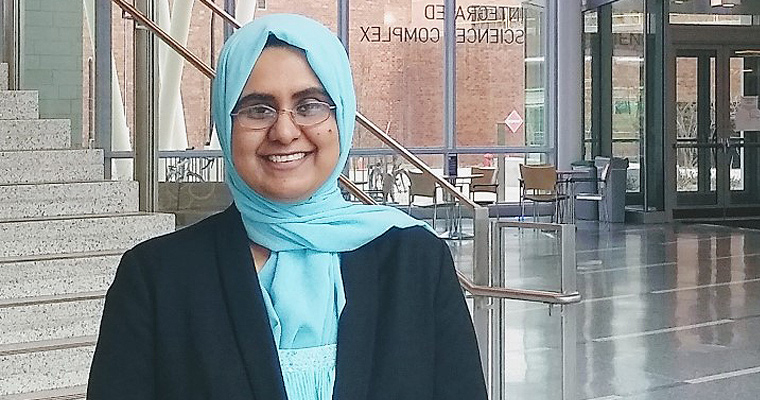 Maryam Zaidi defended her dissertation at the Integrated Sciences Complex in March.
It's obvious from speaking with her that Maryum Zaidi, who earned her PhD in nursing from the College of Nursing and Health Sciences in May, has a natural curiosity about her.
"Beliefs about something always fascinate me, like what a person believes about themselves—what a person believes about anything. Does that impact their behavior?" Zaidi said.
A few weeks after defending her dissertation, Zaidi learned she had been accepted into PRACCTIS, a training program for pre-doctoral and postdoctoral trainees funded by the National Cancer Institute. UMass Medical School (UMMS) is the lead institution; UMass Boston is among the partner organizations.
"As a research scientist I would like to learn and apply implementation science through this fellowship to improve the process of patient engagement in clinical practice," Zaidi said. "I find health information technology exciting, as it is one of the tools of the patient engagement process. It can offer windows of opportunities to collaborate across physical barriers of access to resources in many places. In addition to developing my teaching and research trajectory in the U.S., I would love to apply my current training internationally across borders."
Zaidi's dissertation, which she defended at the Integrated Sciences Complex in March, looked at the use of health information technology, like web portals, as one of the tools to engage patients in treatment decision-making. In the sample she looked at, Zaidi found that income, poverty, race and education had an impact on health information technology use. Previous studies have provided similar findings in younger age groups. Zaidi was able to replicate those findings in older adults. Despite various government incentives toward health information technology, in older adults, where the disease burden of cancer is high, utilization of health information technology is not well studied.
"The most interesting and new finding in my study was about fatalistic beliefs about cancer—thinking that cancer is a death sentence and you can't do anything about it," Zaidi said. "I used a psychosocial model to see what people think of cancer and what comes to someone's mind when you think of cancer. Even if we controlled for the influence of access and other sociodemographic variables, if those belief scores were higher, the utilization of health information technology was about 59 percent less. This finding was statistically significant."
PRACCTIS stands for Prevention and Control of Cancer Training for Change in Individuals and Systems. The goal is to train future leaders in cancer-related implementation science, which is a discipline that addresses the need to incorporate research findings into routine clinical and public health practice. Zaidi is hoping that the UMMS program will help her convert the information uncovered in her dissertation research into practical strategies to improve engagement in cancer care.
"Many examples throughout my nursing career made me think about how patients or their loved ones make decisions when they feel vulnerable or are faced with a diagnosis of a life-threatening disease. That's why I am passionate to see how the science of patient engagement can be implemented from patients's perspectives at UMass Medical Center," Zaidi said.
Zaidi has worked as a nurse for 16 years. Her background is in oncology. Right before coming to UMass Boston she worked at Yale Medical Center. She has also worked at Griffin Hospital in Derby, Connecticut, and while a student at UMass Boston, she worked as a clinical nurse at Dana-Farber Cancer Institute and Brigham and Women's Hospital. She came to UMass Boston because the Nursing PhD program curriculum allowed her to concentrate on health policy.
"From the very first day it felt like I belonged at UMass Boston," Zaidi said. "I met my two very best friends here. They both are graduates of the same program now. My first semester, I had a philosophy of science class that opened my eyes to different ways of thinking. Afterward, every single course I took and the faculty that I have met have inspired me. This program offered a very comprehensive policy-focused training and I feel very lucky to have been able to study here."
Zaidi is scheduled to start the PRACCTIS program in August.
About UMass Boston
The University of Massachusetts Boston is deeply rooted in the city's history, yet poised to address the challenges of the future. Recognized for innovative research, metropolitan Boston's public university offers its diverse student population both an intimate learning environment and the rich experience of a great American city. UMass Boston's colleges and graduate schools serve 16,000 students while engaging local and global constituents through academic programs, research centers, and public service. To learn more, visit www.umb.edu.