Alumna's Gift Makes Visual, Performing Arts Spaces More Visible
---
08/26/2020
| Colleen Locke
If you enter University Hall from the bus loop, you'll find the University Hall Gallery and performing arts spaces tucked into the back part of the building. These campus gems are now a lot easier to find thanks to a gift from Christine Huber '76 and her husband Alan.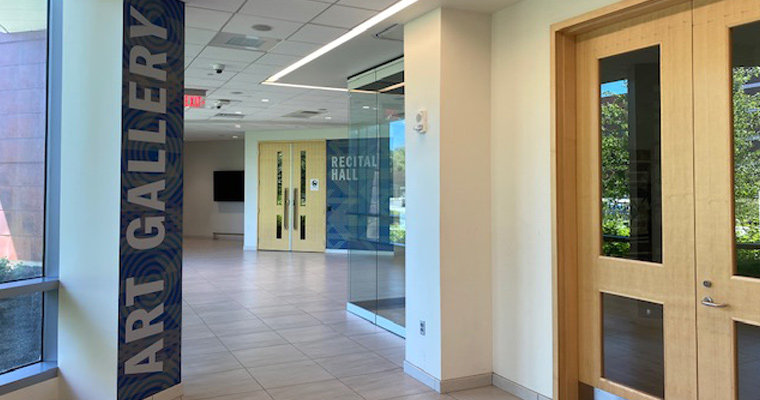 " UMass Boston changed my life forever. I wouldn't have attended college if UMass Boston didn't exist. "
"When I visited University Hall in the fall of 2017 to see the Richard Yarde exhibit, I was struck that there was no signage for the gallery, theatre, or recital hall. It needed to be addressed, and Alan and I were happy we could contribute something very valuable to the arts at UMass Boston. I am an art enthusiast and this gift married my philanthropic passions," Christine Huber said.
Christine Huber was a sociology major at UMass Boston. She's among the special group of students to have taken classes at both the campus's original location in Park Square and at the current location on Columbia Point.
"UMass Boston changed my life forever. I wouldn't have attended college if UMass Boston didn't exist," Huber said. "I have been very fortunate to be in a position to give back to UMass Boston for all that it gave me."
The noticeable signage changes begin above the elevator bank and continue down the hallway.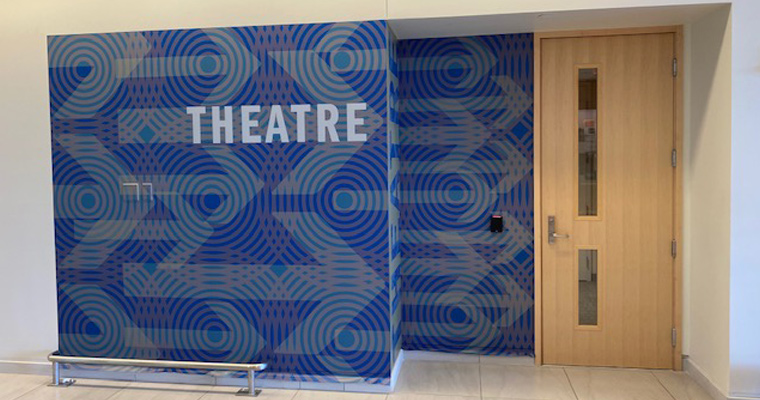 "As the premier visual arts gallery at UMass Boston, visibility on campus is essential. With the new, impactful, and attractive wayfinding signage, our students, professors, staff, and the general public will all be able to find us more easily and see the importance of the hidden gems in University Hall's arts wing," said University Hall Gallery Curator Sam Toabe.
"We're so thrilled at the generosity of the Hubers, creating such a colorful visual entrance to the University Hall Theatre and Recital Hall, where our students share their craft, grow, and share with our audience," added Performing Arts Chair Rafael Jaen. "It's always special when UMass Boston's alumni give back to students, and this gift is particularly appreciated, as it elevates the visual presence of the arts in University Hall. It's a far more exciting entrance to these spaces for our audiences, more fitting for the magic that takes place within."
This isn't the first time Christine Huber has made a gift to the university. Supporters since 2011, the Hubers are members of our Founders' Circle, which recognizes philanthropists for their transformational gifts to UMass Boston. Christine's family established the Huber Family Scholarship Endowment Fund several years ago. Students can apply online at https://umb.academicworks.com.
About UMass Boston
The University of Massachusetts Boston is deeply rooted in the city's history, yet poised to address the challenges of the future. Recognized for innovative research, metropolitan Boston's public university offers its diverse student population both an intimate learning environment and the rich experience of a great American city. UMass Boston's colleges and graduate schools serve 16,000 students while engaging local and global constituents through academic programs, research centers, and public service. To learn more, visit www.umb.edu