Chancellor Appoints First Special Advisor for Black Life at UMass Boston
---
11/12/2020
| Office of Communications
Professor Joseph Cooper's Appointment Is Part of Broader University Anti-Racism Program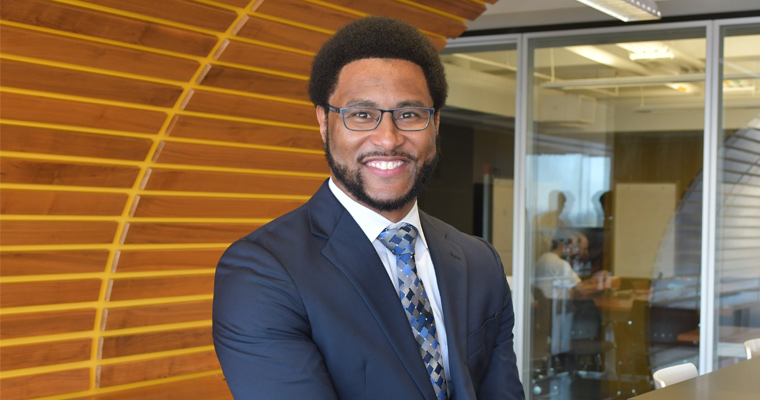 UMass Boston Chancellor Marcelo Suárez-Orozco today announced the appointment of Associate Professor Joseph N. Cooper as special assistant to the chancellor for Black life. The newly created position is intended to bring greater focus throughout the campus community to issues of inequality, racism, and social justice.
"UMass Boston must stand for a higher education agenda of excellence animated by an ethic of care and solidarity," said Suárez-Orozco. "Dr. Cooper brings to this new position a wealth of empirical research, personal experience, and cultural insights into addressing the complexities of engineering and building a path forward for Black equity and justice. Dr. Cooper's scholarly work on disparate topics including Black male holistic development, Black male scholar athletes in science and engineering, and anti-deficit perspectives on Black male students reveals a keen and engaged mind elucidating critically important domains of research, policy, and translational work. I am delighted that Dr. Cooper will work closely with me and our colleagues in his new role."
Cooper was appointed the inaugural J. Keith Motley Endowed Chair for Sport Leadership and Administration at UMass Boston in August 2019. He previously was an assistant professor at the University of Connecticut's Neag School of Education, where he specialized in sport management, gender and race in sport, and higher education. His research concentrates on the nexus between sport, education, race, and culture.
"I am honored to serve in this new role and further the university's mission and commitment to creating an anti-racist campus for all students, faculty, and staff," he said. "I am a proponent of collective responsibility and excellence, which means the problems we seek to solve require the talents, skills, and contributions of all who are committed to improving our university and society at large. I look forward to utilizing my expertise, experiences, and resources in concert with our university community to ensure UMass Boston is a leader in higher education on racial justice and equity."
In his new role, Cooper will advise the chancellor on matters of importance to Black faculty, students, and staff and work with the administration to create new structures and to develop new practices purposefully designed to put UMass Boston at the forefront of excellence, engagement, and relevance on racial justice, equity, diversity, and inclusion.
The position is one of several new initiatives the chancellor has launched to move UMass Boston toward becoming a leading anti-racist and health promoting public research university. In July, Suárez-Orozco and his wife, Carola, established the endowed George Floyd Honorary Scholarship Fund to provide financial support to talented students who otherwise may find it difficult or impossible to pay for a college education. The fund was seeded by a $50,000 pledge from Suárez-Orozco and quickly exceeded $125,000 in commitments.
Other elements of this university-wide effort include:
A new Student Equity and Access Team diversity council aims to engage undergraduate and graduate students in working with the wider UMass Boston community in addressing issues of equity, inclusion, and access as they impact the student experience and the overall campus climate.
Beacon 2020, a new program providing first-year students with meaningful opportunities for immersing themselves in a variety of engaging, collaborative and community building educational and social experiences.
The Sankofa Conversation Series on Structural Racism that includes guest speakers, panel discussions, and community book readings. The series takes its name from a symbol of the Akan people in what is now the West African nation of Ghana. The word "Sankofa" can be translated as "Looking backward to move forward."
The creation of a commission that will review, evaluate, and advance proposals from any community member related to black life on campus.Examples include the creation of campus celebrations and educational programming recognizing Black Lives Matter Day, Juneteenth, and Indigenous Peoples' Day
About UMass Boston
The University of Massachusetts Boston is deeply rooted in the city's history, yet poised to address the challenges of the future. Recognized for innovative research, metropolitan Boston's public university offers its diverse student population both an intimate learning environment and the rich experience of a great American city. UMass Boston's colleges and graduate schools serve 16,000 students while engaging local and global constituents through academic programs, research centers, and public service. To learn more, visit www.umb.edu.