Chancellor-elect Suárez-Orozco Establishes Endowed George Floyd Honorary Scholarship
---
07/27/2020
| Office of Communications
Fund Will Support Talented Students Struggling to Pay for College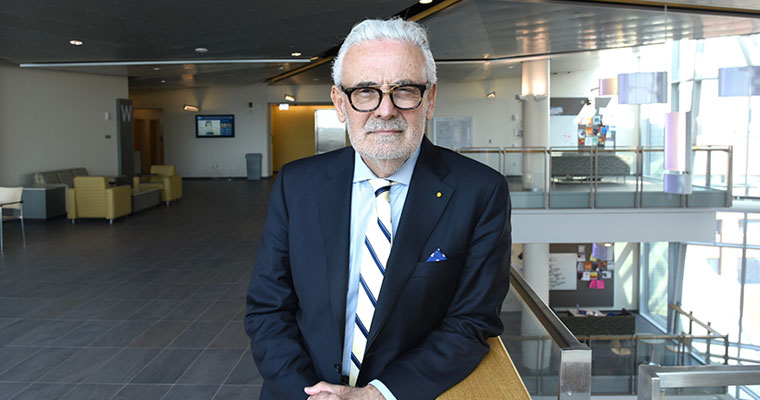 Image By: Harry Brett
" This is an investment in future leaders who will fight for social, political, and economic justice. "
UMass Boston announced today that Chancellor-Elect Marcelo Suárez-Orozco and his wife, Carola, have established an endowed George Floyd Honorary Scholarship Fund to provide financial support to talented students who otherwise may find it difficult or impossible to pay for a college education. Seeded by a $50,000 pledge from Suárez-Orozco, the fund has already exceeded $100,000 in commitments.
"The racialization of inequality is a grave threat to the practice of democratic citizenship in the Commonwealth and beyond. UMass Boston's students of color -- like their peers across the nation -- face economic and social barriers to their education, exacerbated by COVID-19's malignancy, placing too many of our students at an educational disadvantage," Suárez-Orozco said. "I firmly believe that equitable access to quality education is a foundational step we must take to see systemic racism dismantled in our country. That principle has defined my career in public education since my student days in the California community college system and at UC Berkeley. It shall guide my work as chancellor moving forward."
"UMass Boston embodies the mission of access and quality through its diverse student population, affordable cost, community-engaged research and service, and the invigorating ideas and experiences shared by students of every age and background in the classroom," he added. "This is also an investment in future leaders who will fight for social, political, and economic justice, drawing from their lived experience and using the tools forged in our classrooms."
The endowed fund is seeded by a $50,000 commitment from the Suárez-Orozcos with the intent of leveraging additional gifts. The fund has already received multiple commitments, including $10,000 from UMass President Marty Meehan, $10,000 from the UMass Foundation and $50,000 from Jean Rhodes, Frank L. Boyden Professor in the Department of Psychology at UMass Boston.
"I commend Marcelo and Carola for making this transformative commitment to the students of UMass Boston, who are the future of Boston, the Commonwealth and our nation," UMass President Marty Meehan said. "They have dedicated their scholarship and teaching to defeating racism and xenophobia, and now with this fund they are challenging us all to support that cause in a tangible way by directly supporting students of color. I look forward to witnessing the impacts that future George Floyd scholars will have on the world."
Suárez-Orozco was unanimously elected in February by the UMass Board of Trustees, becoming the first Hispanic and ninth permanent chancellor of UMass Boston. He starts as chancellor on August 1.
An immigrant from Argentina, he is an internationally renowned educator and researcher whose work focuses on the study of mass migration, globalization, and education. He sees UMass Boston as an institution that should be at the forefront in the battle to end systemic racism. The Boston UMass campus was established in 1964 in response to social upheaval, urban unrest, and a rapidly increasing demand for higher education.
The George Floyd Honorary Scholarship Fund supports and enhances a strategy launched recently by UMass Boston to identify and assist students most impacted by the economic consequences of the coronavirus pandemic and most at risk for educational disruption due to financial distress and family illness. Funded by the Trefler Foundation and Strategic Grant Partners, the strategy employs data and advanced analytics, artificial intelligence technology, and targeted augmented financial support.
"This is an extraordinary act of generosity, befitting these extraordinary times," noted Interim Chancellor Katherine Newman. "The pandemic has both revealed and exacerbated inequalities in the United States. The Suárez-Orozcos have been committed to the eradication of racial barriers in higher education throughout their distinguished careers. With this transformative gift, they will enable generations of UMass Boston students to complete the education they so richly deserve. The whole campus rejoices at their arrival and thanks them for this memorable gesture."
Details of the distribution of scholarships from the newly formed fund are still being finalized.
About UMass Boston
The University of Massachusetts Boston is deeply rooted in the city's history, yet poised to address the challenges of the future. Recognized for innovative research, metropolitan Boston's public university offers its diverse student population both an intimate learning environment and the rich experience of a great American city. UMass Boston's colleges and graduate schools serve 16,000 students while engaging local and global constituents through academic programs, research centers, and public service. To learn more, visit www.umb.edu.