Chancellor Search Committee Recommends Finalist
---
01/28/2020
| Communications
BOSTON -- Declaring him a candidate who can be "a transformational and inspirational leader for Boston's public university of transformation," a 21-member search committee today unanimously named UCLA dean Marcelo Suárez-Orozco as the sole finalist for the position of chancellor of the University of Massachusetts Boston.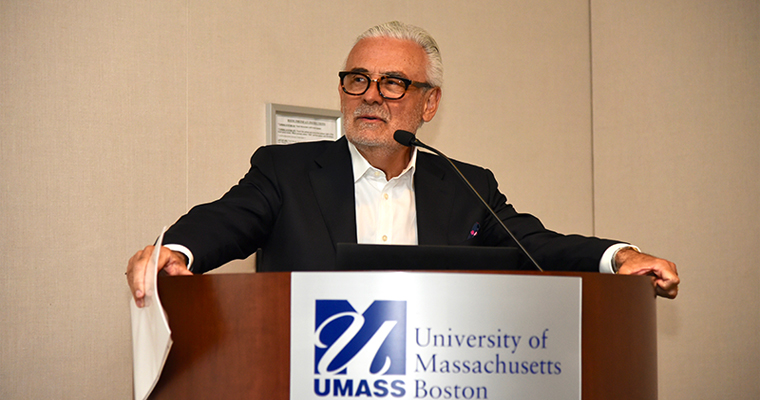 Image By: Harry Brett
Search committee recommends UCLA Dean Marcelo Suarez-Orozco for UMass Boston chancellorship
Transformational and inspirational leader for transformational university
"We were deeply impressed by the quality and depth of the field this position attracted," said R. Norman Peters, chairman of the UMass Boston Chancellor Search Committee. "At this point in the process, assessing the field as we now see it, one candidate truly rises to the top, and we are proud to recommend his candidacy."
"I could not be more pleased with the committee's nominee. Marcelo Suárez-Orozco is the transformative leader that UMass Boston needs and deserves. He is a brilliant, world-renowned scholar, whose groundbreaking work on immigration is directly relevant to our urban mission. And he is a warm, thoughtful, and charismatic leader whose tireless advocacy and deep commitment to social justice will elevate UMB and its surrounding communities to historic heights," said committee vice chair Jean Rhodes, Frank L. Boyden Professor of Psychology and Director of the UMass Boston Center for Evidence-Based Mentoring.
Dean Suárez-Orozco, who will be at UMass Boston on Friday to meet with students, faculty, staff, and others during a daylong campus visit, said he was honored to receive the committee's endorsement and outlined the values and vision that would guide him if he becomes chancellor of UMass Boston.
"I am deeply humbled and honored by this extraordinary opportunity. The University of Massachusetts Boston is a beacon of public education in the Commonwealth, in the country, and beyond. At a time when more is asked of higher education than in any previous generation in American history, the public research university faces extraordinary opportunities and real challenges moving forward. An ethic of social justice, a commitment to nurture the life-enhancing powers of education, and an unwavering devotion to excellence and equity shall guide my work if given the honor to serve as the next chancellor of the University of Massachusetts Boston," Dean Suárez-Orozco said.
Suárez-Orozco is the inaugural Wasserman Dean at the University of California Los Angeles, where he leads one graduate school, 16 research institutes, and two academic programs.
He is an internationally-renowned researcher whose work focuses on the study of mass migration, globalization and education. His award-winning books and edited volumes have been published by Harvard University Press, Stanford University Press, University of California Press, Cambridge University Press, New York University Press, and others. His scholarly papers, in a range of disciplines and languages, appear in leading journals including Harvard Educational Review, Harvard Business Review, Revue Française de Pédagogie (Paris), Cultuur en Migratie (Leuven), Temas: Cultura, Ideologia y Sociedad (Havana), Ethos, The Journal of the American Academy of Arts and Sciences, Harvard Policy Review, and others.
In January of 2018, His Holiness Pope Francis appointed Dean Suárez-Orozco to the Executive Committee of the Pontifical Academy of Social Sciences. He has also served as Special Advisor to the Chief Prosecutor, The International Criminal Court, The Hague, The Netherlands.
During his tenure as the UCLA Wasserman Dean, Dr. Suárez-Orozco raised over $120 million toward the UCLA Campaign. He has also held positions at Harvard and at NYU.
At Harvard, he served as the Victor S. Thomas Professor of Education, Co-Founder and Co-Director of the Harvard Immigration Project, and founding Member of the Executive Committee of the David Rockefeller Center for Latin American Studies. At NYU he served as the inaugural Courtney Sale Ross University Professor of Globalization and Education.
An immigrant from Argentina, Dean Suárez-Orozco is a product of the California public higher education system, having attended a community college in the state and then earning his AB, MA, and PhD (Anthropology) degrees at the University of California Berkeley.
The UMass Boston Chancellor Search Committee was established five months ago and during that time held outreach meetings on campus, mounted an extensive candidate-recruitment effort, developed an informational web site, provided the campus with regular search updates and held eight business meetings. The Boston-based executive recruitment firm Isaacson, Miller assisted the committee throughout the search and contacted 374 prospective candidates as the process unfolded.
President Marty Meehan thanked the search committee for its work and said he looked forward to Dean Suárez-Orozco's visit. "This committee has performed at the highest level and has done UMass Boston and the UMass system a lasting service. I thank Chair Peters, Vice Chair Rhodes and the entire committee for their commitment and service."
After the campus visit has taken place and feedback has been assessed, the selection process concludes with the president making a recommendation to the UMass Board of Trustees and the board voting.
Part of the University of Massachusetts system, UMass Boston enrolls 16,000 students. Its 10 colleges and graduate schools attract students from 144 nations. UMass Boston generated $50 million in research funding in Fiscal Year 2019.