Chancellor Suárez-Orozco Encourages Campus to Redouble Efforts to Advance Social Justice
---
09/17/2020
| Crystal Valencia
Chancellor Marcelo Suárez-Orozco Delivers First Convocation Address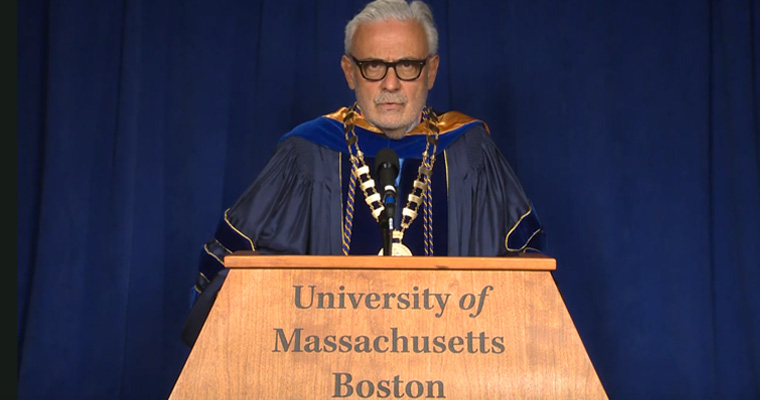 " Let me say this loud and clear, in Spanish first: Mi casa es su casa. UMass Boston es su casa! "
Officially launching an "anything but ordinary" academic year with a virtual convocation address, UMass Boston Chancellor Marcelo Suárez-Orozco called on the higher education community to "sharpen its focus and redouble our endeavors to forge anew the indispensable tools for social justice."
In the time of a pandemic that is particularly devastating to communities of color, unchecked climate change bringing suffering to the world's poorest regions, structural racialization and inequality, the intergenerational persistence of anti-Blackness, xenophobia, and anti-immigrant policies, Suárez-Orozco said that higher education is more important today than ever before in history.
"Moving forward, our responsibility — your responsibility as new members of the Beacon community — is significant," he said. "In the age of atavistic hate, anti-science and anti-rationality, higher education offers precious tools for science, logic, and facts-based debate."
The chancellor was one of nine speakers — including UMass President Martin Meehan and Trustee Imari K. Paris Jeffries — who joined convocation from various locations to officially kick off the 2020-21 academic year through a video released on YouTube, Facebook, and the university website. Danielle Allen, the James Bryant Conant University Professor at Harvard University, gave the keynote address.
In his remarks, Suárez-Orozco acknowledged to students that starting or continuing their UMass Boston journey amid a global pandemic is anything but ordinary.
"Under these most trying of circumstances, your journey of study, discovery, and self-discovery is rigorous. It is a journey full of possibilities and full of potential. But your new beginnings are marked by uncertainty in the midst of great suffering, pain, fear, and so much loss," he said. "My deep hope is that all members of the Beacon family, of your family, are healthy and staying safe."
Suárez-Orozco said that as scholars and citizens, we cannot take a passive role in addressing the suffering around us.
"We are entering an era of dangerous climate change, and climate extremes will move into our living rooms, instead of happening thousands of miles away to someone else," he said. "Racist violence and destruction, now taking the form of what Pope Francis has called an 'industry of death,' is bequeathing an empire of suffering in every city large and small.
"As scholars, scientists, artists, humanists and practitioners who are committed to social justice, we must reflect on our privileges and act in all that we do against the systemic racism that impacts our community and the children and families and communities who we serve," he said. "We must address racism and anti-Blackness and its impact on the daily lives and opportunities of individuals of color."
He said he demands of himself and expects the entire Beacon family — faculty, students, and staff — to embody an ethos and practice based on respect for the dignity of all human beings.
He emphasized that acts of intolerance, discrimination, bullying, and overt and covert bias stand in complete opposition to the spirit that animates UMass Boston and our lives as scholars and practitioners.
"I never thought I would have to say this publicly but in the age when so many continue to peddle the fool's gold of division and hate, I must: If you are an immigrant, documented or undocumented, let me say this loud and clear, in Spanish first: Mi casa es su casa," he said. "UMass Boston es su casa!!! If you are a Muslim, UMass Boston is your house. If you are a person of color, it's your house, it's our house, if you are LGBTQ, it's your house, it's our house. If you are a Native person, we know we are in your house!"
Closing his remarks, he offered students some advice: Even if on Zoom, make sure to meet and to get to know someone different that yourself.
"Boston is one of the most amazingly diverse cities on earth," he said. "So get to know someone from somewhere else!"
Student speakers Janrey Javier '21 and Jaely Pereira '21, the Undergraduate Student Government president and vice president, Jenn Pletcher, Graduate Student Assembly president, and Stephanie Beauvil '21, a program assistant in the Office of Social Justice Leadership and Service, welcomed the campus to convocation.
Earlier in the program, Provost Emily McDermott welcomed 19 new tenure-track faculty members recruited to campus this year through national searches. Another 39 faculty members were recognized for being promoted to the rank of associate professor, full professor, senior lecturer, and senior lecturer II.
Jeffries '97, G'99, G'03 said though the ceremony was conducted virtually, it was no less significant.
"One of the reasons I'm honored to be here is because the University of Massachusetts is in my blood. It's in my DNA. I am a proud three-time graduate of UMass Boston—a triple Beacon," he said. "I owe much of my success to this university— the faculty who challenged me every day and were here to help me, my classmates whose idealism and diversity always drove me to make a difference."
Meehan spoke of how much has changed over the last several months, but how the most important characteristics of UMass Boston endure.
"In the pursuit of your college degree we are here to support you, most of all because we are counting on you to lead the way to a more just, fair, and healthier nation and world," he said. "We need you, the community needs you, this nation needs you, the world needs you to succeed here at UMass Boston, and we all know you will succeed because you have the determination, character, and intellect to do so."