"Chat with the Dean" Opens Discussion with Health Care Workers
---
05/08/2020
| Vanessa Chatterley
Alumni and students had the unique opportunity to hear from College of Nursing and Health Sciences (CNHS) alumni and a nursing student who serve in a variety of roles in the health care industry. The event, called "Chat with the Dean," was co-hosted by CNHS and the Office of Alumni Engagement, and served as a platform for participants to learn what members of the CNHS community are encountering as health care workers during the COVID-19 pandemic.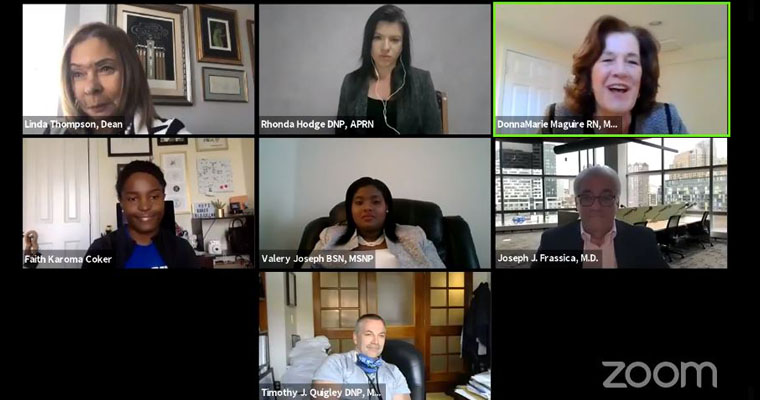 "Chat with the Dean" invited College of Nursing and Health Sciences alumni and a nursing student to discuss what they are encountering as health care workers during the COVID-19 pandemic.
The interactive Zoom session kicks off a series of "Chat with the Dean" webinars. College of Management Dean Arindam "Bando" Bandopadhyaya will continue the discussion on May 13 and June 10 alongside UMass Boston alumni in the business industry,
CNHS Dean Linda Thompson opened the discussion by introducing the six CNHS alumni and student who joined her as panelists:
Joseph Frassica '77
Chief Medical Officer
Head of Research the Americas
Vice President, Philips
Rhonda Hodge G'19
Provider and Practice Owner
Harmony Psychiatric Services
Valery Joseph '10, G'18
Nurse Practitioner
Whittier Street Health Center
Faith Karoma Coker '21
Certified Nursing Assistant
Boston Medical Center
DonnaMarie Maguire G'03
Senior Clinical Compliance Consultant
Brigham and Women's Hospital
Timothy J. Quigley '84
Vice President of Nursing and Chief Nursing Officer
South Shore Hospital
Participants were encouraged to submit questions to the panelists prior to joining the webinar, and Thompson served as moderator throughout the event. The ongoing theme of Q&A revolved around challenges that the panelists have faced as the pandemic swept the nation and adaptations they've made to provide the same level of patient care at such a vulnerable time.
One change that DonnaMarie Maguire noted in her field of telemedicine is that communication has become that much more imperative between patients and care providers.
"I just want the nurses to just keep learning. Everything we do with nurses is constant learning, and I would hope we'd want to continue teaching," said Maguire. "And we do."
Faith Karoma Coker is a junior in the nursing program at UMass Boston. Before the university transitioned to remote learning, she was in the classroom for six hours on Wednesdays in addition to her two six-hour clinicals each week. In addition to her responsibilities in the classroom and in her maternity and psych rotations, Coker works as a certified nursing assistant at Boston Medical Center (BMC) on the weekends.
"During the week, I'm still in 'school mode' and watching my lectures, studying for exams, and attending my online clinicals, said Coker, adding that her professors have done a great job adapting to the online modality.
Since the pandemic began, Coker's unit at BMC transitioned into a COVID unit. Though she admits she has felt anxiety at times, she feels comfort in knowing she's not alone.
"I see this as a test. If I can get past this, then I definitely made the right career choice. With that being said, people will come out of this and realize nursing isn't for them or that they want to practice in various settings, and that's okay, too. I personally feel like I made the right decision, and at this point, I'm glad I can contribute and do my part and am still healthy," she said.
At the end of the webinar, Thompson asked the panelists to share stories and instances in which they felt pride in their profession.
"I like my practice to feel like family. We're checking in with each other. We're making sure we're okay. We haven't distanced ourselves at all, even though we're virtual," said Rhonda Hodge, whose practice expanded in October 2019. "I like my patients to feel like they're a part of our family. My team has done such a great job of extending that family to everyone, so everyone feels emotionally safe."
Interested in joining the conversation? Register for the next "Chat with the Dean" webinar, featuring College of Management alumni, at alumni.umb.edu/cmchat.