College of Liberal Arts Launches Humanities Hub
---
02/28/2020
| Office of Communications
UMass Boston has a new dedicated space for the humanities on campus. Located on the 8th floor of Healey Library, the Humanities Hub is a flexible space that can serve as a classroom, meeting space, or work space for students and faculty engaged in humanities-based events and activities.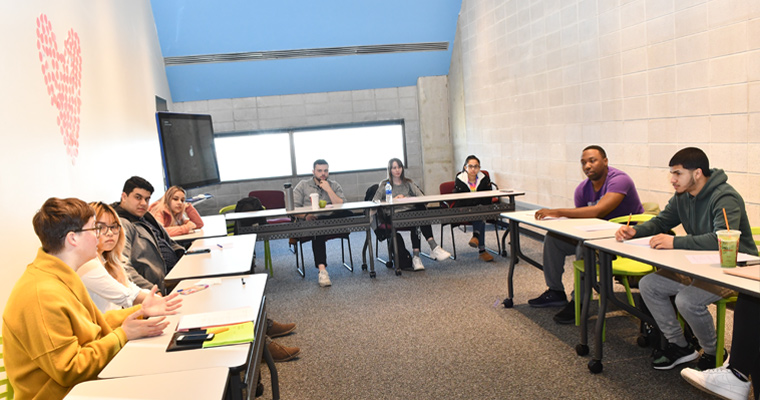 Associate Professor of Philosophy Danielle Bromwich's class meets in the new Humanities Hub.
Image By: Colleen Locke
A capacity crowd of students, faculty, and staff celebrated UMass Boston's love for the humanities with a Valentine's Day-themed launch on February 13.
"We envisioned a space for hands-on learning," noted College of Liberal Arts Dean David Terkla. "I am delighted that we now have a space on campus where our stellar humanities faculty and students can work creatively and collaboratively."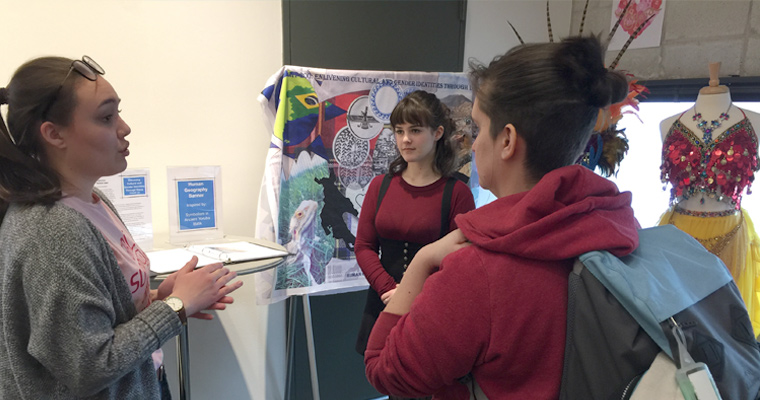 The launch of the Hub marks another milestone in the implementation of the university's High-Impact Humanities (HIH) Initiative funded by a $515,000 grant from the Andrew W. Mellon Foundation. The signature element of the program are 24 new humanities courses that incorporate experiential learning, providing students with opportunities to integrate coursework with visits to community-based organizations and cultural institutions. The Hub will become a destination for humanities faculty and students to work on and display projects, listen to guest speakers, and host activities like poetry readings. The Hub will also serve as a home for the Mellon HIH Student Advisory Board, which advises faculty on program development and organizes humanities-focused student events.
Next, the Hub will help to kick off CLA's Undergraduate Research Week on Monday, April 27 with an all-day celebration of student work in the humanities. This campus-wide event will include a teach-in featuring new high-impact humanities classes developed with funding from the Mellon grant.
About UMass Boston
The University of Massachusetts Boston is deeply rooted in the city's history, yet poised to address the challenges of the future. Recognized for innovative research, metropolitan Boston's public university offers its diverse student population both an intimate learning environment and the rich experience of a great American city. UMass Boston's 10 colleges and graduate schools serve 16,000 students while engaging local and global constituents through academic programs, research centers, and public service. To learn more, visit www.umb.edu.