College of Management Panelists Discuss Challenges Faced in Business Amid Pandemic
---
06/12/2020
| Vanessa Chatterley
More than 200 viewers tuned in to hear from five College of Management panelists for the third "Chat with the Dean" webinar earlier this month. The purpose of the webinar series is to provide transparency about some of the challenges that business owners, industry leaders, and health care professionals have encountered over the past few months due to the coronavirus pandemic.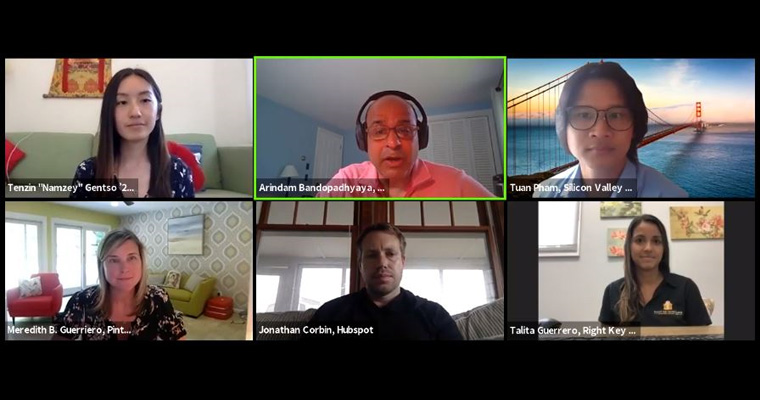 College of Management Dean Arindam "Bando" Bandopadhyaya kicked off the event by sharing university updates with participants and discussing resources that the College of Management has made available to its students.
"Whether we're in person or online and remote, we'll continue to provide a first-class education using all the strengths of the faculty and staff and the ingenuity of our students," said Bandopadhyaya. "The College of Management, in particular, has worked studiously to ensure that our students are getting the quality online and remote education that they have come to expect from UMass Boston."
Four additional alumni and one student from the College of Management served on the Chat with the Dean panel on June 10 to share their personal experiences and answer submitted questions from the audience:
Jonathan Corbin '03
Vice President of Customer Success and Global Strategy
HubSpot
Tenzin Namzey Gentso '21
Marketing and Communications Assistant
Center for Collaborative Leadership
UMass Boston
Talita Guerrero '15
Senior Loan Officer/Managing Partner
Right Key Mortgage
Meredith B. Guerriero '03
Head of U.S. Partnerships
Pinterest Inc.
Tuan Pham '05
Managing Director
Silicon Valley Bank
Bandopadhyaya opened the discussion by asking panelists how the culture of their company has been impacted by coronavirus and what steps they're taking to maintain employee satisfaction in the workplace and remotely.
"Culture is a really big deal for us. It's really integrated into the fabric of who we are as a company," said Johnathan Corbin, adding that HubSpot has been trying to expand their culture to a virtual setting as a partially remote company. "Going into this whole COVID situation, one of our focuses is around leading with empathy [and] understanding those extenuating circumstances. Helping to lead with empathy, helping to understand what the problems are, and helping to solve them is something we've really leaned into."
Talita Guerrero explained that, although her employees are accustomed to working remotely at Right Key Mortgage, the initial shock and unknown circumstances brought on by COVID added a layer of stress to what is already a high-paced, demanding work environment.
"Our industry obviously doesn't thrive on a broken or bad economy. People purchase homes when they're making money. Now we're seeing people getting laid off, and that was a huge shock to my team," said Guerrero, who found different ways to support her sales team. "I definitely implemented more virtual meetings…to not only support the employees that were dealing with the challenges, but to motivate them to stay positive."
Dean Bandopadhyaya also asked panelists about the similarities and differences between the 2008 market crash and whether any lessons were learned from that incident that applied to workplace operations today. The panelists were also asked to describe what unique challenges their companies are facing amid the pandemic. Answers varied from enforcing a strong company culture, shifting onboarding strategies, enhancing communication with teams, and providing general support as employees adapt to their new work environments.
The webinar was the second of its kind to be co-hosted by the College of Management. A webinar in May featured the following College of Management panelists: Alice Boushell '21, Whitney Dailey '11, Patrick Renna '07, '09, Jonas Roessel '14, and Torry Stamm '08. To view past "Chat with the Dean" webinars, please visit UMass Boston Alumni's virtual engagement page.