Culturally Sensitive Nursing
---
10/20/2020
| Colleen Locke
On a typical day, family nurse practitioner Valery Joseph '10, G'18 sees between 15 and 18 patients at the Whittier Street Health Center in Boston's Roxbury neighborhood. Most of her patients range in age from 50 to 90. About 90 percent speak Spanish, one of four languages spoken by Haiti-born Joseph. But since Whittier became a COVID-19 testing site in April, things have been anything but typical. Fortunately, she felt well prepared to handle the situation.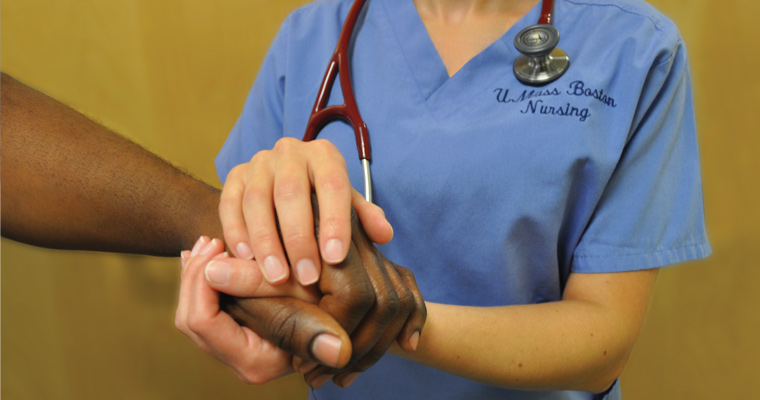 Image By: Suzanne Korschun
UMass Boston leads the way in training nurses for a diverse patient population.
"Right now with the COVID-19 outbreak, it's all about culture, really," Joseph said during a call between patients. "When you're in school, you take all of these courses about diversity and cultural sensitivity. I've been amazed throughout my nursing career that everything UMass Boston taught us—that's how it is in real life."
Cultural sensitivity is woven throughout the nursing curriculum, says College of Nursing and Health Sciences (CNHS) Dean Linda Thompson. Last year, according to CNHS data, 38 percent of the university's graduate nursing student population identified as a race other than white; 44 percent of nursing undergrads identified as non-white. The program's diversity provides UMass Boston students with a unique advantage.
"Because of their culture, students are able to relate to the hospital population that they serve. They understand what is appropriate to say and how to connect," said Thompson. "Hospitals seek out our students after they graduate because they need a diverse nursing population or health care group in order to take care of the people that they serve."
Nursing student Handel Ulysse '22, who came from Haiti to the United States as a toddler, attests to the program's focus on cultural sensitivity. There are many things nurses must take into consideration when they interact with patients, he says. One of them is religion.
"You have to factor in every patient's spiritual and religious practices," he said. "For instance, Jehovah's Witnesses don't agree to the practice of blood transfusions. We know that some people who are Muslim [ fast at times], so it makes it hard if someone has a very strict nutritional order and they're not able to eat."
A Research Focus
The need for a diverse, culturally aware nursing workforce is the motivation for some of the college's research, according to Dean Thompson. For instance, it's one reason why Dana-Farber Cancer Institute approached UMass Boston about creating a residency program for students who choose to work with oncology patients.
"They need more oncology nurses who can perhaps increase our knowledge of why certain populations don't seek care early enough. Their mortality is higher because they go to care later," Thompson said.
Faith Koroma-Coker '21 is in her third year in the Young Empowered Students for ContinUed Research Engagement (YES for CURE) program, funded by the National Cancer Institute. She's a research intern under Assistant Professor of Nursing Suha Ballout, co-principal investigator in a U54 research project looking at adult smokers who identify as transgender or gender expansive.
According to a 2011 Institute of Medicine report, 20.6 percent of lesbian, gay, and bisexual adults and 35.5 percent of transgender adults smoke cigarettes, compared to 14.9 percent of cisgender adults. Last summer, Koroma-Coker and another student worked on the recruitment plan and a scoping review on smoking interventions for transgender communities. The National Institutes of Health funds the U54 UMass Boston–Dana-Farber/Harvard Cancer Center Partnership.
When students join Ballout's team, they receive training in trans issues, health disparities, and proper communication. "We don't want to be trying to do something good and then insult our patients," Ballout said. "With the trans community, there are lots of issues when it comes to proper communication and gender pronouns. We talk about all these things with students."
Student involvement and community partners are also keys to successful health-disparities research. Associate Professor of Nursing Teri Aronowitz is working with Institute for New England Native American Studies Director J. Cedric Woods and the Mashpee Wampanoag and Nipmuc tribes to create an 18-week addiction-prevention program for Native middle-school students that will be run by Native college students. The Massachusetts Department of Public Health's Bureau of Substance Addiction Services is funding the program. According to the U.S. Centers for Disease Control and Prevention, Native Americans have among the highest rates of increase in opioid overdose deaths in the country. In summer 2019, two students in the CatCH (Caregiver, Child and Community Health) Scholars Program helped work on the training manual for Aronowitz's project.
A History of Leadership
UMass Boston has long been a leader in culturally sensitive nursing. Gaurdia Banister, the executive director of the Institute for Patient Care at Massachusetts General Hospital, helped develop a program dedicated to increasing the diversity of the registered nurse workforce in all Partners HealthCare System hospitals. The Clinical Leadership Collaborative for Diversity in Nursing (CLCDN) program was open to ethnically diverse, socio-economically disadvantaged UMass Boston students between 2007 and 2019. Banister says 92 percent of the 93 CLCDN program graduates were hired within Partners upon graduation.
"The CLCDN graduates are committed to being advocates for patients and their families who are marginalized and underrepresented," Banister said. "In regard to exemplary practice, we are in good hands as they become our future leaders."
Goddard House Renews Support for Mid-Career Nursing Students
In March, Goddard House, the oldest nonprofit elder care organization in Massachusetts, pledged a $500,000 gift over five years to the Goddard House–Doane Scholarship program. The program provides financial support for students pursuing any nursing degree or certification program, providing they have worked for at least 10 years as a registered nurse, licensed practical nurse, or certified nursing assistant in the city of Boston. Since partnering with UMass Boston in 2015, the Goddard House has provided 50 awards totaling $340,000 to 39 students in UMass Boston's nursing degree programs.