CWPPP: A Pipeline for Women in Politics and Public Policy
---
03/30/2020
| McCormack Graduate School
How many programs can confidently say: "We have individuals every year who run for political office"? And how many of those individuals are a part of a diverse cohort of women leaders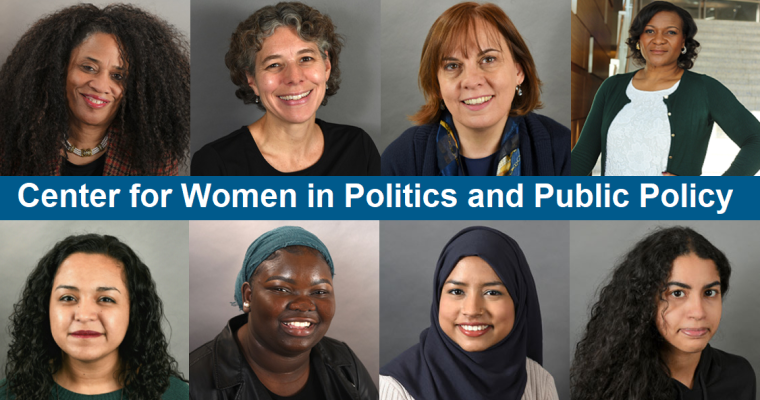 " We're trying push language so that boards and commissions have at least 50 percent of representation from women. "
2020 is the 100th anniversary of women's suffrage. And this year, the Center for Women in Politics and Public Policy (CWPPP) is celebrating its 25th anniversary, as well as its Gender, Leadership, and Public Policy (GLPP) graduate certificate program's 50th anniversary. The center has become an unmatched a resource for women through its innovative research, public policy advocacy, and robust network of supporters.
The CWPPP is led by three trailblazing women, supported by a team of interns and research assistants, who are passionate about the intersectional, diverse voices of women: Interim Director Laurie Nsiah-Jefferson, Research and Policy Director Christa Kelleher, and Assistant Program Director for the Graduate Certificate Program Muna Killingback.
"We have faculty with a wealth of knowledge on a number of different levels. They're really wedded to the work we do," says Nsiah-Jefferson.
The CWPPP has an ever-growing network, accomplished advisory board of directors, and hard-working fellows who connect students to mentoring programs, networking circles, and resources.
The GLPP program is spearheaded by Killingback and was originally founded by Betty Taymor, a lifelong political activist who just celebrated her 99th birthday,
"She looked around and saw hardly any women involved in politics. That's why she started the program for women and politics and public policy," says Killingback. "And now I think we're one of the most diverse graduate programs on campus. We usually have between 40 and 50 percent women of color. We're very proud of that."
The GLPP program's intersectional curriculum applies a combination of political theory, sociology, and social change matched with experiential opportunities through an internship course, often at the Massachusetts State House or in other government offices and organizations.
Alumni successes include public service as state representatives, lobbyists, community organizers, political analysts, local officials, and attorneys. The GLPP program has a worldwide reach; this past September, the GLPP expanded to online learning.
"We have a viable [first online] cohort of people from different countries and other states… our first class should graduate this May," says Killingback.
"The university is really pushing global engagement and is very supportive of online education," added Nsiah-Jefferson.
The CWPPP launched a new program in 2016. The Distinguished Public Service Fellows Program convenes and supports four fellows to "build bridges between generations of women in public leadership, with a particular emphasis on advancing the leadership of women of color." Fellows have included Charlotte Golar Richie, Vanessa Calderón-Rosado '00, Lydia Lowe '85, and Alice Wolf.
The CWPPP is supported in part by the generosity of grants, one of which the CWPPP was awarded in 2017. The Cummings Foundation Grant of $100,000 provided internship stipends to GLPP students for more than three years. Another grant came from a collaboration project with McCormack's Department of Gerontology to ensure that cities remain inclusive and accessible for individuals in communities of different ethnicities.
The CWPPP partners with organizations outside of the university and has a strong relationship with the Massachusetts Women of Color Coalition to provide students a network of resources rooted in communities of color.
As interim director, Nsiah-Jefferson has strong goals for the upcoming years, including deepening the center's intersectional focus and expanding partnerships with local and national organizations.
Another is to continue working with her staff on legislative efforts.
Nsiah-Jefferson serves on the board of the Working Group on Parity on Boards and Commissions, in hopes of passing an important piece of legislation. "We're trying push language so that boards and commissions have at least 50 percent of representation from women," she says. "And we're also pushing forward to make sure that within the group of women utilizing intersectional perspectives that women of color are being represented on these boards."
With all its accomplishments—including alumni and faculty successes—the CWPPP is a virtuous cycle of women helping women, striving to be supporters, allies, and champions for students.
About McCormack Graduate School
The McCormack Graduate School was founded in 2003 to create a dynamic academic and research center in policy studies at the University of Massachusetts Boston. The school was built upon the foundation of its predecessor, the McCormack Institute, established in 1983 and named in honor of U.S. House of Representatives Speaker John W. McCormack. In 2010, we changed our name to the McCormack Graduate School of Policy and Global Studies to better reflect our expanded global mission. Nationally recognized as a model for public service schools, the McCormack Graduate School is committed to social justice and equity. We offer an interdisciplinary education and conduct cutting edge research that seeks to understand and remedy some of the most important social, political, economic, and environmental issues of our time. We welcome new students, research partners, and community collaborators to help us build a better world for all. Noting the public service mission of the John W. McCormack Graduate School of Policy and Global Studies, BestValueSchools.com ranks UMass Boston 29th in its list of the 50 Most Innovative Public Service Schools in the United States. To learn more, visit mccormack.umb.edu.