Engineering Professor Has Developed Procedure That Could Help with COVID-19 Diagnostics
---
03/24/2020
| Colleen Locke
Kim Hamad-Schifferli Says Key to Coronavirus Diagnostic Test Could Be Off-the-Shelf Antibodies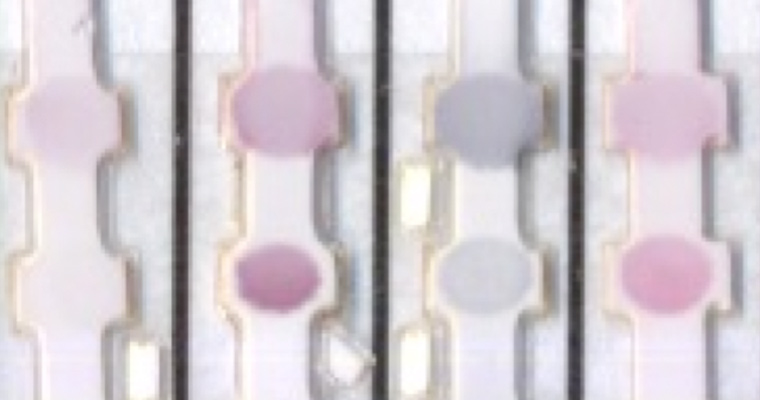 In the image is a paper test that can be read out by eye. It shows how a COVID-19 test would work, where different diseases (different strips) result in different colored patterns.
Image By: Cristina Rodriguez-Quijada
" A lot of people are wondering around like, 'I don't know if I have it,' and this could be a way to know as a precautionary step. "
Testing for COVID-19, more commonly known as the coronavirus, is critical given the current global pandemic. UMass Boston Associate Professor of Engineering Kimberly Hamad-Schifferli specializes in paper-based tests that use biomarkers to test for emerging diseases. She developed a procedure within weeks that she says could help with COVID-19 diagnostics.
"We have a procedure that you can use for any disease, and what we're trying to do now is adapt it to use it to detect COVID-19," Hamad-Schifferli said. "A lot of people are wondering around like, 'I don't know if I have it,' and this could be a way to know as a precautionary step."
Hamad-Schifferli is a visiting scientist in the Department of Mechanical Engineering at MIT. She and her research collaborators, including Jose Gomez-Marquez of MIT's Little Devices Lab, discovered about four years ago when Zika came about that you can take antibodies for a known disease to make a diagnostic test for an emerging disease.
"When there is a new outbreak, it takes time to make the antibodies needed in a point of care diagnostic, usually about one year. We came up with a way to use off-the-shelf reagents and can generate a test with existing stockpiles of antibodies within a few weeks. We also use the same principle to hack an existing commercial diagnostic test to detect something new," Hamad-Schifferli said.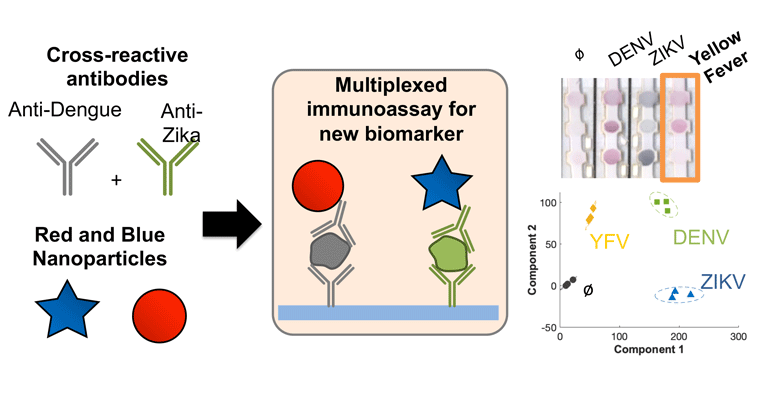 For their successful yellow fever test, they used dengue fever and Zika antibodies, as shown in the illustration above. For COVID-19, they're using closely related antibodies.
"Obviously the landscape is changing dramatically right now and you know every half hour something new happens, but we think that this could be used as a test," Hamad-Schifferli said. "The important thing is that the format of the test is something that you can reconfigure easily. So it's not this self-contained thing. If you're a clinic and you run out of reagents, you can sort of snap them together like Lego blocks and make a test set that's modifiable on the spot."
Hamad-Schifferli says they have a system that can generate the right viral reporters within three weeks. Once the tests are engineered, MIT has the capacity to make them. She and Gomez-Marquez are already in contact with clinics.
A $25,000 grant from UMass President Marty Meehan's office and the Technology Development Fund in 2018 provided funding for Hamad-Schifferli's work on emerging diseases. The patent-pending procedure is described in a paper currently available on bioRXiv as it undergoes peer review. Cristina Rodriguez-Quijada, a fourth-year PhD student in biomedical engineering, is a coauthor on the paper along with Hamad-Schifferli and Gomez-Marquez.
About UMass Boston
The University of Massachusetts Boston is deeply rooted in the city's history, yet poised to address the challenges of the future. Recognized for innovative research, metropolitan Boston's public university offers its diverse student population both an intimate learning environment and the rich experience of a great American city. UMass Boston's nine colleges and graduate schools serve 16,000 students while engaging local and global constituents through academic programs, research centers, and public service. To learn more, visit www.umb.edu.