Entrepreneur Committed to Sustainability Earns UMass Boston's Top Awards
---
05/21/2020
| Colleen Locke
Maria Vasco an Environmental Studies and Sustainability Major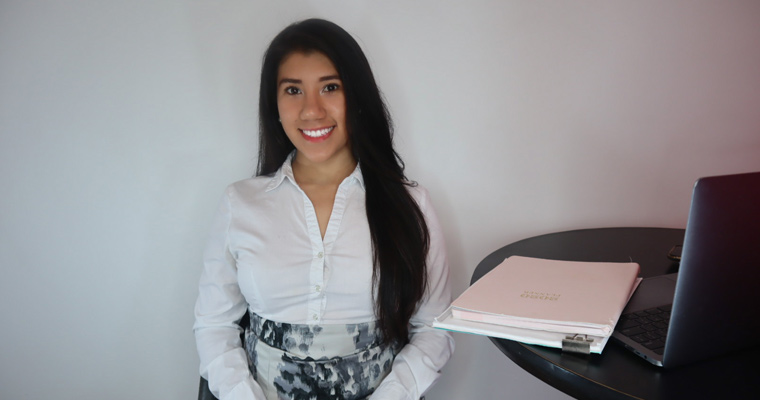 Maria Vasco started UVIDA Shop while a student at UMass Boston.
" Maria Vasco typifies what is best about UMass Boston students. "
An entrepreneur who started a plastic-free product shop while a student at UMass Boston has received the top two honors a graduating undergraduate at the university can receive: the John F. Kennedy Award for Academic Excellence and the "29 Who Shine" award.
Maria Vasco, 22, is an environmental studies and sustainability major in the School for the Environment and a political science minor. Born in Cali, Colombia, she's lived in East Boston since she was four. She's in the Honors College and she has a 3.8 GPA.
"I feel like I flourished through UMass Boston because of their diversity and that's why I targeted coming to this university. Also, the education is really rich. I have professors that have lived multiple lives in one life, and through their wisdom, just by talking to them or by attending their classes, I'm learning more than just the topic of the class," Vasco said. "That has shaped me into wanting to represent this university and wanting to show that everyone is capable of making a difference."
During parts of her sophomore and junior years, Vasco was a campus ambassador for Mass Audubon, through which she organized "climate cafes" on campus and at Timilty Middle School in Roxbury. Last year Vasco joined the Women in Business Club and became the first-ever recipient of UMass Boston's inaugural Entrepreneur Scholarship. The scholarship included a mentorship with the scholarship's founder, Dan Phillips. Phillips is the founding director of UMass Boston's Entrepreneurship Center and an advisor in the Venture Development Center.
"His advice is just to test things out because that is how a startup works. Sometimes I don't know which direction I should go in next, but he says you have to take action in order to see results. Following this advice is what is helping me see my business grow right before my eyes," Vasco said.
After studying abroad in Spain last summer, Vasco launched the UVIDA Shop website, which to date has generated about $4,000 in revenue. Her goal is to help individuals reduce their plastic waste through the use of eco products. Her best seller is her bamboo toothbrushes, but her favorite product is the biodegradable glitter.
"It just makes you feel really good that you're going out of your way to think about the environment first, and you're also getting to enjoy expressing yourself," Vasco said.
Through its 29 Who Shine award, the Massachusetts Department of Higher Education recognizes top students at each of the state's 29 public colleges and universities. This year what has been an in-person event at the State House was not held due to concerns over COVID-19. The John F. Kennedy Award for Academic Excellence is given to the graduating senior who best exemplifies academic excellence, commitment to service, and good citizenship.
"The committee was in awe of Maria's accomplishments during college, and the committee found Maria to be an intelligent, articulate, and optimistic individual who is truly dedicated to the service of our university, our city, and our world," said Megan E. Rokop, chair of the 2020 JFK Selection Committee and associate dean of the Honors College.
"Maria Vasco typifies what is best about UMass Boston students," School for the Environment Interim Dean Bob Chen said. "She is eager to learn, fearless in her convictions, and innovative with her solutions. Ms. Vasco is a true inspiration as she crosses boundaries from the environment to education to the economy. She is an environmental ambassador, a community organizer, and a blossoming leader toward a sustainable future."
Winners of the JFK Award receive a $1,000 honorarium, a bust of John F. Kennedy, and the opportunity to speak at their commencement ceremony. Vasco will deliver the address to the Class of 2020 when an in-person ceremony is held. She says she wants her class to know that even though they won't be celebrating with one another on the Campus Center Lawn on May 29, they should still be extremely proud of themselves.
"We should celebrate all the hard work that we put into the past years and pride ourselves on the dedication we had in our education and carry that into the next steps of our life. We should also take into account what is happening in society in order to target the positive changes we need to make and prevent these situations from happening to the future generations," Vasco said.
Vasco also recommends that more students consider majoring in environmental studies and sustainability as this is a field with a growing demand. She is currently developing a new product for UVIDA that has not yet been seen on the market. More information about that will be available in the near future at www.uvidashop.com. After graduation Vasco plans to continue building her business while also working full-time on the operations team at Exporta Technologies, a Harvard-based software as a service (SaaS) startup company in Cambridge.
About UMass Boston
The University of Massachusetts Boston is deeply rooted in the city's history, yet poised to address the challenges of the future. Recognized for innovative research, metropolitan Boston's public university offers its diverse student population both an intimate learning environment and the rich experience of a great American city. UMass Boston's colleges and graduate schools serve 16,000 students while engaging local and global constituents through academic programs, research centers, and public service. To learn more, visit www.umb.edu.