Fashion Designer Mya Royal '06 Pivots to Making Face Masks
---
06/10/2020
| Vanessa Chatterley
If you visit Mya Royal's '06 boutique website and sort her custom-made couture by popularity, you'll learn all you need to know about the fashion designer and the adaptations she's made in an effort to support her clients during the coronavirus pandemic.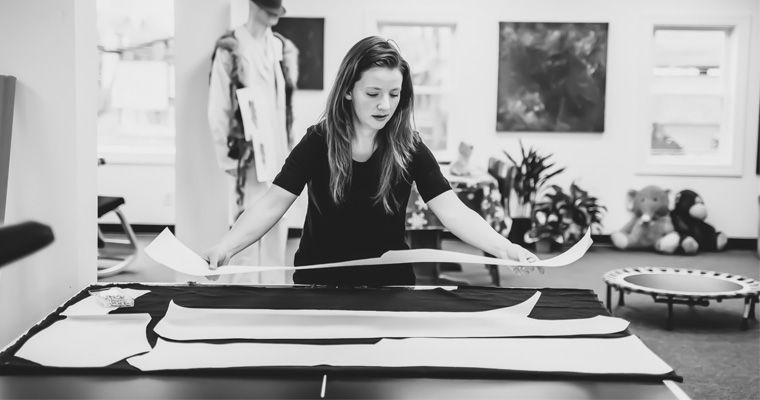 " It was just an instinctual thing — like, 'This is what I have to do.' "
The most popular item on her page right now is a filter pack, a breathable fabric comparable to the N95 mask that frontline workers traditionally wear. Royal special-ordered the fabric from a regular supplier in South Korea and has enough material to make 3,000 masks. She'll order more if she needs to and will stock the product indefinitely. The other three items that take up residence in the top row of Royal's website are masks of different styles and fits, which she started producing once she realized people were scrambling to find them.
"It was just an instinctual thing—like, 'This is what I have to do.' People need these things right now, and not everyone can make them, but I can make a ton of them. So that's what I did," said Royal, who only recently added the masks as a purchasable product on her website. Prior to that, she was sending masks to anyone who messaged her—absolutely free of charge.
Born in Dorchester and raised in Massachusetts, Royal earned her bachelor's degree in art from UMass Boston before landing an internship with Italian luxury fashion empire Versace. From there, she enrolled in the Accademia Italiana in Florence to pursue her master's in fashion design. After graduating, Royal opened an atelier in Florence, where she worked for several years before returning to Massachusetts to continue her business.
But recently, Royal's handmade custom designs have taken a turn to fulfill a different type of need, one that many people in the United States didn't anticipate but that Royal herself had feared for weeks. And that's because it was affecting the place she had once called home.
"I had already been streaming the Italian news in the studio all day every day from the very beginning of the crisis in Italy before people took it seriously, because it was just an instinctual thing," said Royal. "I got really nervous about doing anything other than making masks when it got here."
So that's what she did. When the pandemic made its way to Massachusetts, Royal said she jumped into action to help because she didn't know what else to do.
"When you're in a position like this where you just have this little artisan fashion studio, and you're just kind of doing your own thing, and suddenly a pandemic hits, and everybody needs you to throw together scraps of fabric so they can smack them on their faces... it becomes a grave reality that that's your job all of a sudden," said Royal.
Royal began receiving messages through her website from people who were either elderly, immunocompromised, or otherwise vulnerable. They couldn't secure face masks amid the shortage that affected millions of Americans early on—and they were frantic. Royal said messages ranged from "I'm desperate. I'm 76 years old. I'm afraid to leave my house" to "I work in a nursing home and no one has any masks at all and we're all terrified." So she did what she called an instinctual "call to duty." She began making masks and giving them away for free.
"I was sending them in the mail just on my own dime. I would go to the post office with a big package to send to people, just random people who reached out to me. I was literally making hundreds and hundreds of these little cotton masks and in the beginning," said Royal, adding that more people needed masks than she could anticipate. "It was evident that everything else needed to go on hold for just a little while so I could make as many of these masks as possible."
In addition to suspending all normal business operations while she produces masks and other personal protective equipment, Royal has also had to think about how she will adapt her business practices to accommodate mandated health and safety guidelines. She has begun experimenting with virtual fittings and contactless pick-up and drop-off services. Alterations, however, are completely off the table due to the risk of bringing possible contaminants into the studio.
"It's changed everything. The whole business is changing now," said Royal, calling the current situation a "reality check." "It's a different world, and it's becoming a whole new, different business. I think going forward, I'm going to really refine this idea of the virtual fitting. I may not open to clients again anytime soon."
This realization that business procedures may not return to normal anytime soon—or at all—is something that Royal has accepted. Though she misses delivering the intimate and individualized customer experience that comes from consultations and fittings, she said the world's situation has forced society—the fashion industry, in particular—to reassess their own practices in an effort to be more sustainable and environmentally sound.
"I personally do believe in what I'm doing. I think face coverings are important. I think that people should wear them, and I think they offer people another way to express themselves," said Royal. "Frankly, most of the rest of what we wear is really not that necessary. There's a pretty limited list of clothing items that the average person actually needs, but most of us have a big closet full of clothing. The face mask is just a tiny article of clothing. At this point at time, it's the most important."