Four Students Receive $5,000 Krystle Campbell Scholarships
---
Earlier this month, four UMass Boston students each virtually received $5,000 from the Krystle Campbell Scholarship Fund. These scholarships honor the legacy of Krystle Campbell, the alumna from Medford who was killed in the 2013 Boston Marathon bombing, providing support to undergraduate College of Management students.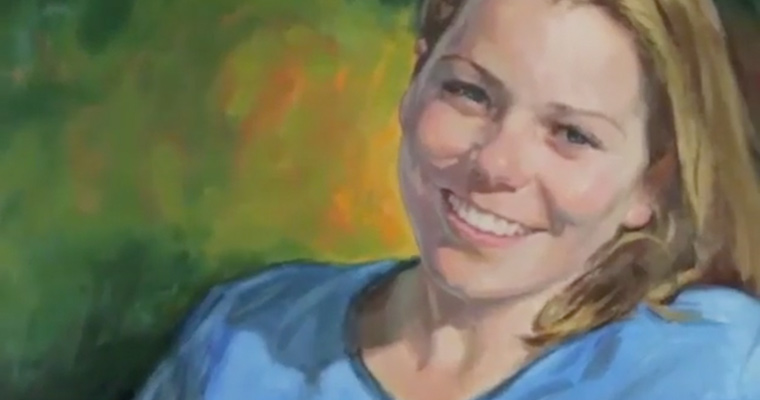 Former University Trustee Richard P. Campbell '70 commissioned this painting of Krystle Campbell. It has been hanging in the Alumni Lounge since November 2013.
" This is the motivation I need to make a difference and light up my goals in this difficult time. "
The Krystle Campbell Scholarship Fund was established by fellow Medford native (but no relation) and former UMass Trustee Richard Campbell '70, H'14 and his late wife, Barbara, in June of 2013 with an initial donation of $300,000. Since then, the scholarships have supported students in financial need who demonstrate excellence in academics, volunteer work, and commitment to UMass Boston and the surrounding community.
Since the first scholarships were awarded in 2015, UMass Boston has selected two students each year to receive scholarships; this is the first year four students — Anna Huang, Anh Ly, Cora Cluett, and Mekhribon Otajonova — were chosen. In order, Huang, Ly, Cluett, and Otajonova said they were grateful, happy, pleasantly shocked, and about to cry when they were notified online.
If possible, UMass Boston plans to host an in-person event to honor the four scholarship beneficiaries prior to the rescheduled Boston Marathon in September. In the meantime, the honored students got a chance to share how the scholarships have affected them, what their goals for the future are, and how they plan to honor Krystle Campbell.
Huang '22 wants to complete her MBA and create a nonprofit that would help underserved and underbanked inner-city people gain financial knowledge and assist startups in those areas find funding. She is a management major with a finance concentration from Nanning, a city in southern China's Guangxi province. She says this scholarship literally saved her academic career.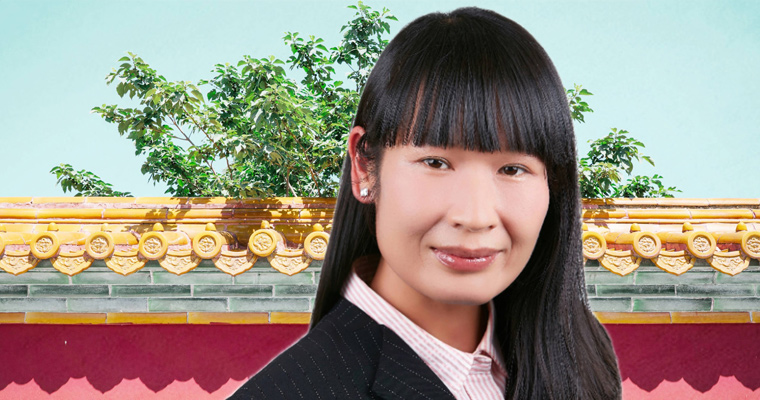 "Because of financial difficulties caused by the current pandemic, I was close to having to temporarily withdraw and not being able to complete this semester. This scholarship has made the difference," Huang said.
Ly, a management major with an accounting concentration who transferred to UMass Boston from Vietnam, also saw the Krystle Campbell Scholarship as a lifeline. Her friends in Vietnam warned her it would be difficult to work and attend school abroad. For a long time, Ly was too afraid to take on new opportunities or try for a scholarship.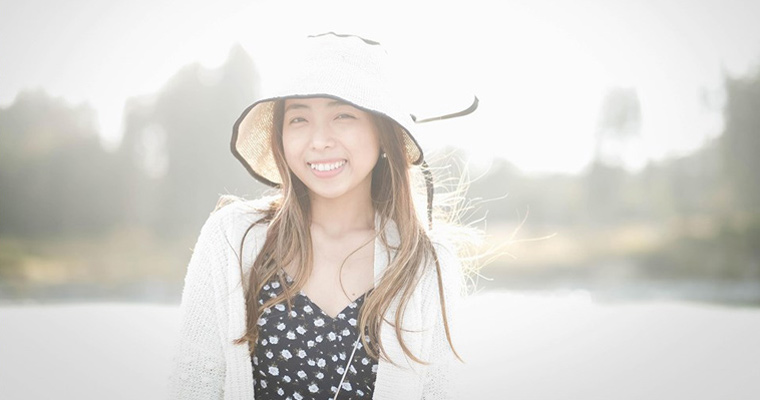 "I was feeling depressed with sickness and losing my job amid the COVID-19 pandemic. I wondered if I would quit school and start something new to help my family," she said. "Since I am the only and first-generation college student in a poor family, it was not easy to keep hoping and moving on. But this scholarship woke me up from the dark side of life. This is the motivation I need to make a difference and light up my goals in this difficult time."
Those goals include graduating in 2022 with a GPA of 3.5 or higher, getting her Certified Public Accountant (CPA) certificate, and becoming an important contributor to the accounting and finance industries in Massachusetts. Now, Ly's hopeful again.
"This is a simple but beautiful lesson of success for me," she said.
For Quincy-native Cluett, success isn't specifically defined yet. She doesn't know her exact career path yet, but plans to graduate from UMass Boston with a degree in management. Afterward, she hopes to get a graduate degree in health sciences or to attend a physical therapy training program.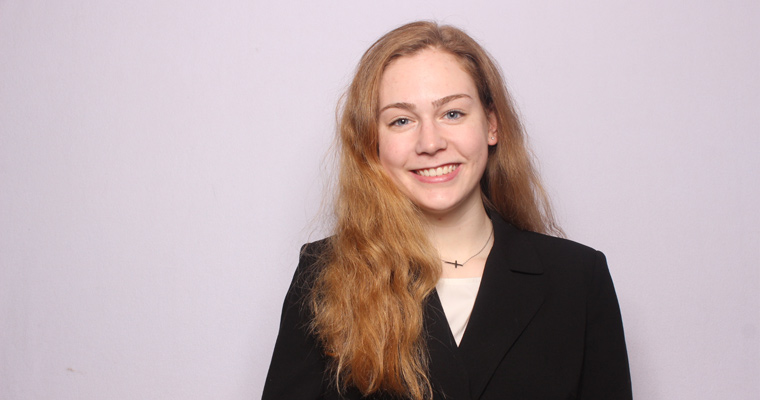 "I want to help people," Cluett said. "I am so grateful that UMass Boston has given me the opportunities to pursue my passions at an affordable cost. This scholarship will allow me to save up for graduate studies and makes my education more affordable."
Otajonova, a management major with finance and accounting concentrations from Uzbekistan, also sees the Krystle Campbell Scholarship as a way to help her focus on ambitions outside of academics.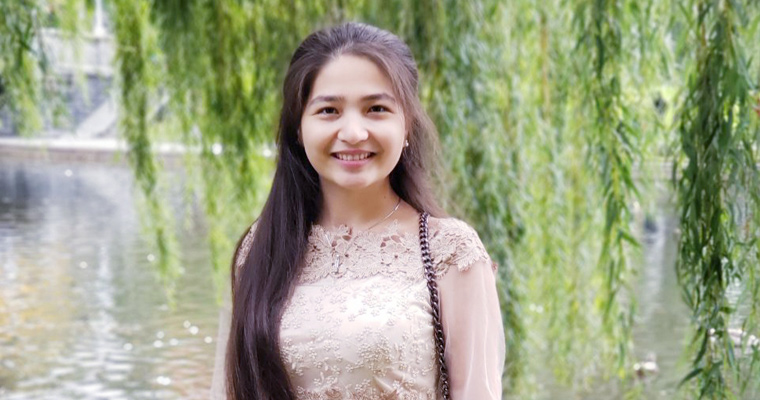 "This scholarship will lighten my financial burden and allow me to focus more on my studies and volunteer work. I plan to work as a volunteer tutor with Jumpstart program members to teach kindergarten children literacy skills next semester," she said.
Before graduating, Otajonova plans on working internships during all school breaks, doing research with a faculty member, and completing a co-op — all on top of teaching herself more about finance independently. After, she's decided to pursue an MA while working part-time in finance or accounting, with the eventual goal of creating an online business and a nonprofit to help high schoolers with SAT prep.
Despite not knowing Krystle Campbell, all four students found personal meaning in her story. Otajonova was touched by Campbell's generosity and strength. Cluett was uplifted by Campbell's positive impact on others and identifies with her love of athletics. Ly was deeply affected by Campbell's passing, but sees the scholarship as inspiration to spread kindness in the community.
Huang, however, attended the Boston Marathon in 2013 when she first visited Boston. She was walking with a friend toward the finish line to celebrate the runners when she was stopped by police, who told her something "bad" had happened near the finish line. In that moment, her hope for celebration was marred by tragedy.
That, however, is not her lasting impression of Krystle Campbell.
"I can sense Krystle's wonderful spirit through the smile that jumps off of her picture, and she will always have a place in my memory and heart," Huang said. "I want to express my deepest appreciation and gratitude to Krystle's family, the donors to her foundation, and to the administrators that make this scholarship possible."
About UMass Boston
The University of Massachusetts Boston is deeply rooted in the city's history, yet poised to address the challenges of the future. Recognized for innovative research, metropolitan Boston's public university offers its diverse student population both an intimate learning environment and the rich experience of a great American city. UMass Boston's colleges and graduate schools serve 16,000 students while engaging local and global constituents through academic programs, research centers, and public service. To learn more, visit www.umb.edu.