Gastón Institute Releases Key Research About COVID-19 Impact on Massachusetts Latinos
---
07/01/2020
| Office of Communications
Prepared by a multi-disciplinary team, the report highlights significant disparities in the incidence and outcomes of COVID-19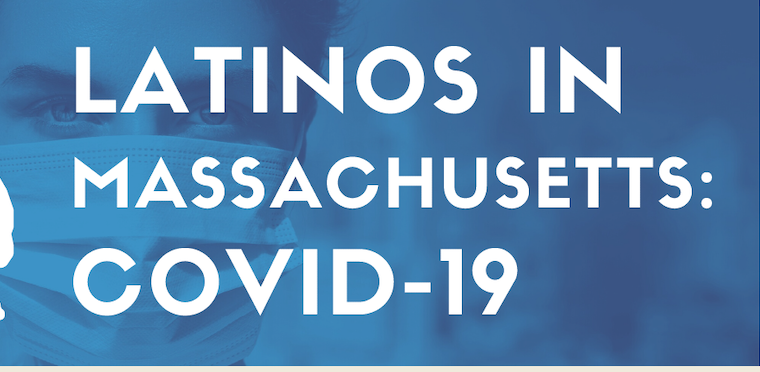 " The COVID-19 pandemic is magnifying existing economic and social inequalities. "
The Mauricio Gastón Institute for Latino Community Development and Public Policy at UMass Boston has released "COVID-19 and Latinos in Massachusetts," a research report to better understand the social determinants of health shaping the distribution of COVID-19 related morbidity and mortality in the state.
The race and ethnicity of 35 percent of COVID-19 cases are unknown in Massachusetts. Of the known cases, however, the racial-ethnic disproportionality is evident. Cases among Blacks account for 14.4 percent of the total cases although they account for 7 percent of the state's population, while Latinos (who make up 12.3 percent of the state's population) account for 30 percent of all COVID-19 cases. That's higher than the 24 percent when the snapshot below was taken on May 4.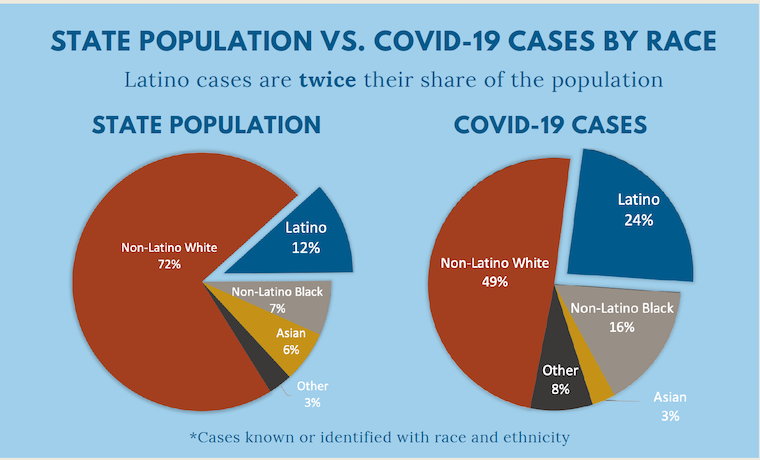 The report analyzes key areas and determinants: health insurance coverage, occupations, and household characteristics, among others.
Phillip Granberry, one of the report's authors and a senior data analyst at the Gastón Institute, summarized, "Latinos are more likely to have to leave their homes to work in essential occupations during the COVID-19 crisis, like food services and health care support. They are more likely to use public transportation. Once they return home, they live in both larger-sized households and more densely populated cities and towns."
"The COVID-19 pandemic is magnifying existing economic and social inequalities," points out Lorna Rivera, director of the Gastón Institute and an associate professor of Women's, Gender, & Latino Studies at UMass Boston. "Many Latinos have increased risk of exposure to the virus because they are less likely to have health insurance, and there is also insufficient access to COVID-19 testing and treatment where they live."
"If we have learned anything from this pandemic," said UMass Boston Interim Chancellor Katherine Newman, "it is that the underlying inequalities that beset American society are fueling disastrous outcomes for minority populations. This important report enables us to see just how devastating COVID-19 has been for African Americans and Latinx people. It is a call to action that should not be ignored."
Among the recommendations for policies and further research, the team identifies the following needs: (a) more accurate data disaggregated by race/ethnicity and research on "Other" and "Unknown" cases; (b) more multilingual staff and culturally competent approaches for conducting contact tracing and COVID-19 treatment and prevention; (c) protecting worker's rights, including their health and safety at work and at home; and (d) ensuring access to universal health care for all, including undocumented immigrants.
In addition to Rivera and Granberry, the multi-disciplinary team that conducted the research included the following: Lorena Estrada-Martínez, assistant professor of public health in the School for the Environment; Miren Uriarte, professor emeritus of human services in the College of Liberal Arts, and the Gastón Institute's founding director; Eduardo Siqueira, associate professor of environment and public health in the School for the Environment, and coordinator of Transnational Brazilian Project at the Gastón Institute; Ana Rosa Linde-Arias, senior research fellow in the Transnational Brazilian Project at the Gastón Institute; and Gonzalo Bacigalupe, professor of counseling and school psychology in the College of Education and Human Development.
About the Gastón Institute
The Mauricio Gastón Institute for Latino Community Development and Public Policy was established in 1989 by the Massachusetts Legislature in response to a need for improved understanding of the Latino experience in the Commonwealth. Now in its 30th year, the Gastón Institute continues in its mission of informing policymakers about issues vital to the state's growing Latino community and providing information and analysis necessary for effective Latino participation in public policy development. To learn more about the Gastón Institute, visit www.umb.edu/gastoninstitute.
About UMass Boston
The University of Massachusetts Boston is deeply rooted in the city's history yet poised to address the challenges of the future. Recognized for innovative research, metropolitan Boston's public university offers its diverse student population both an intimate learning environment and the rich experience of a great American city. UMass Boston's 10 colleges and graduate schools serve more than 16,000 students while engaging local and global constituents through academic programs, research centers, and public service. To learn more, visit www.umb.edu.