Goddard House Pledges $500,000 to Support Mid-Career Nursing Students
---
03/04/2020
| Office of Communications
Goddard House, the oldest nonprofit elder care organization in Massachusetts, has recently pledged a $500,000 gift over five years to the Goddard House – Doane Scholarship program at UMass Boston, which was established in 2015.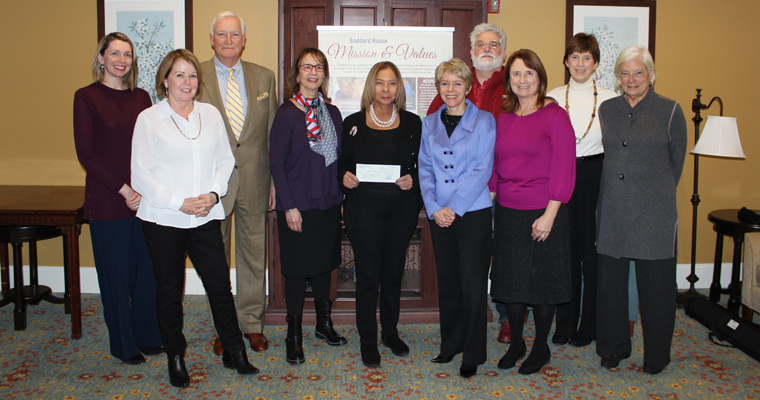 Accompanied by the Board of Trustees, Goddard House President and CEO Candace Cramer presents College of Nursing and Health Sciences Dean Linda Thompson with the Goddard House - Doane Scholarship gift.
" [This gift] makes [students] more present: to their studies, to their patients, to their families, and to themselves. "
Financial support will be available for UMass Boston nursing students pursuing any degree or certification program who have previously worked for at least 10 years as a registered nurse, licensed practical nurse, or certified nursing assistant in the City of Boston.
"Goddard House is a vital part of Boston's elder care ecosystem," noted UMass Boston Interim Chancellor Katherine Newman. "For our campus, they play another critical role: philanthropic donor to our nursing program. Since 2015, they have supported experienced nurses seeking additional education and in so doing, return to the community individuals who are even more expert and skilled. We are so grateful for their generosity."
In keeping with the mission of Goddard House, preference may be given to students who have worked in, or expressed interest in, an elder care career. UMass Boston offers a strong adult/geriatric nurse practitioner program and is home to world-renowned research in elder care. Some of the scholarship recipients may serve internships at Goddard House Assisted Living in Brookline.
"Goddard House has a longstanding commitment to enhancing the quality of life for its residents and for older adults within the larger community," said Candace Cramer, president and CEO at Goddard House. "We are pleased to assist in the education of a number of highly qualified nurses, many of whom have made elder care a priority in their work. Supporting nurses who have committed their lives to care within the City of Boston is a wonderful investment in them and in the future of our city."
Since partnering with UMass Boston in 2015, the Goddard House has provided 50 awards totaling $340,000 to 39 experienced nurses in UMass Boston's undergraduate, master's, and doctoral nursing degree programs. Goddard House Doane Scholars can receive between $2,500 and $10,000 annually for the next five years, based on need and other factors.
Linda Thompson, dean of the College of Nursing and Health Sciences, called the Goddard House – Doane Scholarship "transformative."
"We are extremely grateful to Goddard House for all that they've done in contributing to the future of our nursing students. While this scholarship lifts financial burdens from our students, it also makes them more present: to their studies, to their patients, to their families, and to themselves," Thompson said. "This gift is an absolute investment in the success of our students."
Funding for the program, and the specific eligibility requirements, were established by an 1851 bequest. Since its inception, the Goddard House – Doane Scholarship program has produced 10 bachelor's degree recipients, 8 masters of nursing, and 7 doctors of nursing.
Denise Studley '17, who earned her master's in nursing from UMass Boston, was one of the first-ever recipients of the scholarship, receiving a total of $12,500 to help her on her path to advancing her professional career. Since graduating, Studley has joined the Addiction Psychiatry Team at Beth Israel Deaconess Medical Center as a nurse practitioner.
"The scholarship application came at a time when I was questioning the time and expense of my advanced degree," said Studley, who attended UMass Boston while parenting three young children and caring for her elderly father-in-law. "The idea of the Goddard House - Doane Scholarship excited me so much that it made me realize, scholarship or not, I had to continue."
About Goddard House
Founded in 1849, Goddard House is a nonprofit operating a high-quality assisted living community and creating innovative programs that empower older adults to thrive. Goddard House Community Initiatives embraces the aging experience for seniors living in the Greater Boston area by developing and sponsoring programs which support their need for purpose, engagement, autonomy, and choice as they age. For more information, visit www.goddardhouse.org.
About UMass Boston
The University of Massachusetts Boston is deeply rooted in the city's history, yet poised to address the challenges of the future. Recognized for innovative research, metropolitan Boston's public university offers its diverse student population both an intimate learning environment and the rich experience of a great American city. UMass Boston's 10 colleges and graduate schools serve 16,000 students while engaging local and global constituents through academic programs, research centers, and public service. To learn more, visit www.umb.edu.