Hack.Diversity Selects 17 UMass Boston Students for Fellowship
---
01/08/2020
| William Brah, Venture Development Center
Hack.Diversity, the New England Venture Capital Association's initiative to help diversify the ranks of Boston's fastest growing tech companies, has selected 17 fellows from UMass Boston this year.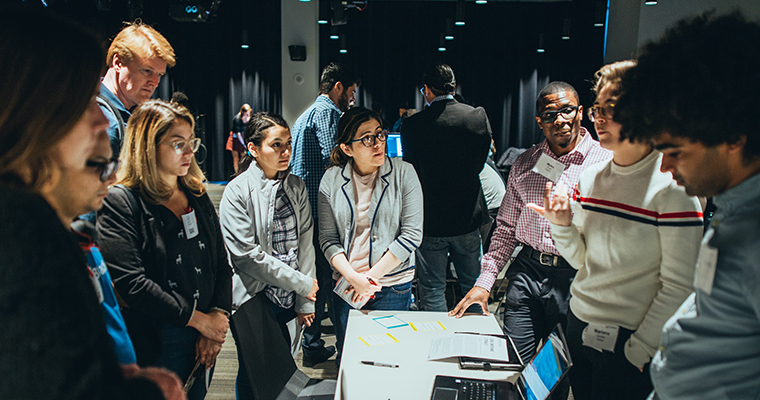 " I know that I can accomplish great things with the support of Hack Diversity. "
Fellows participate in an eight-month career development program with mentorship, connections, and internships at venture-capital-backed tech companies.
Overall, 75 information technology, computer science, and data science fellows from 27 colleges were selected, a 50 percent increase from the previous year.
"In tech, we face two major problems: a talent shortage and an extreme lack of diversity," said Boston venture capitalist Jeff Bussgang when Hack.Diversity was launched in 2016. "It stems from a failure of overlapping networks needed to build a pipeline."
Bussgang says Hack Diversity presents a solution to both of these challenges, bridging the gap.
UMass Boston and Bunker Hill Community College were the initial talent partners for Hack.Diversity and helped to shape the program. They still contribute almost half of the fellows.
Hack Diversity's growing reputation is attracting talented, ambitious students ready for the big stage.
"I know that I can accomplish great things with the support of Hack Diversity," said 2020 Fellow Erendira Corral, a fourth-year UMass Boston student majoring in IT with a concentration on business intelligence.
Corral has been working in the lab of Assistant Professor Brook Moyers as a McNair Fellow building predictive models from drone imagery data of rice grown under stress. To start her career, she's also being mentored by Thespina Fletcher, a senior manager at CloudHealth by VMware, in the Student Entrepreneur Program in UMass Boston's Venture Development Center.
"I actually learned about Hack Diversity through a classmate, a Hack fellow in 2018," Corral explained. "She told me about her experiences as a fellow, and about the opportunities she was able to get after finishing the program. She also invited me to the first Hackathon at the Google office. I had a good time at the Hackathon. I enjoyed the good dynamic between the fellows, and I also enjoyed learning about their projects. I saw an organization that truly cares for the success of their fellows. That's what attracted me to Hack Diversity. I strongly believe that working together makes us stronger."
Here is the complete list of the 17 new fellows from UMass Boston:
Amanuel Negash, Physics
Christopher Lopez, Computer Science
Christopher Monraz, Computer Science
Danley Nemorin, Computer Science
Darnell Browne, Information Technology
Donahue Jeffers, Computer Science
Erendira Corral, Information Technology
Evelyn Wangai, Information Technology
Eyosias Kibe
Fikir Yilma
Jarry Ngandjui, Computer Science
Junior Correia
Mickeyas Bekele
Moise Germain
Werner Ordonez Salguero, Computer Science
Wilson Kameni, Computer Science
Yosef Tefera, Information Technology
About UMass Boston
The University of Massachusetts Boston is deeply rooted in the city's history, yet poised to address the challenges of the future. Recognized for innovative research, metropolitan Boston's public university offers its diverse student population both an intimate learning environment and the rich experience of a great American city. UMass Boston's 10 colleges and graduate schools serve 16,000 students while engaging local and global constituents through academic programs, research centers, and public service. To learn more, visit www.umb.edu.