Harvard Professor Danielle Allen Delivers Keynote at Fall 2020 Convocation
---
09/17/2020
| DeWayne Lehman
Address Examines State of American Democracy, Charts a Course for the Future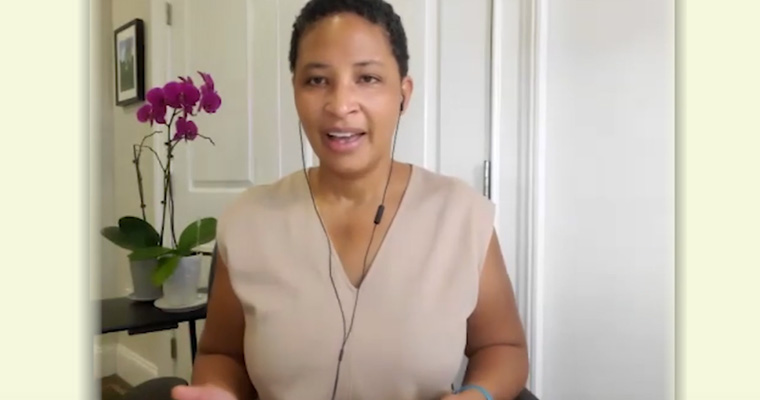 " It can easily seem that we are trapped in an age of anger and despair, but this is a moment for charting your course and sailing. "
Harvard University's James Bryant Conant University Professor Danielle Allen delivered the keynote address at UMass Boston's virtual 2020 Fall Convocation, outlining "red flags" signaling that American democracy is deeply troubled but also offering a path forward for a more resilient democracy.
"Today is a hard day to start a new academic year in the midst of a global pandemic, in the midst of protests and social actions about police brutality," Allen said, noting that a new academic year traditionally is a time to form new beginnings. "It can easily seem that we are trapped in an age of anger and despair. … [but] this is a moment for charting your course and sailing."
Chancellor Marcelo Suárez-Orozco, who earlier delivered his first Convocation address at UMass Boston, introduced Allen as a "brilliant scholar, an engaged public intellectual, and a humane and dedicated citizen of the world."
"She is widely known for her work on justice and citizenship both in ancient Athens and modern America," he said.
Allen most recently co-chaired the Commission on the Practice of Democratic Citizenship, convened by the American Academy of Arts & Sciences. The bipartisan commission was composed of a cross section of academic, business, and civic leaders—including Chancellor Suárez-Orozco—and hosted listening sessions and interviewed people across the country over a two-year period. It produced a recently released report entitled Our Common Purpose: Reinventing American Democracy for the 21st Century.
"We wanted to understand the health of our world and how to make it healthier," Allen said of the commission. "There have been read flag alerts for a while about the state of American democracy."
Allen cited for examples the low approval rate of Congress, the first branch of government intended to express the will of the people—"so if in 2013 we the people approved of Congress at a rate of 9 percent, that means we don't approve of ourselves"—and polls showing a 30 percent decline in Americans who believe living in a democratic society is important, a change largely precipitated by attitudes among millennials.
"Something has gone wrong," she said. "We don't have conviction that the world we built together is a very good one. That's what we need to change and transform."
Allen pointed to the commission's findings that Americans have lost faith in U.S. institutions to serve our best interests, using as examples the recent social demonstrations motivated by police brutality, campaign finance laws that enable certain points of view to gain more public air time, and a sense of disempowerment among many who think their votes don't count.
"Our view is that a healthy democracy depends on what we call a virtuous circle," Allen said, explaining that the circle is one of mutual trust among citizens and the institutions governing them. "Right now, we don't have a virtuous cycle. We have a vicious circle….So the challenge is to flip that vicious circle or cycle and convert it into a virtuous one, where our institutions are responsive, and where we are investing in civil society organizations that bridge differences and where we are building and nourishing that culture of mutual commitment and commitment to constitutional democracy."
Allen outlined examples of ways to increase and encourage democratic participation, including ranked-choice voting. She encouraged the audience, particularly students, to Google Our Common Purpose: Reinventing American Democracy for the 21st Century to explore its 31 recommendations to strengthen America's institutions and civic culture to help a nation in crisis emerge with a more resilient democracy.
Allen concluded the Convocation ceremony following addresses by Chancellor Suárez-Orozco, UMass President Martin Meehan, Trustee Imari K. Paris Jeffries, Provost Emily McDermott, and student leaders