Katherine Newman Appointed UMass System Chancellor of Academic Programs
---
02/13/2020
| Office of Communications
Expanded Role Formally Connects the 75,000-student University's Teaching and Research Enterprise to Job creation and Workforce Development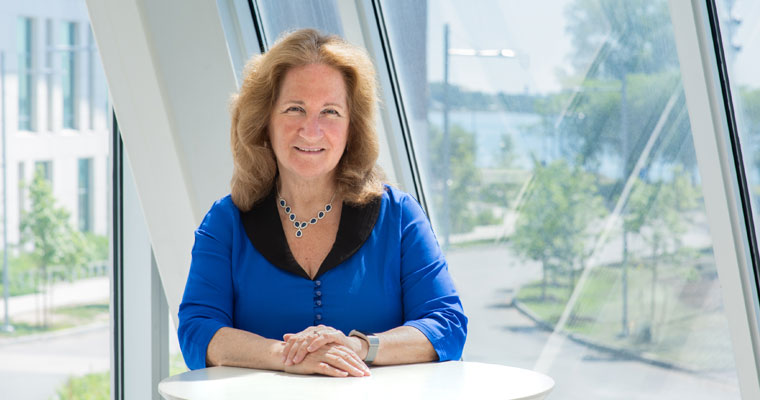 Katherine Newman has served as interim chancellor of UMass Boston since July 2018.
Image By: Peter M. Julian
University of Massachusetts President Marty Meehan announced today that he has appointed Katherine Newman to be the inaugural System Chancellor of Academic Programs, a position she will transition to as her term as Interim Chancellor at UMass Boston comes to a close.
In this new post, which consolidates two system vice presidencies, Newman will lead the University's state-wide economic development programs. The fusion of the two roles – academic and economic – is intended to intensify the role UMass plays in boosting the prosperity of the Commonwealth through human capital, industry partnerships, and innovations in the delivery of higher education in Massachusetts and beyond.
"This position is designed to strategically align university teaching and research with Commonwealth job creation and workforce development aspirations," Meehan said. "We are fortunate to have the ideal person in Katherine Newman, who is equipped with the academic credentials, management expertise and passion to expand economic opportunity, to take on this challenge."
Newman will also hold the title of Senior Vice President of Academic Affairs, Student Affairs and Economic Development. Since July 2018, Newman has served as Interim Chancellor of UMass Boston.
"At my request, Katherine took the job as Interim Chancellor of UMass Boston at a time when the campus needed strong leadership. She more than delivered, stabilizing campus finances, reorganizing administrative functions to reduce costs and promote efficiency, rebuilding the university's fundraising capacity, increasing faculty diversity and building new bridges to the Boston business community," Meehan said.
In his 2019 State of the University address, Meehan identified the dwindling high school graduation cohort as an "existential threat" to the future of UMass and said robust online programs focused on adult learners must be part of the response. In her new role, Newman will oversee academic strategy, program quality, and faculty development as the university expands its online programming to reach underserved populations, including working adults and veterans.
"As a nationally recognized scholar on the social mobility of low-income Americans, Katherine is ideally suited to lead an initiative designed to promote education as a path to success for working adults who will benefit from more education," Meehan said.
Meehan said Newman's experience in forging new partnerships between UMass Boston and the business community will also help the university stimulate workforce development through the online initiative as well as by working with private industry.
"I am excited to return to the Office of the President as the university pursues new opportunities and seeks to expand its impact throughout the Commonwealth and beyond,'' Newman said. "President Meehan has created an exciting and far-reaching mandate that envisions the University of Massachusetts as a major player nationally and internationally in the provision of higher education to the underserved. I'm pleased to lead that effort on the academic side, working with my colleague, Don Kilburn, CEO of UMassOnline, in translating that vision into reality.
Prior to joining the UMass president's office, Newman served as Provost, Senior Vice Chancellor for Academic Affairs and Torrey Little Professor of Sociology at UMass Amherst. She will retain her academic position. She has also served in faculty and academic leadership positions at the University of California, Berkeley, Johns Hopkins, Princeton, Harvard and Columbia University. She is the author of 16 books on the working poor, social mobility, tax policy and school violence. Her next book, forthcoming with the University of California Press, focuses on the impact of tight labor markets on the nation's poor. Among Newman's accomplishments at UMass Boston cited by Meehan were:
Invigorating the Advancement office, which in her first year brought in $23.8 million, a campus record.
Creating new, innovative programs designed to increase student success, including a more equitable distribution of advising resources, technologically enhanced supports for advisors to track the academic and financial needs of students, the development of an "early alert" capacity to identify and help faltering students, and a more robust emergency financial aid fund.
A series of reorganizations and efficiencies to improve administrative services in advancement, human resources, communications, information technology, facilities management, athletics, and grants management.
A new and innovative approach to recruiting diverse faculty members through the creation of a "diversity bank" that allowed UMass Boston in her first year to hire eight African American, four Latinx and several Native American and Asian-American faculty members, as well as three women in STEM faculty positions.
A new professional apprenticeship program that provides paying on-campus opportunities for students to build increasingly complex skills and work experience in their field of destination. The apprenticeships will prepare students for employment opportunities with private companies and nonprofit organizations with which UMass Boston has partnered through a system of twenty industry-based "clusters".
Creating a consortium of Boston-based higher education institutions led by UMass Boston that includes Bentley University, Boston Architectural College, Boston Baptist College, Curry College, Lasell University, and Longy School of Music of Bard College. The "Boston Advanced Academic Consortium" will open up additional educational opportunities at the Master's level for liberal arts undergraduates while enabling the participating colleges and universities to become more competitive in an increasingly complex market.
Stewarding a major competition to develop Bayside, a 22-acre parcel of land that will be developed into an innovation district and biotech hub connected to UMass Boston through research and workforce development opportunities.
Promoting the reconstruction of the 1883 Calf Pasture Pump House and the land in the vicinity, which is currently under study by the University of Massachusetts Building Authority.