Katherine Newman Fund Will Focus on Providing Emergency Student Aid
---
08/11/2020
| Office of Communications
New Endowed Fund Established by Alumni and Friends to Honor UMass Boston Interim Chancellor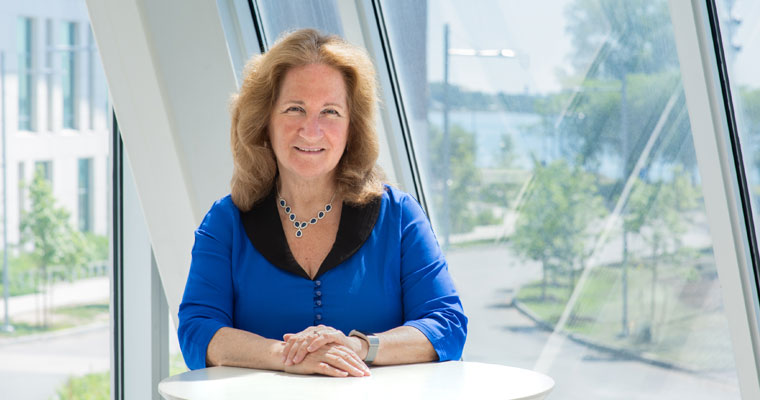 Former interim Chancellor Katherine Newman
UMass Boston alumni and friends have established the Katherine S. Newman Beacon Student Fund, an endowment that will support emergency student aid and recognize the interim chancellor for her service. The effort, led by alumnus Art Mabbett and Board of Visitors Chair Charlie Desmond, raised more than $125,000 before it was announced to Newman.
"I am grateful to these friends and colleagues for their generosity," Newman said. "Having been one of those undergraduates in financial distress myself, I understand all too well what it means to UMass Boston students to be able to depend on the university."
Starting in May, a small group of alumni and friends quietly joined together with the idea of honoring Newman as she prepared to leave UMass Boston. Some senior colleagues at UMass Boston joined in June, and together they helped establish an endowed fund to honor her remarkable two years as interim chancellor.
"Over the course of the past two years, Katherine has met multiple challenges with foresight, determination, and compassion," said Art Mabbett '69, chair emeritus of the Board of Visitors. "My wife, Beverly, I, and others felt compelled to establish this fund in recognition of her extraordinary leadership and vision, and the positive impact she has had on our students, faculty, staff, and alumni. Katherine's tenure has been exceptional; one we hope others will follow."
With the new fund established in her name, Newman decided that since the Beacon Student Aid Fund relies on annual donations to operate and there is no guarantee of future donations, she wanted to direct her endowed fund, which operates in perpetuity, to address a similar need.
"The generous contributions by alumni and friends of UMass are a testament to the respect and admiration they have for the leadership Dr. Newman demonstrated as interim chancellor," UMass President Marty Meehan said. "It is fitting that this new endowment is being created to protect and nurture access to higher education opportunity, a cause that has been at the core of her entire career."
Newman was appointed interim chancellor July 1, 2018. On August 1 this year, she began as the System Chancellor for Academic Programs in the UMass President's Office.
"This is a generous tribute to Chancellor Newman's leadership at UMass Boston," said Chancellor Suárez-Orozco. "Over the years—indeed since our graduate school days together in anthropology at UC Berkeley, and as colleagues earlier in our academic careers in the Commonwealth and in New Jersey—I have seen Katherine's keen intellect, ethical compass, and extraordinary work ethic up close. Katherine is a champion for all students but above all for the least empowered among us. She has left her permanent mark at UMass Boston. Bravo, Art Mabbett and Charlie Desmond for this important gift. It will make a real difference to so many of our students."
About UMass Boston
The University of Massachusetts Boston is deeply rooted in the city's history, yet poised to address the challenges of the future. Recognized for innovative research, metropolitan Boston's public university offers its diverse student population both an intimate learning environment and the rich experience of a great American city. UMass Boston's colleges and graduate schools serve 16,000 students while engaging local and global constituents through academic programs, research centers, and public service. To learn more, visit www.umb.edu.