MA Office of Public Collaboration Launches "Resolution Massachusetts" — a New Public Resource Available to All
---
01/14/2020
| Office of Communications
The start of 2020 marks the launch of a new statewide initiative called Resolution Massachusetts to be announced at a State House briefing for legislators on January 21, and it could not be timelier.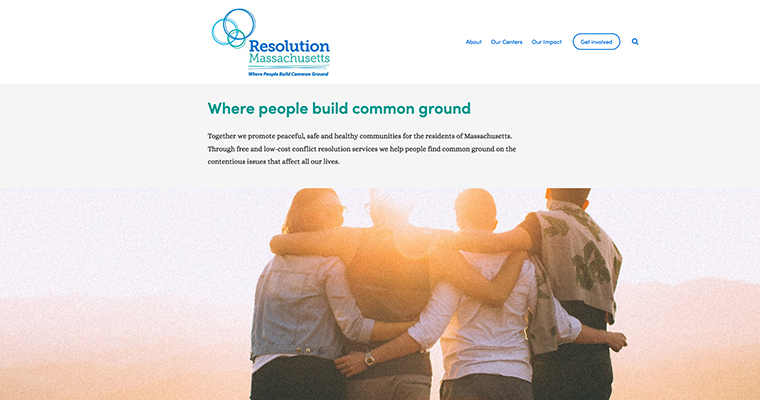 The new Resolution Massachusetts website
" Everyone has heard of mediation these days, but few people are aware of how it can help them in their everyday lives. "
Resolution Massachusetts brings together a network of state-sponsored community mediation centers and the state dispute resolution agency, the MA Office of Public Collaboration at UMass Boston's McCormack Graduate School, under one umbrella for the purposes of outreach and public education. The initiative is modeled on similar ones in Virginia and Washington and aims to let people know that help is available in their local communities for conflict in all its forms and how to access it.
"Everyone has heard of mediation these days, but few people are aware of how it can help them in their everyday lives and that a network of community mediation centers exists across the state providing free and low-cost services in their own local communities," says program manager Rosalind Cresswell.
The new Resolutions Massachusetts website is the first step to building greater public awareness of these services, placing a spotlight on the work of the centers, which in addition to mediation, also provide facilitation, restorative justice, conflict coaching, and training.
"This is a question of access to justice" according to MOPC Executive Director Susan Jeghelian. "The development of the Resolution Massachusetts platform emerged from a strategic planning initiative during which it was agreed that we had a common goal that everyone in Massachusetts understand the value and availability of Community Mediation Centers as a primary source of support and know when and where to go for help."
After establishing a brand, MOPC and the community mediation centers worked with donated support from marketing professionals to produce a website that would be simple to use and informative, and would connect people to the services that are available in their local communities.
"We thought long and hard about the message we wanted to send and, with the agreement of all the centers, felt that the concept of building common ground demonstrated how we had worked together to build this initiative, using our common goals to do so," reports Cynthia McClorey, director of the North Shore Community Mediation Center in Beverly.
"We wanted it to reflect a place where people could come together to work things out which is what the services are all about," says Sabrina Bohun, director of family services at Central Massachusetts Mediation Program in Worcester.
Although the Resolution Massachusetts initiative is new, most of its community mediation center members have been providing local services for courts and communities in all 14 Massachusetts counties for many years. Since 2012, qualified centers have received state operational funding through MOPC, the statutory administrator of the state-sponsored performance-based community mediation center grant program. Besides grant administration, MOPC supports centers in program development, quality assurance and capacity-building, fundraising, advocacy, and program evaluation.
In addition to information about conflict resolution in general and services available to members of the public, the Resolution Massachusetts website aims to inform potential sponsors and funders about the impact of the community mediation system and to connect anyone wishing to contribute or be involved in some other way, such as volunteering as a mediator, board member or intern.
For further information about Resolution Massachusetts and to learn how you can find mediation and related services in your area please see www.resolutionma.org.