Mayor Appoints UMass Boston Professor to Human Rights Commission
---
02/04/2020
| Office of Communications
Reyes Coll-Tellechea Previously Served on Diversity Task Force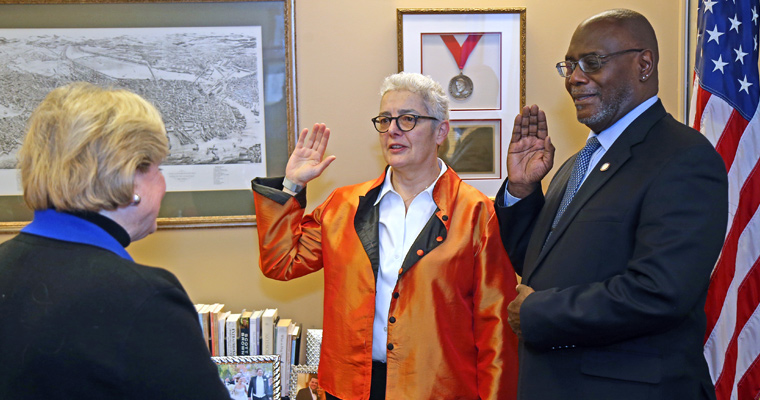 Professor of Latin American and Iberian Studies Reyes Coll-Tellechea, center, with City Clerk Maureen Feeney and the Hon. Leslie Harris
Boston Mayor Marty Walsh has appointed Professor of Latin American and Iberian Studies Reyes Coll-Tellechea and six others to the city's reactivated Human Rights Commission, which has a special focus on immigration.
"As attacks on human rights continue from the highest levels of our country, here in Boston, we're committed to preserving and advancing human rights, including in our immigrant communities," Walsh said. "I'm proud to appoint these seven members to the Human Rights Commission. Their backgrounds and experiences make them uniquely qualified to serve in these roles, and will make a real difference in the lives of our residents."
The author and editor of several books, Professor Coll-Tellechea's research reflects on the experience of marginalization, exclusion and discrimination as represented in literature, as well as on some of the strategies used by the powerful to exclude others from their privileges. She served on the mayor's Transition Task Force (Human Services) and the City of Boston's Diversity Task Force, and she frequently volunteers as a translator and interpreter for Massachusetts nonprofits working with immigrants and refugees.
The commission hasn't been active since 1996. Walsh has charged the reactivated commission to pay special attention to the needs of Boston's immigrant communities. Both state and federal law provide legal protections and mandate that certain basic services be provided to all people, regardless of their immigration status.
Coll-Tellechea considers herself an "American by choice." Born in Spain, she arrived in the United States with limited English skills.
"The city and citizens of Boston welcomed and protected me at a time of great personal uncertainty. It is now my turn to help take care of the city. I am ready, happy and proud to serve the city," Coll-Tellechea said.
The seven-member commission has the power to conduct hearings and call witnesses, and can issue reports and the results of investigations. The commission also has the power to adopt rules and regulations and recommend legislation to the City Council and the mayor.
About UMass Boston
The University of Massachusetts Boston is deeply rooted in the city's history, yet poised to address the challenges of the future. Recognized for innovative research, metropolitan Boston's public university offers its diverse student population both an intimate learning environment and the rich experience of a great American city. UMass Boston's 10 colleges and graduate schools serve 16,000 students while engaging local and global constituents through academic programs, research centers, and public service. To learn more, visit www.umb.edu