McCormack Grad School Students Take Center Stage in Final Senate Primary Debate
---
08/25/2020
| Crystal Valencia
McCormack Graduate School Cosponsored Debate with Boston Globe, WCVB, and WBUR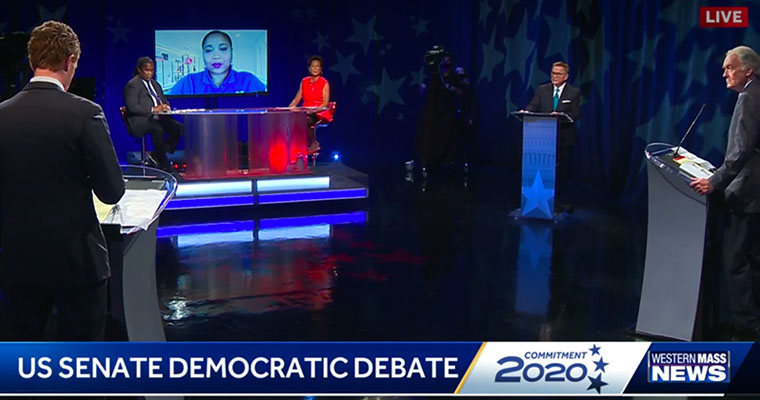 PhD student Krystal-Gayle O'Neill asks candidates a question during last week's Democratic Senate Primary Debate in the WCVB studios.
" The McCormack Graduate School takes its role as public convener of civic discourse very seriously – it's in our DNA. "
As Senator Ed Markey and Representative Joe Kennedy III faced off in their final Democratic Senate Primary Debate last week, UMass Boston PhD students Krystal-Gayle O'Neill and Natalie Shellito asked them to address two pressing issues on the minds of college students across the nation — protecting our international students and aiding public colleges during a pandemic.
"With classes only weeks away, can the Senate do anything to relieve this uncertainty?" O'Neill asked.
The students had the opportunity to submit questions to the candidates for the hour-long televised debate as part of the partnership between UMass Boston's McCormack Graduate School of Policy and Global Studies and top New England news outlets— The Boston Globe, WBUR radio, and WCVB Channel 5.
The partnership, established in 2016, is now recognized as the state's leading sponsor of political and policy debates.
"As the only public public policy school in the Boston region, the McCormack Graduate School takes its role as public convener of civic discourse very seriously – it's in our DNA," said Dean David Cash. "Our partnership with leading media outlets has brought debates to the citizens of the commonwealth to help them take on their role – as informed citizens."
McCormack has hosted more than 15 debates for candidates running for governor, secretary of state, Congress (including the pivotal Ayanna Pressley and Mike Capuano debate in 2018), and Boston City Council, and for a number of ballot questions. In specific situations, it has collaborated with other organizations, such as Spanish-language Univision, Western Massachusetts news organizations, and the UMass Amherst campus.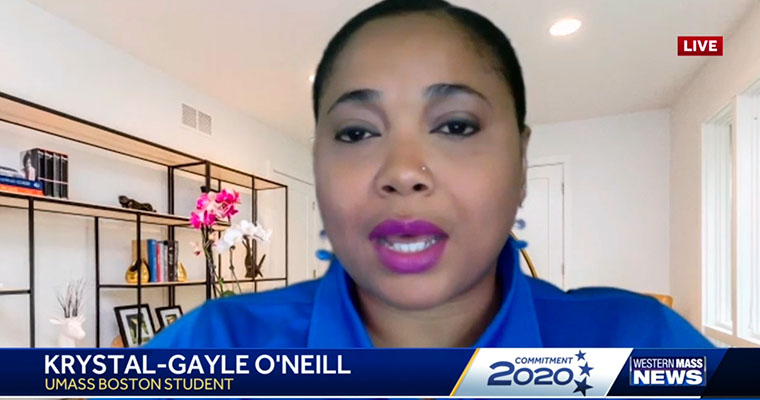 O'Neil, a PhD student in Global Governance and Human Security, asked the candidates what they would do to help international students, who have received "mixed signals" from the Trump administration.
"The Senate can pass a bill to try to protect international students…," Kennedy said. "They are an extraordinary asset, particularly here in Mass., and provide a huge injection of talent, of ingenuity, of creativity and a boost to our economy."
Markey condemned what he called President Trump's racist policies.
"The business plan for Massachusetts is pretty simple. … We want the smartest kids in the world to come to school here," he said. "Upwards of a third of all new companies in Massachusetts are there because of the immigrant community."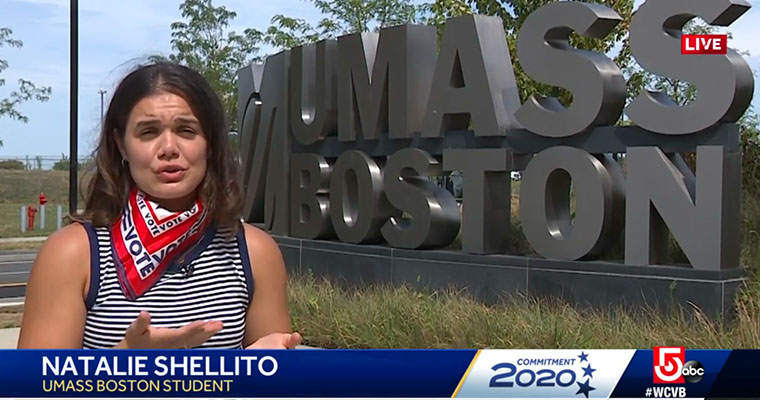 Shellito, a PhD student in Gerontology, said public colleges are facing a crisis.
"International students can't get visas and students are demanding refunds and tuition cuts with remote learning. What will you do as a Senator to fix this problem?" she asked.
Markey said there needs to be flexibility for students during changing circumstances.
Kennedy said the federal government needs to step up to help both the universities, students, and their families.
"The higher education industry is critically important. We've already seen some smaller institutions have to close because they can't make ends meet. … The federal government needs to ensure that those educational institutions are able to make things work," he said.
The Massachusetts State Primary is September 1. Find out how to vote.