Members of Class of 2024 Get to Know Each Other on Welcome Day
---
02/27/2020
| Division of Enrollment Management
With the regular decision application deadline just days away, UMass Boston's Office of Undergraduate Admissions has received more than 14,000 applications, putting UMass Boston on track for one of its largest applicant pools in university history.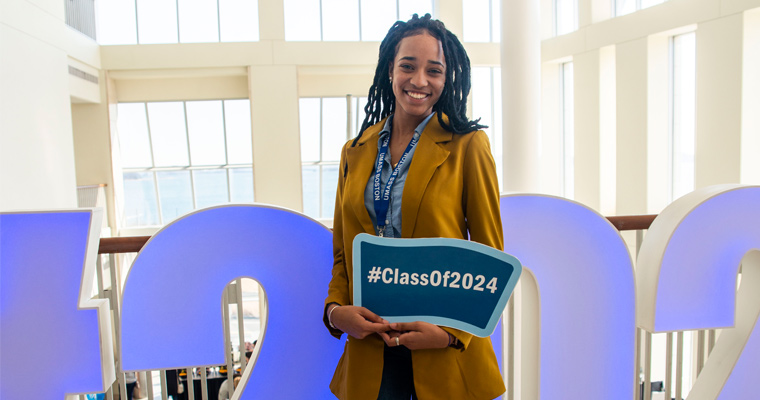 A popular Welcome Day activity was posing with the giant #2024 sign.
Image By: Janina Seibel
" The Class of 2024 is large, it is diverse, and it is accomplished. "
"The Class of 2024 is large, it is diverse, and it is accomplished," Director of Undergraduate Admissions Corey Ford said at Saturday's Welcome Day for Admitted Students event.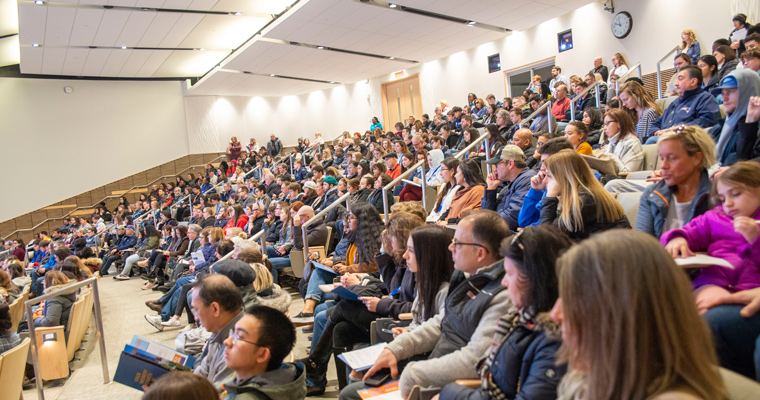 Because it gives students the option to apply early action and regular decision, this year the university is again offering two separate Welcome Day events for admitted students. Welcome Day is the first time newly admitted students really get to see each other on campus as a class. More admitted students attended this first Welcome Day event than attended the Welcome Day events held the previous four Februarys. More than 700 admitted students and 1,100 guests from as far away as Texas, Illinois, and Minnesota, came to campus on February 22.
There were 106 students from states other than Massachusetts in attendance, including Andrew Russo, who is from Connecticut. Russo says being from a small town, the city of Boston itself was a huge draw. He's already submitted his new student deposit, committing to attend UMass Boston this fall, and plans to live on campus.
"When I first visited the campus, that's when it really clicked," Russo said, mentioning that the enthusiastic tour guides helped him to see the appeal of our location.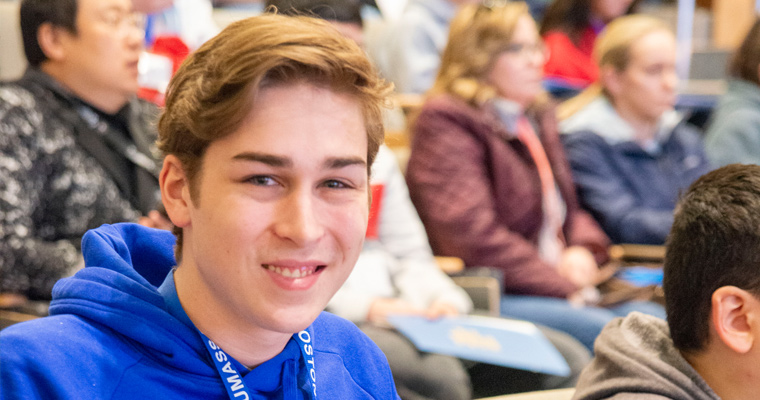 Following a student musical performance and introduction to the orientation theme, Camp UMB, students and their guests headed to academic sessions to hear from their college's dean and faculty. During the Beacon Student Experience Panel, students had the chance to ask current Beacons questions either anonymously or verbally and get an unfiltered look into the UMass Boston experience. Guests were also able to enjoy brunch in the Residence Hall Dining Commons.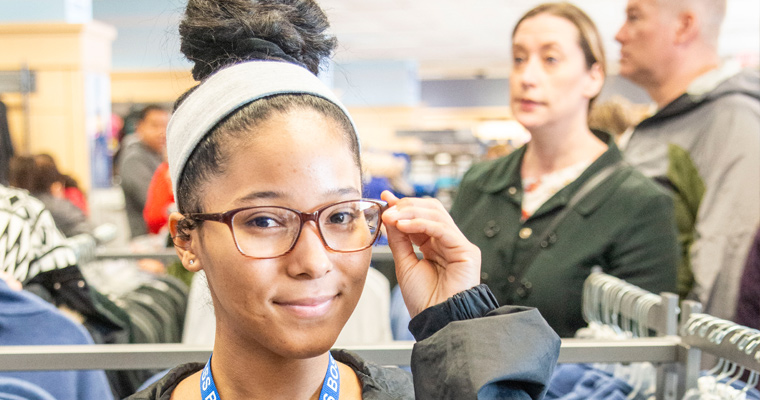 In the bookstore a number of students picked up some UMass Boston-branded merchandise to celebrate their admission. Massachusetts resident Isaury Hernandez is considering a criminal justice major, which may lead to a law degree down the line. UMass Boston's close relationship with businesses and the state government means more connections to internships and opportunities for employment, she said.
Nick Batista and Kathleen Byrne are both from Massachusetts' South Shore, and both are planning to major in nursing. Byrne mentioned the university's respected nursing program, as well at the large number of great hospitals for which Boston is known. Batista was excited to get out of his comfort zone and explore the city, and to get involved with clubs and cultural groups on campus, including Casa Latinx.
The next Welcome Day for Accepted Students will be held on April 4. The undergraduate application deadline is March 1.
About UMass Boston
The University of Massachusetts Boston is deeply rooted in the city's history, yet poised to address the challenges of the future. Recognized for innovative research, metropolitan Boston's public university offers its diverse student population both an intimate learning environment and the rich experience of a great American city. UMass Boston's 10 colleges and graduate schools serve 16,000 students while engaging local and global constituents through academic programs, research centers, and public service. To learn more, visit www.umb.edu.