More than 1,000 Attend UMass Boston Climate Crisis Symposium Highlighting Innovative Feminist Pathways to Just and Sustainable Futures
---
11/03/2020
| Consortium on Gender, Security and Human Rights
Global, Racial, and Gender Justice Lens Emphasized by Trailblazing Convening of Scholars and Activists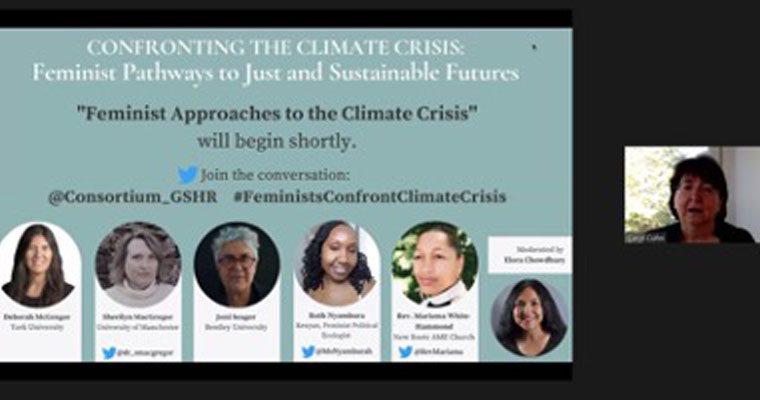 " In order to reverse the current path toward climate catastrophe, we need far more than a transition away from fossil fuels. "
More than 1,000 people from over 30 countries attended the recent "Confronting the Climate Crisis: Feminist Pathways to Just and Sustainable Futures" virtual symposium, organized by the Consortium on Gender, Security and Human Rights (CGSHR) at UMass Boston.
"In order to reverse the current path toward climate catastrophe, we need far more than a transition away from fossil fuels," said Carol Cohn, CGSHR's director. "We need to transform dominant power structures and dominant ways of thinking about humans' relation to the planet. Further, since there is no entirely local or national solution to the crisis, it requires global action, which means we need to be able to work with each other across differences. Luckily, feminists have long focused on exactly these challenges, and the feminist activists, academics and policy makers in the symposium brought richly diverse approaches to achieving just and sustainable futures."
The symposium aimed to call attention not only to the climate crisis, but also to what is at stake in the kinds of "solutions" to it that are proposed. From intersectional feminist critiques of the inequities embedded in mainstream "fixes," to alternative approaches from feminist political economists and ecologists and indigenous and racial justice activists, the symposium explored the fundamental transformations urgently needed to forestall climate catastrophe. In the face the interlocking crises of climate disruption, COVID-19 and systemic racism, issues of climate justice and the need to transform the dominant global economic model are increasingly on the table. As people across the world mobilize against a simple return to the status quo, the symposium's feminist approaches highlighted the perspectives of women, indigenous peoples, communities of color, and other marginalized populations as central to forging a bold, transformative vision of how we can live together on this planet.
"We have to think about power," said Ruth Nyambura, a feminist political ecologist from Kenya. "And we must rethink our relationships with one another to believe strongly, to act clearly, and to build structures that reject the idea that we are disposable – that the Earth and nature, which we are part of, are merely things to be exploited and desecrated."
"The narrative that we need has to be about more than just avoiding the worst, avoiding ecological collapse," said Diana Duarte, director of policy and strategic engagement at MADRE. "This symposium has really uplifted that feminist approaches can supply that narrative that we need. It gives us a hopeful vision: decarbonization not as deprivation, but as a better way of life, where our lives are caring, are collective and in balance, rather than exploited, overworked, and isolated."
"That's a different way of thinking:…we want to flourish," said Deborah McGregor, Anishinaabe and a member of the Whitefish River First Nation in Birch Island, Ontario. "How can we actually give to the earth to enable the earth to flourish – as opposed to damage control, which is a lot of the dominant narrative."
During the final sessions of the symposium, panelists agreed that a diverse array of feminist perspectives from across the globe will be absolutely critical if we are to address the climate crisis in effective, just and sustainable ways.
The consortium plans to follow this symposium with an international workshop on peacebuilding, gender and the climate crisis. It will host other events in the future to continue to engage with feminists around the world working towards solutions to the climate crisis. Information about upcoming events will be available here: https://genderandsecurity.org/events-news.
The virtual symposium was held from October 7 through October 9, and panelists included:
Seema Arora-Jonsson (Swedish University of Agricultural Sciences)
Kiran Asher (UMass Amherst)
Lindsey Bacigal (Indigenous Climate Action)
Shalanda Baker (Northeastern University)
Bridget Burns (WEDO)
Edward Carr (Clark University)
Carol Cohn (Consortium on Gender, Security and Human Rights)
Diana Duarte (MADRE)
Claire Duncanson (University of Edinburgh)
Giovanna Di Chiro (Swarthmore College)
Heidi Gengenbach (UMass Boston)
Betsy Hartmann (Hampshire College)
Maria Ivanova (UMass Boston)
Candace Famiglietti (UMass Boston)
Anne Kuriakose (Climate Investment Funds)
Sherilyn MacGregor (University of Manchester)
Lucy McAllister (Technical University of Munich)
Deborah McGregor (York University)
Anita Nayar (Regions Refocus)
Julie Nelson (UMass Boston)
Ruth Nyambura (Kenyan, Feminist Political Ecologist)
.O (Climate and Social Justice Activist)
Joni Seager (Bentley University)
Jennie Stephens (Northeastern University)
Reverend Mariama White-Hammond (New Roots AME Church)
Mariama Williams (South Centre)
Video recordings of the symposium sessions are available at: https://genderandsecurity.org/events-news/confronting-climate-crisis-feminist-pathways-just-and-sustainable-futures.
About UMass Boston
The University of Massachusetts Boston is deeply rooted in the city's history, yet poised to address the challenges of the future. Recognized for innovative research, metropolitan Boston's public university offers its diverse student population both an intimate learning environment and the rich experience of a great American city. UMass Boston's colleges and graduate schools serve nearly 16,000 students while engaging local and global constituents through academic programs, research centers, and public service. To learn more, visit www.umb.edu.
About the Consortium
The Consortium on Gender, Security and Human Rights is based at the University of Massachusetts Boston. We work across scholarly, policy, and activist communities to create the intersectional, feminist analyses that are needed for creating sustainable and just solutions – not only to wars, but to the political, economic and social inequalities and environmental crises that underlie them. To learn more visit www.genderandsecurity.org