National League for Nursing Selects Director of Nursing Simulation for Leadership Development Program
---
05/12/2020
| Office of Communications
Rosemary Samia to Focus on Simulation Education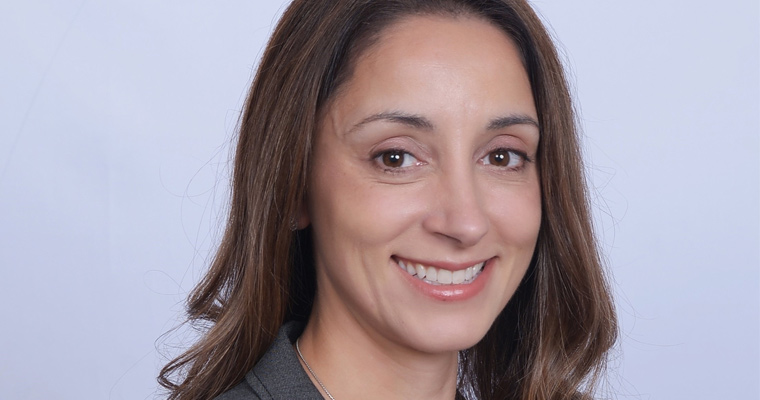 Rosemary Samia
UMass Boston director of the Center for Clinical Education and Research in the College of Nursing and Health Sciences Rosemary Samia G'18 has been selected through a competitive application process for the National League for Nursing (NLN)'s year-long Leadership Development Program for Simulation Educators. It is one of three tracks in the NLN Leadership Institute, an initiative of the NLN Center for Transformational Leadership.
The simulation faculty leadership development initiative, now in its tenth year, is designed for those interested in assuming a leadership role in the research or administration of simulation programs in nursing education. This program is designed for the experienced simulation nurse educator who wants to assume a leadership role in simulation. Participants focus on maximizing their leadership potential to advance simulation initiatives in nursing education and practice.
The 2020 Leadership Institute cohort is a group of 43 nurse educators chosen from colleges, universities and health care institutions around the world.
"The National League for Nursing prides itself on setting a high bar for participation in the Leadership Institute, and every year, the selection committee is impressed by the qualifications of the applicants. This year was no exception," said NLN President Patricia S. Yoder-Wise, professor and dean emerita at Texas Tech University Health Sciences Center and president of The Wise Group. "The 2020 Leadership Institute cohorts have already demonstrated how they bring their A-game to mastering the multifaceted aspects of leadership. Through collaboration, they are fostering caring and inclusive environments for learning and achievement, and advocating passionately for excellence in nursing education."
"Rosemary Samia is a natural for this leadership opportunity," said Linda Thompson, dean of the College of Nursing and Health Sciences. "She is a visionary and creative leader who led the design of our new Simulation Center. This competitive leadership program will provide her with the competency to transform how we develop the 21st-century nurse."
In the Center for Clinical Education and Research (CCER), Samia is responsible for the ongoing development, evaluation, and advancement of simulation and lab-based activities for nursing students. After two years of planning and design, Samia successfully opened a 10,000-square-foot simulation and skills lab in January. The CCER includes six outpatient exam rooms for use with standardized patients, a fully functional hospital simulation suite, two 10-bed skills labs, classroom space, and tutoring rooms for students.
Outside of UMass Boston, Samia is active in the field of health care simulation. In 2018, Samia co-founded the Southern New England Sim Users Group, a local networking group for simulation educators in the greater Boston area. Samia is on the planning committee of the newly developed New England Healthcare Simulation Consortium, assisting with the development and organization of regional simulation symposiums. Samia also serves on the advisory board for safeMedicate, a virtual environment for simulated medication administration.
Throughout the year, the selected simulation educators will be immersed in leadership development webinars; exchange ideas and best practices in simulation in private forums; review existing scholarly research; visit simulation centers around the country to evaluate resources and operations; consult with representatives of Laerdal Medical Corp. on equipment issues; contribute to a group project that is posted in the Simulation Innovation Resource Center (SIRC); and attend professional conferences.
"These rising leaders and scholars in nursing education are our partners, mentors and role models for faculty everywhere as the National League for Nursing works to bring about equal access to outstanding health care for a diverse patient population to advance health outcomes in our communities and worldwide," said NLN CEO Beverly Malone. "We are proud to support their leadership development with these valuable opportunities to build upon their experience and skills and look forward to hearing of their success as their careers continue to evolve."