New Boston Higher Ed Consortium Aims to Expand Student Options
---
01/10/2020
| Office of Communications
UMass Boston Partners with Six Area Institutions to Develop Shared Programs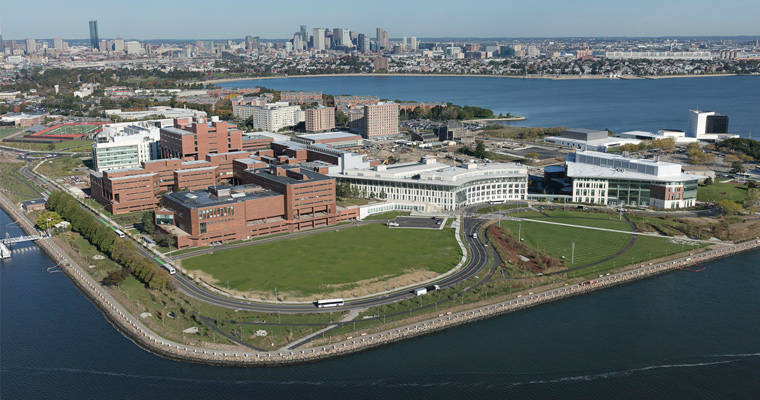 Seven Boston-area liberal arts and specialty colleges and universities will begin offering a pathway to affordable, accelerated master's degrees in the region's only public research university, UMass Boston, in the spring of 2020. The newly formed Boston Advanced Academic Consortium (BAAC) will enable undergraduate students from partner colleges to enroll in graduate courses during their senior year and then complete their master's degree on a rapid timeline. UMass Boston students will also have the opportunity to enroll in specialized MA programs across the partnership.
"The consortium opens up additional opportunities for students and enables the participating colleges and universities to become more competitive in an increasingly complex higher education market," said UMass Boston Interim Chancellor Katherine Newman. "We believe this is just the beginning of a collaboration that will create even richer opportunities for all of our students, faculty, and institutions."
In addition to UMass Boston, the consortium members include Bentley University, Boston Architectural College, Boston Baptist College, Curry College, Lasell University, and Longy School of Music of Bard College. Other colleges and universities have indicated an interest in joining BAAC in the future.
Although the initial focus of the consortium is access to accelerated master's programs, the colleges and universities are also making arrangements for students to take specialized advanced undergraduate courses where they complement the offerings in smaller liberal arts colleges.
Comments from partner institutions:
"We are proud to partner with UMass Boston in this new consortium to help expand pathways to accelerated graduate degrees for our students at Bentley University," said President Alison Davis-Blake. "As the field of higher education continues to evolve, partnerships like this one will be important aspects in ensuring that colleges and universities continue to keep the interests of students and their future development a top priority."
"How appropriate is it that here, in Boston, where desperate colonists united to create a new kind of nation, their later daughters and sons are working together for a new and invaluable approach to learning!" said Boston Baptist College President David Melton. "We all want greater value in higher education. Avoiding programmatic redundancy is an innovative essential in that quest. In the BAAC, we ALL win—particularly the students."
"The BAAC will provide opportunities for Curry students to pursue graduate degrees in a timely fashion at reduced cost," said Curry College Provost David Szczerbacki. "It also creates a framework for students to enroll in selected Curry College programs once these are identified within the Consortium. BAAC is a fine example of the increasingly important role of strategic partnerships in navigating the competitive education higher education environment in the greater Boston region."
"Lasell University welcomes the opportunity to collaborate with our colleagues at Boston area colleges and universities to make new, lower-cost degree programs available to students," said Provost Jim Ostrow. "This partnership is a natural extension of initiatives we have developed with area schools that enhance the student experience and expand opportunities for professional growth."
"Longy is excited to grow its network of partners to quite literally open new doors for our conservatory students—and to share our unique curriculum with music students across Boston," said Longy School of Music of Bard College Associate Dean Jeremy Van Buskirk.
The first cohort of students will apply to participating accelerated master's programs this spring and begin courses in fall 2020.
About UMass Boston
The University of Massachusetts Boston is deeply rooted in the city's history, yet poised to address the challenges of the future. Recognized for innovative research, metropolitan Boston's public university offers its diverse student population both an intimate learning environment and the rich experience of a great American city. UMass Boston's 10 colleges and graduate schools serve 16,000 students while engaging local and global constituents through academic programs, research centers, and public service. To learn more, visit www.umb.edu.