New England Women's Policy Conference Aims to Transform Systems, Achieve Racial and Gender Justice
---
11/27/2020
| Office of Communications
Elected Officials, executive leaders, advocates, students, and community members from across New England will come together to envision and promote new transformative policies aimed at eliminating systemic inequalities at the 4th Biennial New England Women's Policy Conference, which will be held virtually December 2 to 4.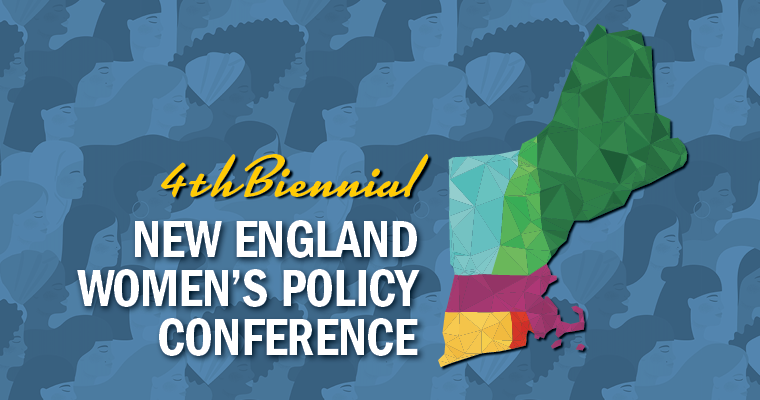 The Center for Women in Politics and Public Policy (CWPPP) at UMass Boston is hosting the conference, along with a range of partners from across New England. Themed "The Time is Now: Gender Justice, Antiracism, and Systemic Change," the conference, which is open to the public, will convene on Zoom over the course of three days from 9 a.m. to noon.
UMass Boston Chancellor Marcelo Suárez-Orozco and McCormack Graduate School Dean David Cash will present opening remarks on Dec 2. Massachusetts Congresswoman Ayanna Pressley (MA-07) will give the keynote address on Thursday, December 3.
Organizers note that the conference will utilize an "intersectional lens" that considers inequities related to race, gender, ethnicity, class, immigrant status, and other social identities to address the economic security, health, and wellbeing of women, and their families and communities.
"All are welcome to the conference to contribute their ideas and share their experiences," says Dr. Laurie Nsiah-Jefferson, CWPPP director. "The COVID-19 pandemic brought to light many existing inequities in our society, and participants at this conference will support the development of strategies and interventions to address these persistent societal challenges. This conference is unique in that it will highlight the intersectional dynamics of the policy issues we address to propose effective solutions."
A special track to train high school and college students in policy and political leadership is being co-organized with IGNITE!, the national nonpartisan organization promoting young women's engagement in the political process. At this conference leading female activists will share strategies to harness the power of their voices to make social and political change. Juana Matias, who served in the Massachusetts House from 2016 to 2019, will be one of the panelists for the Young and Running panel, along with IGNITE! National Fellow and CWPPP Board member Anna Del Castillo.
Breakout sessions will feature panels with policy advocates and legislators looking at the impacts of COVID-19, systemic inequities, and ways of advancing public policy in four key areas: health and healthcare, childcare and education, low wage and essential workers, and the policing of women of color and LGBTQ+ communities.
Panelists include elected leaders, government officials, advocates from the nonprofit sector, and grassroots groups who have expertise on the conference themes and key issues being addressed. As part of the breakout sessions, participants will be urged to bolster collaborative efforts that strengthen alliances and promote anti-racist approaches.
Session panelists include Vermont State Senator-Elect Kesha Ram; Connecticut State Representative Jillian Gilchrest; Massachusetts State Representative Liz Miranda; Beth Bye, commissioner of the Connecticut Office of Early Childhood; Kirsten Durzy, an epidemiologist and evaluator at the New Hampshire Department of Public Health and Human Services; Joyce Wise, the executive director of Black Lives Matter Rhode Island PAC; Eva A. Millona, president and CEO of the MIRA Coalition; and Rachel Flum, executive director of the Economic Progress Institute, among many others. Speakers in the IGNITE! track will include Andrea Gonzalez Sanchez, an educator with Young Voices, and Noel Roby-Williams, a racial justice advocate.
On the conference's final day, Dr. Lorna Rivera, director of UMass Boston's Gastón Institute for Latino Community Development and Public Policy and professor in the Women's, Gender, and Sexuality Studies department, will speak about challenges that exist for women —particularly young women and women of color—in New England, and how well they have been addressed. Sara Guillermo, executive director of IGNITE! National will address issues of particular concern to younger women. In state-based breakout rooms, representatives of policy and advocacy organizations, and conference participants, will discuss critical issues raised at the conference and explore ways of collaborating to advance a coalitional policy agenda.
Tickets are priced at $15 for the IGNITE! Track and $50 for general admission, with the option of a fee waiver for students and low-income individuals. Visit the event website to register and view the full program and list of partner and sponsoring organizations.
About the New England Women's Policy Initiative
NEWPI is a long-term, nonpartisan effort to advance economic security, health, and wellbeing of women and their families. NEWPI is spearheaded by the Center for Women in Politics and Public Policy and co-convened by regional partners including Women's Commissions, Women's Funds, and nonprofit organizations serving women, and particularly women of color, in the six New England states.