New Exercise and Health Sciences Professor to Investigate Using Brain Stimulation to Help Alzheimer's, Diabetes Patients
---
04/27/2020
| Colleen Locke
Assistant Professor of Exercise and Health Sciences Azizah J. Jor'dan to Look at Impact of Brain Stimulation on Link Between Cognition and Balance Control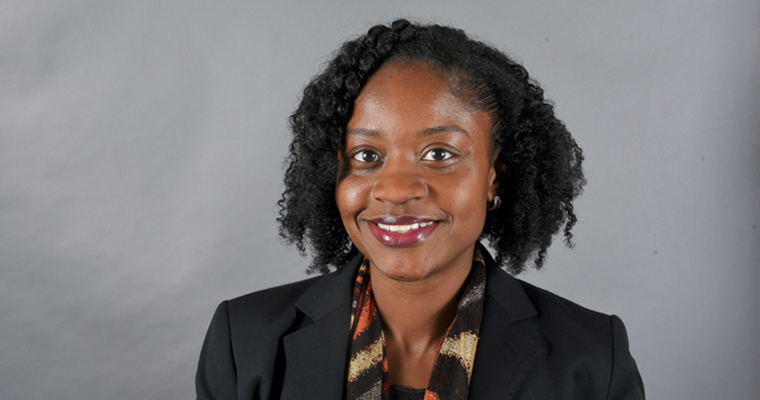 This is Azizah Jor'dan's first semester at UMass Boston.
Image By: Harry Brett
" We've already shown that it works; now we're getting into why it works. "
Aging, especially in Alzheimer's or type 2 diabetes patients, alters brain function and affects how you walk and stand. The College of Nursing and Health Sciences's newest exercise and health sciences professor completed a two-year mentored phase (K099) on a National Institute on Aging-funded Pathway to Independence Career Development Award at the VA Boston Healthcare System and Harvard Medical School. Azizah Jor'dan is now transitioning to the three-year independent phase (R00) of her project, which looks at how brain stimulation can be used as a way to improve cognition and balance control when standing and walking in patients with Alzheimer's or diabetes.
"Brain stimulation is not new, but we're still trying to answer different questions: the dosing and what's needed to sustain brain function," said Jor'dan, an assistant professor of exercise and health sciences.
One of Jor'dan's mentors and a coinvestigator on her study is Brad Manor, the director of the Mobility and Brain Function Program at the Hinda and Arthur Marcus Institute for Aging Research at Hebrew Senior Life. Jor'dan says brain stimulation has been used to treat mental illnesses and addiction; Manor uses it to improve mobility in patients with Parkinson's and other vulnerable populations.
"We've already shown that it works; now we're getting into why it works," Jor'dan said. "The ultimate reason why we're looking at this relationship between mind and body is to improve the quality of life of older adults. We're finding that older adults with age-related diseases, such as type 2 diabetes, also have deficits in cognition and vascular function, which puts these older adults at a higher risk for falls. Falls are a leading cause of injury and death in older adults, so we're looking into what we can do to intervene so that these individuals can have long, independent, and healthy lives."
Jor'dan anticipates that by this summer, she'll be bringing in 100 older adults from the Boston area, half with mild-to-moderate Alzheimer's and the other half with type 2 diabetes. First, their brain function and oxygen levels will be measured and their gait and balance checked. Participants will then get transcranial direct current stimulation for 20 minutes. After the brain stimulation, the brain function and balance will be retested. Stimulation will be repeated for an additional nine subsequent sessions, which will include follow-up visits. She welcomes any undergrads or graduate students interested in doing this work to contact her.
Jor'dan most recently taught at Harvard Medical School, as an instructor in psychiatry. As a PhD student at the University of Minnesota and then a postdoc at Harvard Medical School, the Chicago native focused on gerontology, but as a graduate student at the University of Minnesota, she worked with children at risk for developmental coordination disorder, a motor skills disorder that affects five to six percent of all school-aged children.
"I started to take classes in gerontology, and I was really intrigued," Jor'dan said. "Of course I want my parents and other family members to live long, healthy lives. Sadly, my uncle passed away from cardiovascular disease and he also had type 2 diabetes."
Before coming to UMass Boston, Jor'dan worked on the Mobilize Boston Study along with Professor of Nursing Suzanne Leveille. She says it's this and the other research that the diverse faculty and students are doing here that made her want to apply.
"This seems like a place that I could call home and build my research program and establish independency, not too far away from where I trained for seven years, and still leverage the different resources that I have at Harvard, Hebrew Senior Life, Massachusetts General Hospital – to know that those people are just a call away," Jor'dan said.
About UMass Boston
The University of Massachusetts Boston is deeply rooted in the city's history, yet poised to address the challenges of the future. Recognized for innovative research, metropolitan Boston's public university offers its diverse student population both an intimate learning environment and the rich experience of a great American city. UMass Boston's colleges and graduate schools serve 16,000 students while engaging local and global constituents through academic programs, research centers, and public service. To learn more, visit www.umb.edu.