PhD Student to Research Boston's COVID-Related Initiatives Through Rappaport Public Policy Fellowship
---
06/09/2020
| Colleen Locke
Kelsey Edmond Is in the McCormack Graduate School's Public Policy PhD Program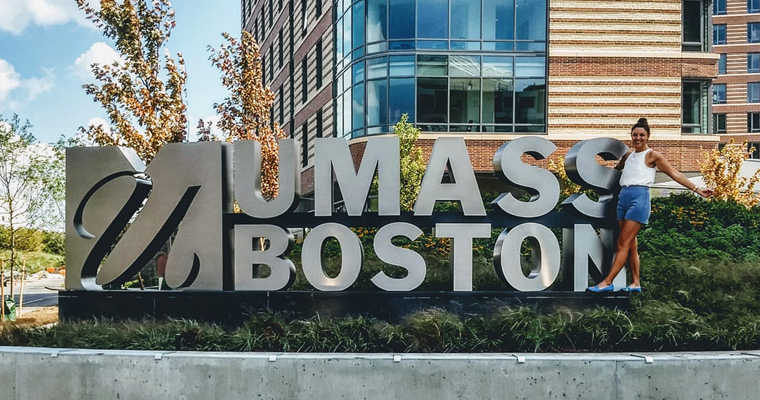 " [Navigating] completely uncharted territory in response to an unprecedented situation is what excites me about being a researcher "
Kelsey Edmond, a PhD student in UMass Boston's McCormack Graduate School, has been selected to be one of this year's Rappaport Public Policy Fellows.
Funded and administered by Harvard's Rappaport Institute for Greater Boston, the 20-year-old Rappaport Public Policy Fellowship is a paid, 10-week summer internship that gives talented graduate students throughout greater Boston the opportunity to help public leaders address key problems and, in doing so, learn how public policy is created and implemented. The 20 fellows will participate in a weekly seminar series and receive a $7,000 stipend for the summer. Data shows that Rappaport fellows are far more likely than their peers to stay in the Boston area and work in the public sector after graduation.
Edmond, who is from Wayne, New Jersey, just finished her second year in UMass Boston's Public Policy PhD program. This summer she'll be working at the City of Boston's Department of Innovation and Technology. The department created the Digital Equity Fund in October 2017 as a way to provide support to community-based organizations that help Boston residents digitally participate in today's society, which is increasingly reliant on technology.
In response to the COVID-19 pandemic, the Digital Equity Fund is partnering with numerous companies and organizations to provide free or low-cost Internet services or devices to qualifying low-income residents. Edmond will conduct research on these initiatives by interviewing recipients of the services as well as nonprofit organizations to better understand their online transitions, obstacles, and ways the City of Boston can support their mission moving forward.
"I am so excited to work on a current, pressing, and rapidly-evolving issue. Trying to navigate completely uncharted territory in response to an unprecedented situation is what excites me about being a researcher," Edmond said.
After she earns her PhD, Edmond says she hopes to continue to engage in social policy work, working as a researcher for a think tank, government organization, or academic institution.
"UMass Boston has prepared me to tackle a range of social justice-oriented problems," Edmond said. "Between rigorous training in epistemic philosophies and theoretical frameworks to systematic data collection strategies, research designs, and robust analytical methods, I am well-equipped to pursue challenging and complex questions in order to catalyze change and remedy injustices."
About UMass Boston
The University of Massachusetts Boston is deeply rooted in the city's history, yet poised to address the challenges of the future. Recognized for innovative research, metropolitan Boston's public university offers its diverse student population both an intimate learning environment and the rich experience of a great American city. UMass Boston's colleges and graduate schools serve 16,000 students while engaging local and global constituents through academic programs, research centers, and public service. To learn more, visit www.umb.edu.