Physics Student Named Finalist for Prestigious National Academic Award
---
07/30/2020
| DeWayne Lehman
UMass Boston senior Joseph Farah has been named one of seven finalists for the American Physical Society's LeRoy Apker Award, regarded as the highest honor awarded to undergraduate physics students in the United States.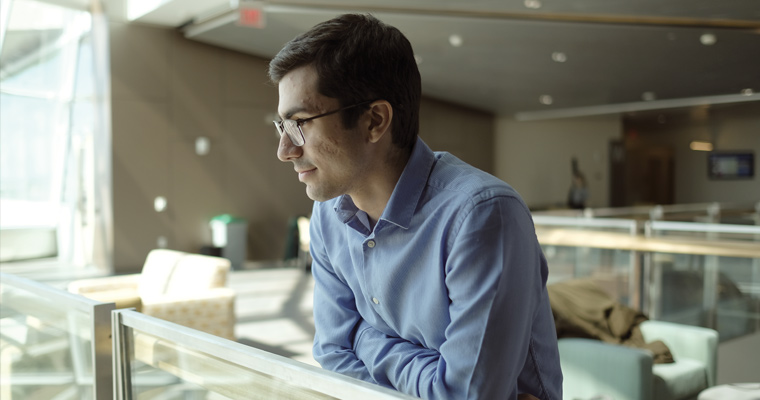 " I'm beyond excited to continue trying my best to make worthwhile contributions to science and society. "
"Joseph has been a standout student of physics since he came to our campus," noted UMass Boston Interim Chancellor Katherine Newman. "He continues to pile up award after award as the rest of the world comes to recognize what we already know: he is a brilliant scientist with an extraordinary career ahead of him."
Farah has been a rising star in the Physics Department. Last fall the physics major and Honors College student shared in a $3 million Breakthrough Prize for being part of the Event Horizon Telescope (EHT) Collaboration, which took the first image of a black hole. Farah was the only undergraduate on the 347-member team. Earlier last year, the Medford native was one of the 496 individuals nationwide to receive a Barry M. Goldwater Scholarship, the preeminent award for undergraduates in the sciences, engineering, and mathematics.
"This is a tremendous achievement and a recognition of Joseph's amazing accomplishments," said Associate Professor Rahul Kulkarni, chair of the Department of Physics. "Joseph is an exceptional student and a researcher whose work holds great promise for continued high-impact contributions to science."
The award winner will be selected later this summer or in early fall, following a final round of academic competition.
"It's truly an honor to have my research and academic ambition acknowledged, first with the Goldwater, and now with being named a finalist for this award," said Farah. "I'm beyond excited to continue trying my best to make worthwhile contributions to science and society."
About UMass Boston
The University of Massachusetts Boston is deeply rooted in the city's history, yet poised to address the challenges of the future. Recognized for innovative research, metropolitan Boston's public university offers its diverse student population both an intimate learning environment and the rich experience of a great American city. UMass Boston's colleges and graduate schools serve 16,000 students while engaging local and global constituents through academic programs, research centers, and public service. To learn more, visit www.umb.edu.