Professor of Political Science Named Kluge Fellow
---
Michelle Jurkovich, an assistant professor of political science and affiliated faculty at the McCormack Graduate School of Policy and Global Studies, has recently been named one of twelve Kluge Fellows at the John W. Kluge Center at the Library of Congress. She will spend her five-month term continuing her work around food security, economic and social rights, and ethics.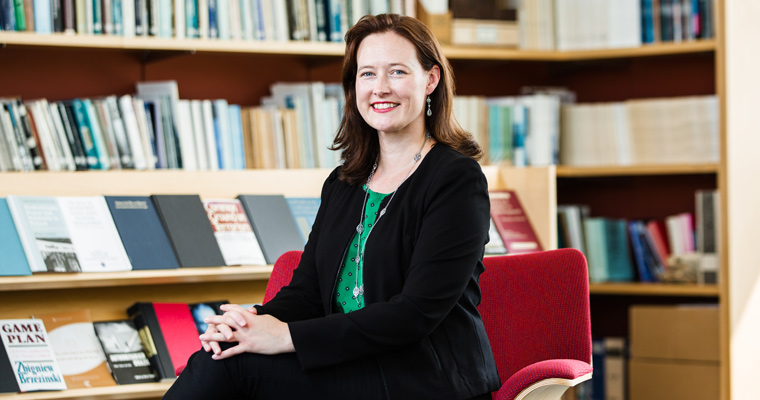 " It seems like a basic thing, but feeding populations is intensely political, even when we wish it were not. "
The internationally competitive fellowship gives early career academics space and $5,000 per month in funding to research an ongoing project in the humanities or social sciences at the library, though scholars whose projects relate to contemporary issues are given special deliberation.
Jurkovich's project, "Good Enough? The Politics of Constructing the Refugee Ration," addresses the fact that there are more refugees in the world now than any time since World War II, and that figuring out how to sustain these people is a serious challenge.
"Especially for encamped refugee communities with limited mobility, these rations provide the full basket of household food available," Jurkovich said. "Household health and dignity are tied to the composition of these rations in complex ways, and yet contemporary rations for refugee camps are often woefully inadequate."
In "Good Enough?" Jurkovich evaluates the history of ration packages and how authorities decided what a "good enough" ration should be, as well as analyzing how stereotyping and racism, the language of science and nutrition, and the idea of an "appropriate" diet have affected what goes into refugee rations.
"I believe that everyone should be entitled to enough nutritious food to live a healthy and dignified life," said Jurkovich. "It seems like a basic thing, but feeding populations is intensely political, even when we wish it were not."
About UMass Boston
The University of Massachusetts Boston is deeply rooted in the city's history, yet poised to address the challenges of the future. Recognized for innovative research, metropolitan Boston's public university offers its diverse student population both an intimate learning environment and the rich experience of a great American city. UMass Boston's 10 colleges and graduate schools serve 16,000 students while engaging local and global constituents through academic programs, research centers, and public service. To learn more, visit www.umb.edu.