Professor Silliman Wins Mark E. Mack Community Engagement Award for the Eastern Pequot Archeological Field School
---
03/27/2020
| Anusha Chaitanya
Since 2003, the Eastern Pequot Tribal Nation and Stephen Silliman, professor and chair of anthropology in the College of Liberal Arts at UMass Boston, have been running the Eastern Pequot Archaeological Field School as an archaeology, heritage, and education project. The Eastern Pequot Archaeological Field School is a community-engaged, collaborative historic and cultural preservation effort between the Eastern Pequot Tribal Nation and UMass Boston to study cultural and archaeological sites on the historic Eastern Pequot reservation.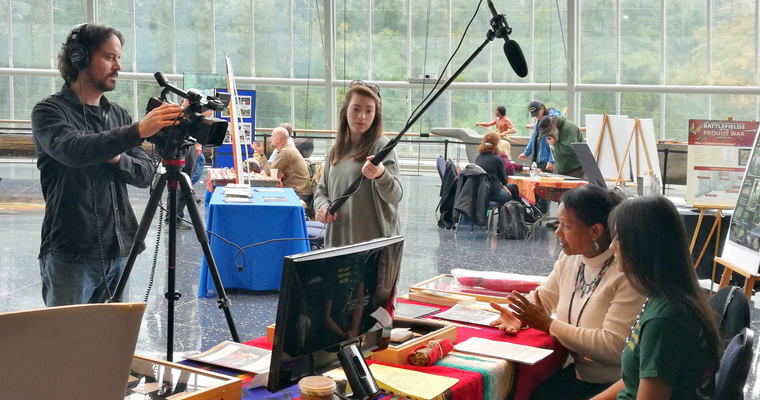 Professor and Chair of Anthropology Stephen Sillman (operating the video camera at left) won the Mark E. Mack Community Engagement Award in January for his longtime work on the Eastern Pequot Archaeological Field School.
" This program has helped us to build a respectful and lasting historical program. "
Silliman finds that working on this project has been transformational for him as a scholar, teacher, archaeologist, and person. Through this project, he has been striving to give back to the community through training, historical and cultural preservation, education, research, heritage production, and advocacy, while also training UMass Boston undergraduate and graduate students and contributing to ongoing global research focused on colonialism, indigeneity, and critical heritage studies. Some of the master's thesis projects of students associated with this project are publicly available.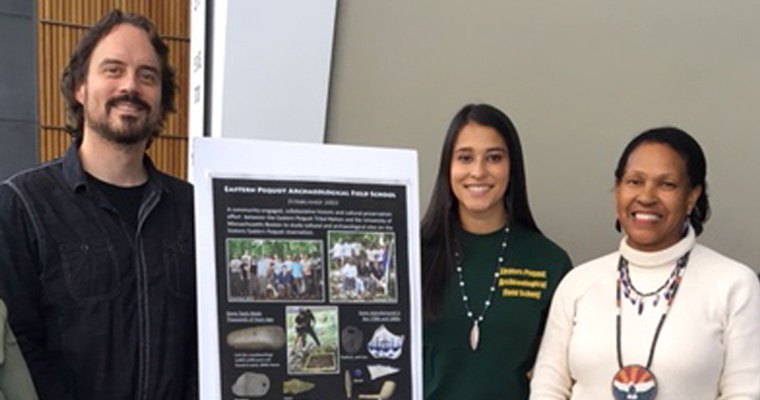 For this work, Silliman won the Mark E. Mack Community Engagement Award, announced at the Society for Historical Archaeology's annual conference in Boston in January.
"I truly appreciate this recognition from one of the premier professional archaeology associations in the world focused on historical archaeology," Silliman said.
The Mark E. Mack Community Engagement Award honors individual researchers or research project teams that exhibit outstanding best practices in community collaboration, engagement, and outreach in their historical archaeology and heritage preservation work. Mack awardees demonstrate a commitment to the representation of and open dialogue with stakeholders in archaeological research, especially descendent, local, and minority communities.
The award commemorates the life and career of Mark E. Mack and encourages diversity in the Society for Historical Archaeology and the profession by cultivating relationships between archaeologists and stakeholder communities. Mack was a professor of anthropology at Howard University and curator of the university's W. Montague Cobb Research Laboratory, well known for his work on the New York African Burial Ground project. Throughout his career, he exemplified many of the qualities considered best practices in community, stakeholder collaboration. Best practices suggest that stakeholder communities should be involved in nearly every phase of a project, from planning to implementation. The award seeks to recognize projects that embrace the challenges of facilitating collaboration and long-term relationships with stakeholder communities. These relationships and the degree of collaboration relate directly to ethical concerns that are often not readily discussed or taught in many academic programs.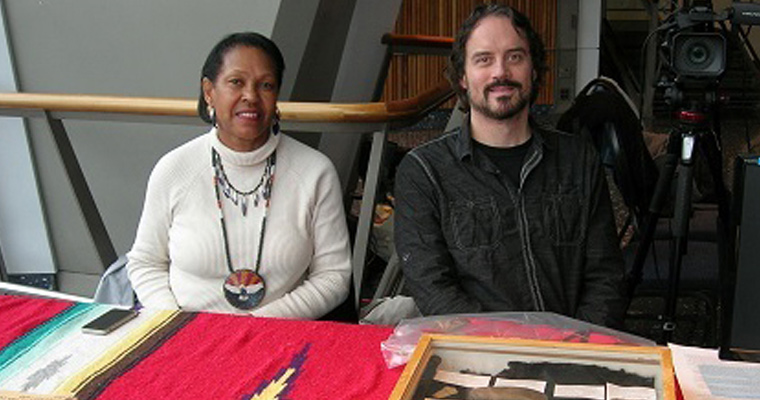 Tribal Chairperson Katherine Sebastian Dring, who has been working with Silliman on this project since 2003, shared, "We are honored to have Dr. Silliman receive this award for our first and only collaborative archaeology program on our historic tribal reservation, established in 1683 in North Stonington, Connecticut. This program has helped us to build a respectful and lasting historical program as we gained knowledge in methods to retrieve ancient tribal artifacts and shared our tribal life and culture. Kutaputush (thank you)."