Special Education Professor Receives Manning Prize for Excellence in Teaching
---
06/25/2020
| Crystal Valencia
Award recognizes exemplary teaching and service on each UMass campus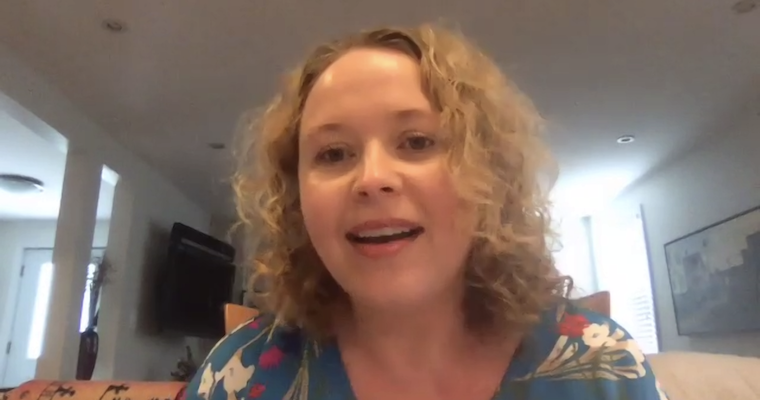 Kristin Murphy speaks after being honored with a 2020 Manning Prize for Excellence during a Zoom event Wednesday.
" I work with students at UMass Boston who remind me of who I was when I was starting my career. "
Assistant Professor of Special Education Kristin Murphy was honored Wednesday during a special Zoom ceremony as one of five University of Massachusetts faculty to receive the 2020 Manning Prize for Excellence in Teaching.
The five UMass faculty members—one from each campus—will receive $10,000 awards in recognition of their commitment to exemplary teaching and dedication to students.
"Today I am so lucky. I love my job," Murphy said. "I work with students at UMass Boston who remind me of who I was when I was starting my career."
The Manning Prize was established in 2016 by UMass Lowell alumni Rob and Donna Manning to honor UMass professors who excel in teaching and service.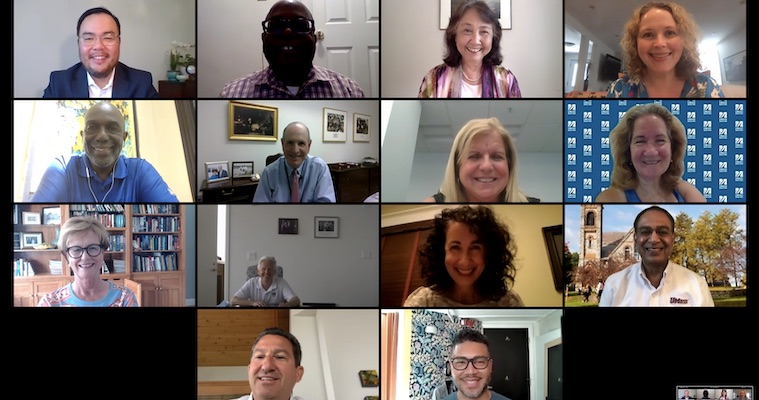 "Donna and I are proud to recognize these five faculty members for their skill, passion and extraordinary commitment to students," said Rob Manning, a 1984 graduate of UMass Lowell and chairman of the UMass Board of Trustees. "Faculty are the heart and soul of this great university, and we thank these talented educators for going above and beyond to enrich their campus communities and help students reach their full potential."
Murphy joined the Department of Curriculum and Instruction and Honors College at UMass Boston in 2014, after earning an MS in Special Education from Mercy College, an EdM in Risk Prevention with an Adolescent Research Concentration from Harvard University, and a PhD in Special Education from the University of Florida.
Murphy, who began her career as a special educator for the New York State Department of Education, explores the education of students with disabilities in two related contexts: educators working with students with disabilities and public policy; and educators working with students with disabilities in juvenile corrections schools.
In the community, she has provided many special education-related professional development opportunities to Boston Public Schools teachers.
"She's super passionate about her students, about her subject area, and about her teaching," Interim Chancellor Katherine Newman said. "Her students find her courses to be extraordinary, truly transformational. Several have shared that she has opened their eyes to the issues that students with disabilities face, and many have noted that her courses caused them to change entirely their career trajectories toward teaching students with disabilities."
Murphy says she likes to think of her classroom as a sandbox — advice given to her by mentor Rajini Srikanth, dean of the Honors College.
"When you think about a sandbox, you think of a very active place. I… continue to work on what it looks like to play and learn there. I want each student and person who come into my classroom to embrace the expertise they bring to our space and also to embrace the willingness to continue to learn from and with each other."
Murphy has created many unique opportunities for her students, from practicing skills with avatars through mixed reality to introducing community-engaged teaching and learning, bringing community members into her classroom. She also focuses on cross-generational teaching and learning, with grad students being brought into freshmen seminars, Boston Public School students participating in Honors College research colloquiums, and alumni providing mentorship to grad students.
"Today is a great page marker to remind myself and I think all of us who love teaching to not get too comfortable in the sandboxes we have created," Murphy said. "Today more than ever I need to continue to collaborate with my students, colleagues, and mentors, continue to push out of my comfort zone to reenvision what my sandbox looks like."
Other Manning awardees include Tamara A. Rahhal, a senior lecturer of psychological and brain sciences at UMass Amherst; Jeremiah Ho, an associate professor of law at UMass Dartmouth; Keith Mitchell, an associate professor of English at UMass Lowell; and Mai-Lan Rogoff, a professor of psychiatry at UMass Medical School.
"We're so thankful to Rob and Donna Manning for their generous support of our faculty, who make UMass the world-class university it is today," said UMass President Marty Meehan. "These faculty members inspire and empower students both in and out of the classroom, so this is a wonderful recognition of their efforts."
About UMass Boston
The University of Massachusetts Boston is deeply rooted in the city's history, yet poised to address the challenges of the future. Recognized for innovative research, metropolitan Boston's public university offers its diverse student population both an intimate learning environment and the rich experience of a great American city. UMass Boston's colleges and graduate schools serve 16,000 students while engaging local and global constituents through academic programs, research centers, and public service. To learn more, visit www.umb.edu.