Student Veteran Earns Grant to Support My Brother's Keeper Boston's Summer COVID Response
---
06/09/2020
| Colleen Locke
Tony Martin '19 Is a Master's Student in UMass Boston's Critical Ethnic and Community Studies Program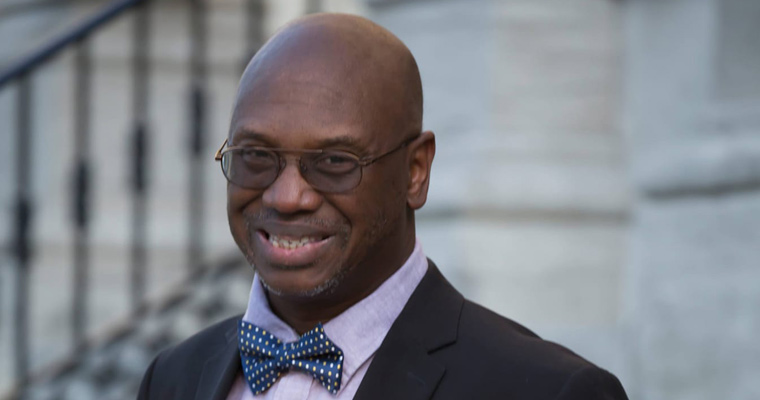 The Mission Continues, a nonprofit organization that trains and redeploys veterans in their communities, has awarded UMass Boston student veteran Tony Martin '19 a $1,500 grant through its Service Leadership Corps to support My Brother's Keeper Boston in its COVID-19 response this summer.
President Barack Obama launched the My Brother's Keeper initiative in 2014 to address persistent opportunity gaps faced by boys and young men of color and ensure that all young people can reach their full potential.
"In lieu of where we are as a nation at this present time, initiatives like My Brother's Keeper helps give voice to hope for our men and women of color, and reinforces their sense of self-worth," Martin said.
Gregory Blaize, the executive director of My Brother's Keeper Boston, says Martin will be working with students in Boston Public Schools through his internship position as the program's product development and implementation specialist. The grant will cover professional development and incidentals.
"Tony will play a pivotal role in one of Boston's many responses toward serving marginalized youth during this pandemic," Blaize said. "Through and with the resources of the City of Boston and UMass Boston, I'm excited and humbled to embark on this mission of providing resources, tools, and, most importantly, HOPE to the youth of our city."
"We are so pleased to see the partnership with UMass Boston and the City of Boston and the Mayor's Office continue to expand through the My Brother's Keeper initiative," added Matthew Power-Koch, manager of university internships for the Office of Career Services and Internships. "This internship opportunity is exactly the type of real-world experience that trains our students to become the future leaders of tomorrow. Through this experience, Tony will be able to achieve career success through a community experience and employer partnership to enhance his UMass Boston experience."
Martin served in the military for more than 20 years. He served in the United States Coast Guard for ten years. He also served in the Army and Air National Guards as a staff sergeant, with leadership responsibilities. In May 2019, he completed a bachelor's degree in music at UMass Boston. He's about to begin his second year in UMass Boston's Critical Ethnic and Community Studies master's program. He also continues to work as a research assistant for UMass Boston's William Joiner Institute for the Study of War and Social Consequences.
"Tony exemplifies all of the good qualities of a citizen-scholar, a commitment to the community, and a dedication to service," said Mitch Manning, associate director of the William Joiner Institute for the Study of War and Social Consequences. "The Joiner Institute's mission is to support veterans and those who have been impacted by war and to address the social and health consequences of war. Mentoring younger students and veterans create a bridge between generations and create lifelong bonds. My Brother's Keeper is an important national program and Tony is well served to be a great community leader in that program."
About UMass Boston
The University of Massachusetts Boston is deeply rooted in the city's history, yet poised to address the challenges of the future. Recognized for innovative research, metropolitan Boston's public university offers its diverse student population both an intimate learning environment and the rich experience of a great American city. UMass Boston's colleges and graduate schools serve 16,000 students while engaging local and global constituents through academic programs, research centers, and public service. To learn more, visit www.umb.edu.