The Next Level
---
10/20/2020
| DeWayne Lehman
Marcelo Suárez-Orozco remembers Boston from the decade he taught at Harvard and raised his family in Cambridge, in the late '90s and early aughts, as a city in the throes of physical upheaval—the Big Dig gouging a new transportation network through the heart of the city. As he returns to this city to become chancellor of the University of Massachusetts Boston, he is transfixed by the changes he's seen. "It's a beautiful city; it's so pristine," he said in a recent interview, relishing the opportunity to return to Boston. "It's completely transformed."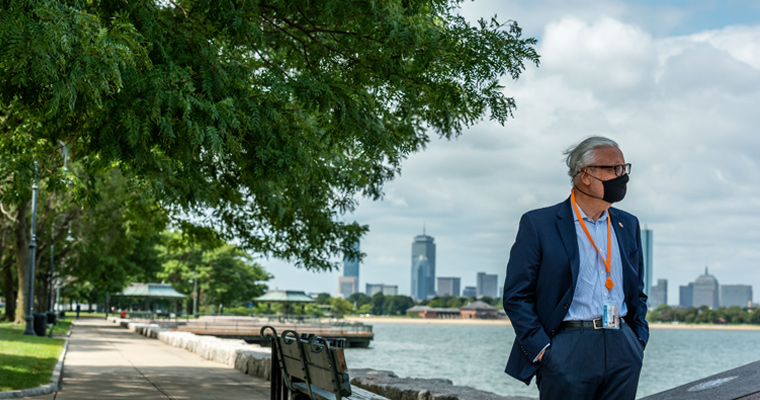 Chancellor Marcelo Suárez-Orozco walks UMass Boston's HarborWalk.
Image By: Ed Collier
" I believe that equitable access to quality education is a foundational step we must take to see systemic racism dismantled. "
In a time of crisis and suffering, Chancellor Marcelo Suárez-Orozco promises to redouble efforts to lead UMass Boston to new heights of excellence, service, and relevance.
In February, the UMass Board of Trustees unanimously elected Suárez-Orozco, the former dean of UCLA's Graduate School of Education & Information Studies, as the ninth chancellor of UMass Boston. His appointment came at a time when news of the severity of the coronavirus was just gathering steam, and no one could have predicted what would transpire in the months ahead.
"When I accepted this responsibility—the gift of a lifetime—I felt very good in that [Interim Chancellor] Katherine Newman had made a great deal of progress," said Suárez-Orozco. "It's a university ready, pregnant with potential to be taken to the next level—the next level of service, the next level of excellence, the next level of relevance. And then everything changed. But everything changed in the whole world."
Change and challenges are not unfamiliar to Suárez-Orozco, who grew up the son of public school teachers in a small town outside of Buenos Aires. In his teens his family grew increasingly concerned about the growing political unrest in Argentina, and at age 17 he migrated to the United States on his own with a few dollars in his pocket. As a young immigrant, Suárez-Orozco worked his way up, finding jobs cleaning office buildings, making deliveries, and pumping gas while taking night classes to learn English. Eventually he enrolled in the California Community Colleges system and later transferred to the University of California, Berkeley, where he earned an AB in psychology, and an MA and PhD in anthropology.
That education, he said, opened the doors to basic research and eventually teaching at universities around the world, including nearly a decade at Harvard as a tenured professor and at New York University as a university professor—the most distinguished professorial rank at NYU. A decade ago he became the inaugural Wasserman Dean at UCLA's Graduate School of Education & Information Studies, where he led 2 academic departments, 16 research institutes, and 2 demonstration schools. His internationally renowned research focuses on cultural psychology and psychological anthropology, with an emphasis on education, globalization, and migration.
As a scholar of migration for more than three decades, Suárez- Orozco said he's watched the global racialization of inequality and poverty in major U.S. cities and elsewhere, and he sees education—particularly public higher education—as an indispensable tool for disrupting and overcoming the malaise of growing inequality.
"I benefited enormously from the openness that defines our attitudes in higher education towards immigrants," said Suárez-Orozco. "Education is a public good, essential for the flourishing of all human beings and the formation of engaged and independent citizens. It must prepare our workforce—now more diverse than ever in the history of our country—to thrive in the labor market of the 21st century. In my case these were not simply worthy abstract principles. For me, education was a transformational life force."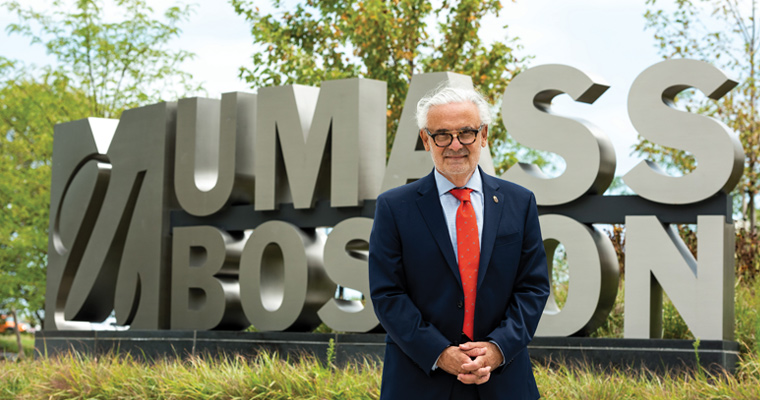 Suárez-Orozco said he sees his appointment as chancellor at UMass Boston as an opportunity to bring together his personal experience, scholarly expertise, and vision for higher education in service of leading "Boston's great public research university." According to Suárez-Orozco, public universities, and particularly UMass Boston, should be at the forefront, leading the response to bring greater opportunities, excellence, dignity, and equality to our communities. Even at UMass Boston—known for its diversity, majority students of color, and high number of Pell Grant-eligible students—we can do more, he said.
"The racialization of inequality is a grave threat to the practice of democratic citizenship in the commonwealth and beyond. UMass Boston's students of color—like their peers across the nation—face economic and social barriers to their education, exacerbated by COVID-19's malignancy, placing too many of our students at an educational disadvantage," said Suárez-Orozco, who personally seeded the new George Floyd Honorary Scholarship Fund for scholarships for our deserving students. He noted in a statement in July announcing the establishment of the new endowment, "I firmly believe that equitable access to quality education is a foundational step we must take to see systemic racism dismantled in our country."
The new fund, given in the spirit of celebrating the struggles for human rights, racial justice, and human dignity, was established to provide financial support to talented students who otherwise may find it difficult or impossible to pay for a college education. It is also as an investment in future leaders "who will fight for social, political, and economic justice, drawing from their lived experience and using the tools forged in our classrooms," Suárez-Orozco said. It was seeded with a $50,000 pledge from the chancellor and his wife, Carola, and has grown to exceed $100,000 in commitments.
In addition, on his first day on the job, Chancellor Suárez-Orozco in a communication to the campus community announced he would appoint a faculty member as special advisor to the chancellor for Black life at UMass Boston to advise him on matters of importance to Black faculty, students, and staff.
For Suárez-Orozco, these new initiatives are only a start to a broader campus conversation about how UMass Boston will move forward during a time of global crises.
"The question for me at this time of great uncertainty is what does it take to deliver an engaging intellectual experience to our students that will keep them attached to us and thriving?" he said. "This is where our first-rate, humane, and engaged faculty make all the difference. Everybody is facing the same undertow. Everybody is going to have to swim very hard to protect our institutions. But I shiver looking at the devastating economic losses and the terrible suffering in the wake of the pandemic—above all, the damage it is visiting on our most vulnerable communities."
Coming together and finding common purpose, and remaining steadfast in our commitment to excellence, equity, and inclusion, he argues, is more important today than ever before. And true to his immigrant background, the chancellor is a forward-looking optimist. "Writing in another time of death, untold suffering, and upheaval, Albert Camus said, 'Where there is no hope, we must invent it.' Today more than ever at UMass Boston we are redoubling our endeavors to invent hope," he said.