Two UMass Boston Researchers Awarded Mass Life Sciences Grants
---
10/01/2020
| DeWayne Lehman
$1.1 Million Will Fund Mammography Database, NextGen Sequencing Projects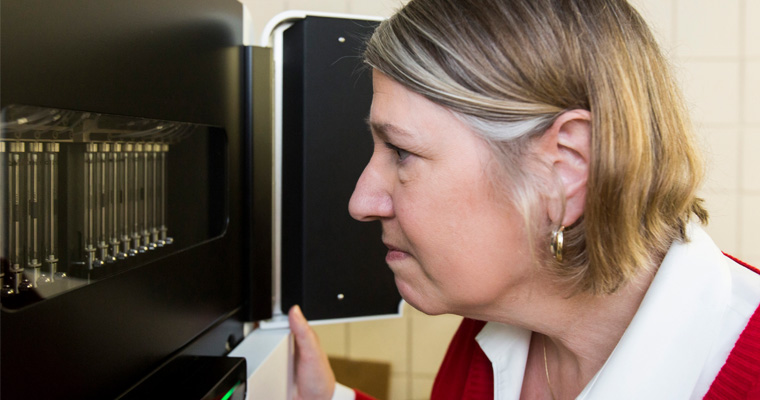 Professor Jill Macoska looks on at the Illumina HiSeq DNA sequencer system in the Genomics Core Facility.
" These cutting-edge projects are examples of the important research contributions our faculty make... "
Two research projects led by UMass Boston faculty were selected to receive awards totaling $1.1 million during the most recent funding cycle of the Massachusetts Life Sciences Center (MLSC).
MLSC's Bits to Bytes program, which provides grants for projects that generate and analyze large datasets to answer pressing life science questions, awarded the Oregon-Massachusetts Mammography Database (OMAMA-DB) $750,000. The project is led by Assistant Professor of Computer Science Daniel Haehn.
MLSC's Open Capital program, which provides grants for state-of-the-art equipment and infrastructure that support the life sciences ecosystem in Massachusetts, awarded $388,000 to the project titled "NextGen Sequencing at the Next Level: The University of Massachusetts Boston CPCT Genomics Core." The project is led by Jill Macoska, Alton J. Brann Endowed Chair and Distinguished University Professor of Science and Mathematics, along with Venture Development Director William Brah, Associate Professor of Mathematics Kourosh Zarringhalam, and Genomics Core Manager Susan Patalano-Salsman.
"These cutting-edge projects are examples of the important research contributions our faculty make to the creation of new knowledge," said UMass Boston Chancellor Marcelo Suárez-Orozco. "I congratulate Dr. Haehn and Dr. Macoska on their continued progress toward enhancing our understanding of and finding solutions for complex human problems."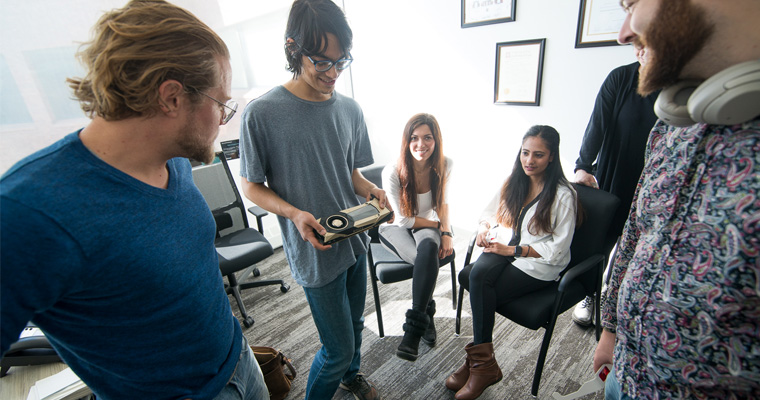 Professor Haehn (left) looks on as a student holds a GPU.
The OMAMA-DB is aimed at developing large amounts of data to help train modern deep learning systems to detect breast cancer early. Generating this data manually is extremely time-consuming, said Haehn. Therefore, the OMAMA-DB project will design intelligent annotation methods that combine machine learning algorithms with human annotators to increase labeling throughput.
"Partnering with a local medical imaging company, we will then create the world's largest publicly available annotated mammography dataset and fine-tune existing classifiers for automatic breast cancer detection," said Haehn. "We are extremely grateful for receiving the Bits to Bytes award. This funding will allow us to massively upgrade the on-campus computing resources with new GPUs and fast storage."
Others on the team include UMass Boston computer scientists Nurit Haspel, Marc Pomplun, and Dan Simovici; Alexey Tonyushkin in physics; and Bill Lotter and Greg Sorensen from partner DeepHealth.
According to Macoska, the genetic underpinnings of human disease can be discovered through NextGen ("deep") sequencing of the human genome. The Center for Personalized Cancer Therapy (CPCT) Genomics Core functions to do that for both academic and corporate users by providing a highly successful and institutionally transformative platform for advanced genomics-based research and development.
"The Core specializes in supporting technically difficult or "risky" projects to help ideas in the formative stage move forward to determine potential feasibility, especially with regard to future clinical utility," Macoska said. "This project seeks to continue this momentum and fill a critical gap in genomics support services by introducing new sequencing technology and services for leading-edge academic and corporate users."
About UMass Boston
The University of Massachusetts Boston is deeply rooted in the city's history, yet poised to address the challenges of the future. Recognized for innovative research, metropolitan Boston's public university offers its diverse student population both an intimate learning environment and the rich experience of a great American city. UMass Boston's colleges and graduate schools serve 16,000 students while engaging local and global constituents through academic programs, research centers, and public service. To learn more, visit www.umb.edu