UMass Boston Alumni Share their Path-Breaking Experiences as Women of Color in Public Leadership Roles
---
12/21/2020
| Anusha Chaitanya
Secretary of the Massachusetts Executive Office of Elder Affairs Elizabeth Chen '14 '16, and Leslie Stevenson '16, the first African American member of the Norwood, Ohio City Council, engaged in a powerful and inspiring intergenerational conversation with 50 members of the UMass Boston community on December 8 at the virtual event, UMass Boston in Public Service: Cultivating Leaders for the Public Good.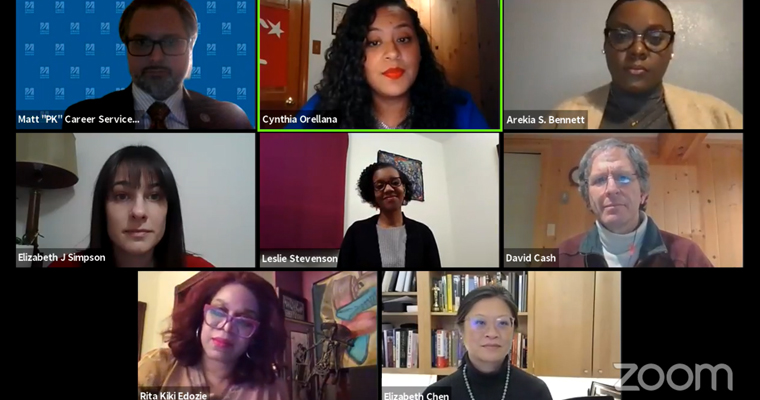 " We have this energy and collective determination to do the right thing. "
The two UMass Boston alumni spoke about their unique career pathways into public service, how the McCormack Grad School prepared them, and their perspectives as women of color leaders.
"What has been amazing to me is how hard people work, and how smart people are and how committed they are to public service," Chen said. "So you get this energy every single day from the people you're around. We have this energy and collective determination to do the right thing. … It's a real privilege to be in the position I'm in to work in state government."
An initiative of the Office of Community Partnerships in collaboration with the McCormack Graduate School of Policy and Global Studies, Office of Alumni Engagement, and Office of Career Services and Internships, this event is the first in a new series meant to lift up the people in the UMass Boston community that are behind public impact work. Watch the event on the UMass Boston YouTube channel or Facebook.
"So many of our faculty, staff, students, and alumni are doing important work that impacts the public good through research, leadership, and service, through university-community partnerships, organizing, and community development efforts, innovation and social change, and high impact reforms across sectors," said Cynthia Orellana, director of the Office of Community Partnerships. "This series recognizes the many contributions that people like Elizabeth and Leslie are making here and beyond!"
Arekia S. Bennett, a student in the Gender, Leadership and Public Policy Graduate Certificate Program, and Elizabeth Simpson, a PhD student in Gerontology, facilitated a candid sharing of Chen's and Stevenson's journeys, and how UMass Boston played a crucial role in furthering their passion towards public service.
"Everything that Dr. Chen and Leslie have shared tonight has been very useful for me," Bennett said. "I run a nonprofit organization that I'm trying to center in social justice movement and be very value-centered and mindful of young people in building this larger movement, and also doing that through a feminist lens. … To hear about Dr. Chen and Leslie has been like a breath of fresh air. I feel like I'm doing the right thing."
Drawing from her life experience growing up in Chinatown, Chen shared how access to housing, food security, and healthcare allowed her family to thrive, recognizing how only a government can help lift up people at a large scale with access to these basic needs.
After a 20-year career in business, Chen found that her true passion was in public health, particularly in understanding the needs of people at the end of their lives and in chronic illness, which got her interested in the Gerontology PhD program at UMass Boston. She set a record, earning her PhD in Gerontology faster than any student in university history, and she did this while raising her child and fulfilling family responsibilities— all of which make her proud today.
She was appointed secretary of the Massachusetts Executive Office of Elder Affairs in June 2019.
"I also practice kindness. There just isn't enough of that in the world," she said. "And having been in business for many years, it just was not really valued… And I think, one of the beauties of being in state government is that you can do that, and it is valued. And it is great! Isn't it great to work in a place where we are all just trying to be kind to each other, and look after each other, and to do very well in our jobs?"
Leslie Stevenson, who served a two-year term on the Norwood, Ohio City Council after being elected in 2017, increased collaboration with residents, organizations, and the city administration during her tenure—by centering community engagement in her work.
Stevenson encouraged students to think about "public good" beyond the academic definition in order to understand it in a more collective way, as building connections and co-creating with communities rather than working with them from a distance.
Stevenson moved from Ohio to Boston to study at UMass Boston's Center for Women in Politics and Public Policy, earning a graduate certificate in the Gender, Leadership and Public Policy Program. She shared how learning about and "lifting up stories of other women of color who ran for office" boosted her interest in the path she pursued. She encouraged students to read the stories of women who inspire them to understand what to do and how to get there.
In her current role as the project director at HealthPath Foundation of Ohio, Stevenson works towards substance abuse prevention and equitable outcomes with an inclusive process, shared responsibility, and co-designing improvements that benefit everyone and are sustainable.
Both Chen and Stevenson shared important lessons from their journeys, their personal leadership styles, and skills that students can hone during their time at UMass Boston. They emphasized values such as equity, collaboration, humility, responsibility, perseverance, courage and kindness, that were at the center of their work ethic and that can go a long way in public service.
Matthew Power-Koch, manager of university internships at the Office of Career Services and Internships, encouraged students interested in similar careers in public service to take advantage of the resources available at UMass Boston.
McCormack Graduate School Dean David Cash and MGS Associate Dean Rita Kiki-Edozie welcomed and thanked the keynote speakers, student facilitators, staff, and everyone who took part in putting together and engaging in this powerful event. Read more and follow future events of the UMass Boston in Public Service initiative.